Treatment
Approach Considerations
Most pediatric patients with subvalvar aortic stenosis (SAS) are asymptomatic. Therefore, medical therapy has no role for such patients. SAS is progressive, however, and intervention is often required at some point in the clinical course of the disease to relieve left ventricular outflow tract (LVOT) obstruction or prevent progressive aortic valve insufficiency. Diagnostic evaluation can be performed on an outpatient basis.
Old reviews reported that heart failure occurred in small percentages of patients. However, surgical intervention is currently undertaken before heart failure develops. If SAS progresses to the point that heart failure or clinically significant LV dysfunction develops, standard medical therapy (except the use of systemic vasodilators such as angiotensin-converting enzyme [ACE] inhibitors) is indicated until surgery can be performed.
Consultation with a pediatric cardiologist and a pediatric cardiac surgeon, as needed, is advisable.
Indications for Intervention
The criteria and timing of intervention for discrete subvalvar aortic stenosis (SAS) have been controversial. Rationale for early intervention in patients with these lesions, based on rapid progression and eventual aortic valve injury in patients with unrelieved SAS, is offset by the problem of high postoperative incidence of recurrence, late reoperation, and development of aortic regurgitation even after successful early relief of the obstruction. [15, 16, 17, 19]
Based on published data, an approach to the management of SAS after risk-benefit stratification is nonintervention and medical follow-up in children and adolescents with Doppler mean gradients of less than 30 mm Hg and no left ventricular (LV) hypertrophy. [15, 17]
Children and adolescents with Doppler mean gradients of 50 mm Hg or more should have surgical intervention, similar to what is indicated in patients with valvar aortic stenosis.
Children and adolescents with Doppler mean gradients of 30-50 mm Hg may be considered for surgical intervention if they are symptomatic with angina, syncope, or dyspnea on exertion (class I), if they are asymptomatic but develop ST/T-wave changes over left precordium on ECG at rest or with exercise (class I), or if they have substrate for a progressive course, a Doppler peak systolic gradient of more than 50 mm Hg, or an older age at diagnosis. [15, 16, 17, 18]
Prevention of aortic regurgitation is usually not an indication for surgical intervention in those with mild left ventricular outflow tract (LVOT) obstruction. [17] Progression from no or trace aortic valve insufficiency to a more significant grade is an indication for surgical intervention in an effort to prevent worsening insufficiency in the future. Tunnel-like SAS should have an early surgical intervention.
Interventional Procedures
Percutaneous balloon dilation of discrete subvalvar aortic stenosis (SAS) has been infrequently reported as successful in reducing the left ventricular outflow tract (LVOT) pressure gradient and, usually, relief is relatively brief. Balloon dilation is not typically considered to be useful in SAS.
The surgery of choice for discrete fibromuscular SAS is complete resection with myotomy, with or without myomectomy through an aortotomy. Children, adolescents, and young adults with clinically significant aortic regurgitation may require aortic valve repair or replacement.
For tunnel-type SAS (seen in the image below) with a small LV-aortic junction, an aortoventriculoplasty (Konno procedure) may be required. This involves excision and replacement of the aortic valve with a prosthesis, patch augmentation of ventricular septum to enlarge the LVOT, and pericardial patch closure of the right ventriculotomy, which is used to gain access to the LVOT.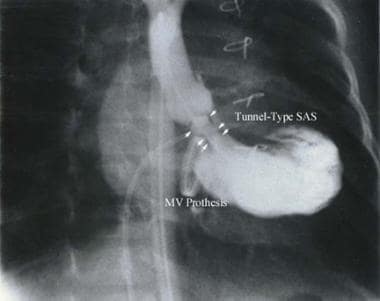 Tunnel-type of subaortic stenosis (subvalvular aortic stenosis [SAS]). MV = mitral valve.
For recurrent SAS and for tunnel-type SAS with normal LV-aortic junction and aortic valve, a modified Konno procedure (ie, without aortic valve excision and replacement) may be performed.
For complex SAS or tunnel stenosis, current surgical practices are individualized but may employ an aortoventriculoplasty in combination with aortic root replacement by using a prosthetic aortic valve, an aortic valve allograft, or a pulmonary valve autograft (Ross-Konno procedure). [22]
Activity
Impose activity restrictions, as indicated, on the basis of the degree of residual hemodynamic abnormality. Advise patients with subvalvar aortic stenosis (SAS) to avoid participation in strenuous activities and in competitive sports.
Competitive sports and games, weight training, and strenuous exercises should not be permitted if patients have any of the following:
Clinically significant left ventricular outflow tract (LVOT) obstruction (peak echo pressure gradient >50 mmHg)

More-than-mild aortic regurgitation

Clinically significant ventricular or supraventricular arrhythmia
Endocarditis Prophylaxis
No antibiotic prophylaxis is required for subvalvar aortic stenosis when no surgery for the condition has been performed. If a patch is used for outflow reconstruction (eg, for the Konno procedure), then subsequent antibiotic prophylaxis against bacterial endocarditis is recommended for 6 months postoperatively.
Long-Term Monitoring
Sudden cardiac death is possible because subvalvar aortic stenosis (SAS) is a progressive disorder. Close follow-up care is important to detect the progressive course of the disease and to prevent sudden death. Routine follow-up care is required for patients who undergo surgery and for those who do not.
Because of the possibility of rapid progression, follow-up care for infants and young children should be more frequent (eg, every 4-6 mo) until the rate of progression is understood. Other children may be followed up at intervals of 3-12 months, depending on the severity of their obstruction and associated lesions.
Long-term postoperative follow-up care is indicated for all patients with SAS. About 10-25% of patients may have a residual gradient in excess of 50 mm Hg. The known high incidence of recurrence and the possible progressive worsening of aortic regurgitation after surgery underscore the need for long-term surveillance. Repeat surgery may be indicated.
More-than-mild SAS poses a high risk during pregnancy. [23] Therefore, close monitoring for heart failure, follow-up by a multidisciplinary team, and delivery at a center experienced in dealing with such problems are warranted.
What would you like to print?