Workup
Approach Considerations
No specific laboratory blood tests are required in the workup of subvalvar aortic stenosis (SAS). Echocardiography is the principal diagnostic study. [19]
Go to Imaging in Aortic Stenosis for more complete information on this topic.
Echocardiography
In subvalvar aortic stenosis (SAS), echocardiography enables evaluation of the following:
Definition and location of the stenosis

Extent of involvement of the left ventricular outflow tract (LVOT)

Early aortic valve closure from its involvement and its associated lesion

Poststenotic aortic dilatation

Diagnostic features of associated congenital heart defects
Echocardiography helps in defining and localizing SAS (see the image below). It reveals the extent of LVOT involvement, the degree of LV hypertrophy, the indices of LV performance, and the parameters of diastolic function of the LV. Secondary effects, such as the degree of aortic valve insufficiency, mitral valve regurgitation, or poststenotic dilatation of the aorta, may be assessed. Finally, associated congenital heart defects and their influence on the hemodynamic effects of SAS may be evaluated.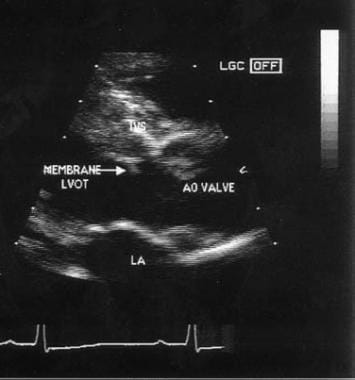 Echocardiogram of membranous subaortic stenosis. AO = aortic; LA = left atrium; LVOT = left ventricular outflow tract.
Two-dimensional echocardiography with color Doppler imaging is the current modality of choice to establish the diagnosis of SAS. This noninvasive method allows for serial evaluation of the progression of the obstruction, the development of aortic valve insufficiency, and the results of surgical intervention.
M-mode echocardiography provides indirect evidence of SAS by revealing early closure (from the Venturi effect of the jet formed by the SAS) and the coarse flutter of the aortic valve leaflets.
Two-dimensional echocardiography, and now 3-dimensional (3D) echocardiography, reveals and defines the position of lesions, the extent of involvement of the LVOT (in tunnel-like SAS), and the associated defects. [20] Apical views reveal the relationship of the SAS to surrounding structures (eg, mitral valve), and parasternal and subcostal long-axis views reveal the proximity of SAS to the aortic valve.
Three-dimensional echocardiography can produce images of SAS with depictions of the morphology and extent remarkably similar to those observed during surgical visualization.
Multiplanar transesophageal echocardiography (TEE) provides superior definitions of the lesion, making it an ideal tool for intraoperative evaluation of the lesion to guide surgical resection and to evaluate the immediate results at the time of surgery. [21] TEE is also useful for diagnostic purposes in patients with a poor acoustic window in whom transthoracic imaging results are not definitive.
A peak instantaneous and a mean pressure gradient across the LVOT estimated during continuous wave Doppler interrogation provide measures of the severity of LVOT obstruction.
When used as a guide to cardiac intervention, Doppler interrogation does not permit the clinician to accurately estimate the pressure gradient in the presence of multiple obstructive LVOT lesions in series, a large ventricular septal defect (VSD), or a tunnel-like obstruction.
Color Doppler evaluation reveals the presence and severity of aortic and mitral regurgitation.
Other Tests
Cardiac catheterization
Cardiac catheterization is not routinely indicated in isolated subvalvar aortic stenosis (SAS) but can be utilized for preoperative hemodynamic evaluation when associated with other congenital heart defects.
If multiple levels of left ventricular outflow tract obstruction are present, careful pullback pressure measurements performed with an end-hole or high-fidelity manometer-tipped catheter from the left ventricle to the aorta may allow delineation of the pressure gradient and the exact site of obstruction.
Electrocardiography
In subvalvar aortic stenosis (SAS), even if it is mild, electrocardiography (ECG) reveals a variable degree of left ventricular hypertrophy in 50-80% of patients. ECG findings are occasionally normal in patients with severe SAS. A prominent Q wave in the left precordial leads may be present from septal hypertrophy. Strain pattern is visible on the ECG in approximately 25% of patients and indicates severe obstruction.
Cineangiography
Cineangiography is usually not necessary to define the anatomy of subvalvar aortic stenosis (SAS), but it may be helpful if catheterization is being performed to evaluate other associated cardiac defects. A left ventriculogram obtained in a angulated orientation (70º left anterior oblique/20º cranial angulation) delineates the left ventricular outflow tract (LVOT) and the anatomy of the SAS. The degree of mitral valve regurgitation and anatomy of any ventricular septal defects, if present, are also well demonstrated.
Histologic Findings
Histologic findings in subvalvar aortic stenosis (SAS) are the same in lesions of the fibromuscular ridge or collar and in tunnel-like lesions. A composite of different tissue cells, which varies from patient to patient, is present.
Abundant amounts of irregularly oriented and dense collagen fibers and thin, short elastic fibers are visible. Also visible are sparsely scattered fibroblasts with elongated nuclei and smooth muscle cells. Vascularity is generally absent.
What would you like to print?