Workup
Laboratory Studies
Total cholesterol and fasting lipid profile
In the case of a child with bicuspid aortic valve and family history of hypercholesterolemia or early coronary artery disease (< 55 years old), screening for high total cholesterol levels and fasting lipid panel in children around 10 years and 18 years of age respectively, may be helpful in recommending dietary modification and heart-healthy life style. [36] Elevated low-density lipoprotein (LDL) cholesterol may accelerate sclerosis of the bicuspid aortic valve. [24]
Imaging Studies
Chest radiography
Chest radiography may reveal mild prominence of the ascending aorta in the posteroanterior projection along the superior right heart border. Left ventricular enlargement implies progressive aortic valve insufficiency. Chest radiography is generally not helpful as a screening tool for bicuspid aortic valve.
Echocardiography
Two-dimensional echocardiography provides accurate confirmation of a bicuspid aortic valve. [37] See the image below.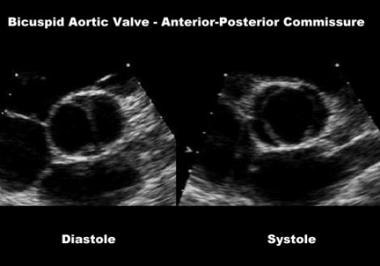 Bicuspid Aortic Valve. Two-dimensional echocardiogram of typical bicuspid aortic valve in diastole and systole. Valve margins are thin and pliable and open widely, creating the fishmouth appearance.
Imaging can show the bicuspid aortic valve in multiple planes. Most important information is obtained from the parasternal long-axis and short-axis views.
The long-axis view reveals the typical systolic doming due to limited valve opening. An approximation of valve orifice diameter can be obtained at peak systole. This view is also important for sizing the sinus of Valsalva, sinotubular junction, and ascending aorta. See the image below.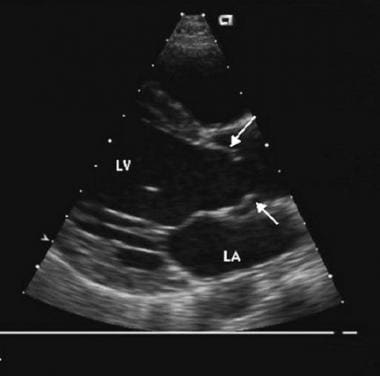 Bicuspid Aortic Valve. Parasternal long-axis echocardiogram showing doming of a bicuspid aortic valve.
The short-axis view is used to examine commissures, leaflet morphology, mobility, and the presence or absence of a low raphe. The diameter or area of the valve opening is generally overestimated in this view because the true orifice usually lies above this plane. The bicuspid valve typically looks like a fish's mouth on opening. See the image below.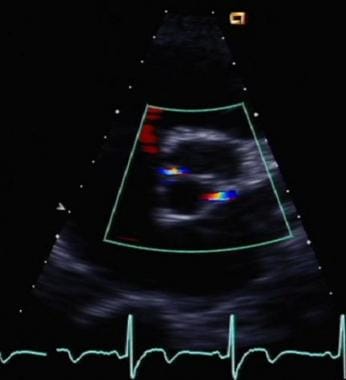 Bicuspid Aortic Valve. Parasternal short-axis echocardiographic view in diastole, showing bicuspid aortic valve with nearly equal cusp size and right-left orientation of the commissure. Note the two color signals showing minimal aortic insufficiency.
Doppler measurements of peak and mean systolic velocities and gradients can be recorded from the apical 5-chamber, the suprasternal, or the high right parasternal views. Doppler signal should be lined up as closely as possible and parallel to the jet to provide accurate estimates of flow velocities. Estimates of flow velocity from the apical view can sometimes be improved by moving the transducer more medially toward the sternum.
Parasternal long-axis and short-axis views can also be used for color Doppler studies, which evaluate for aortic regurgitation. The severity of aortic valve regurgitation can be assessed by several methods. One of the simplest methods is to measure the insufficiency jet diameter at the aortic valve annulus and compare this diameter to the annulus diameter.
False-positive diagnosis of bicuspid aortic valve may arise from incomplete demonstration of all 3-valve closure lines. The typical normal (trileaflet) aortic valve shows a rotated Mercedes sign on closure. The bicuspid valve may not be recognized if a high raphe is observed with valve closure.
Angiography
Angiography is not the primary diagnostic method to diagnose a bicuspid aortic valve. The bicuspid aortic valve is viewed best in the anteroposterior camera in 30º right anterior oblique (RAO) projection. Injection is into the left ventricle and into the aortic root respectively.
The typical finding is systolic doming of the valve margins due to incomplete opening.
Aortic insufficiency can be looked for on the aortic root injection.
Magnetic resonance imaging
Magnetic resonance imaging (MRI) is generally helpful for the diagnosis of bicuspid aortic valve and for complete assessment of the aortic root and thoracic aorta, particularly in cases of aortic root dilatation or dissection, coarctation, Turner syndrome, or Williams syndrome. Quantitative assessment of aortic valve regurgitation and left ventricular volumes are helpful in assessment of severity.
Transesophageal echocardiography may be necessary to define valve commissures and vegetations in adolescents or young adults in whom bicuspid aortic valve is suspected on clinical grounds (particularly those with symptoms or findings that suggest infective endocarditis). [37]
Other Tests
Electrocardiography
Electrocardiography (ECG) findings are generally normal for an isolated bicuspid aortic valve without stenosis or insufficiency. Progression of stenosis or insufficiency leads to left atrial enlargement and left ventricular hypertrophy.
Testing in family members
Physical examination and if indicated, two-dimensional echocardiography are recommended as a screening tool for the offspring and first-degree relatives (especially males) of patients identified as having a bicuspid aortic valve because a high recurrence rate (as much as 12-17%) has been shown in several families. [38]
What would you like to print?