Workup
Laboratory Studies
Obtain a CBC count, cross match, and urinalysis preoperatively in patients with an aortopulmonary septal defect (APSD).
If the infant has been on diuretics and digoxin preoperatively, checking electrolyte and digoxin levels is prudent.
Infants with congestive heart failure (CHF) are at risk for potassium depletion from diuretics and may be at risk for digoxin toxicity from routine dosing during decreased renal perfusion. The combination of a volume-loaded circulation with potassium depletion and an elevated serum digoxin level may be a risk factor for ventricular fibrillation at the time of sternotomy.
Echocardiography
In infants and children, this test (if performed by experienced personnel and reviewed by a skilled pediatric echocardiographer) should reveal the defect and associated abnormalities in virtually all cases. [20, 21] See the image below.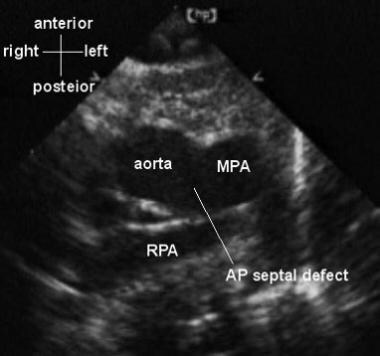 Echocardiographic image of a 1-month-old infant with a large isolated aortopulmonary septal defect (APSD). The image is a parasternal short-axis view just below the pulmonary artery bifurcation. Aorta at this level is to the right and in the same anterior-posterior plane as the main pulmonary artery (MPA). Right pulmonary artery is seen posterior to the aorta at this level, but the origin of the pulmonary arteries is not visible; it is more superior than this axial image. Normally, a complete wall should be visible for both aorta and pulmonary artery. This image shows the absence of that wall, resulting in the large defect between aorta and pulmonary artery.
Doppler color flow mapping shows retrograde flow in the transverse arch during diastole. By contrast, in an infant with a large left-sided patent ductus arteriosus (PDA) and a left aortic arch, diastolic flow in the arch is antegrade. For patients with poor echocardiographic windows, transesophageal echocardiography or cardiac MRI may be an option. [22]
When an aortopulmonary septal defect is found, the echocardiographer should be especially careful to look for other abnormalities, which are present in 50% of cases of aortopulmonary septal defect. In addition to identifying the aortopulmonary septal defect, the ventricular septum, origins of the pulmonary arteries, aortic arch, presence of a PDA, and origins of the coronary arteries should be carefully scrutinized.
In addition, 3-dimensional echocardiography has been used to help characterize an aortopulmonary septal defect. [23]
Other Studies
Chest Radiography
Radiography typically reveals cardiomegaly with increased pulmonary blood flow. Pulmonary congestion is proportional to the degree of CHF.
Electrocardiography
ECG typically reveals biventricular hypertrophy or right ventricular hypertrophy. Electrical evidence for left atrial enlargement may present.
Cardiac Catheterization
Cardiac catheterization (CC) should not be required if anatomy has been well defined by noninvasive means and if the clinical and noninvasive data are both consistent with low pulmonary vascular resistance (PVR). If questions or additional incompletely characterized defects are noted, careful hemodynamic and angiographic assessment may be helpful.
Beyond infancy, CC may be required to exclude irreversible pulmonary vascular obstructive disease (PVOD) before performing surgical repair. In older children with a diagnosis of a nonrestrictive aortopulmonary window, CC is advisable to establish pulmonary vascular reactivity before performing surgical repair. In the rare instance of a small restrictive defect, catheter therapy with device occlusion of the defect may be an option.
What would you like to print?