Treatment
Medical Care
In childhood, most patients with coronary artery fistulae (CAF) are asymptomatic; however, some patients may present with symptoms of dyspnea on exertion, increased fatigability, and, possibly, signs of high-output congestive heart failure. Rarely, patients may present with angina, [12] palpitations, or signs of exercise-related coronary insufficiency. Direct medical treatment for symptomatic relief can be used until investigations and operative repair can be performed. Spontaneous closure may occur in small fistulae. Small fistulous connections in the asymptomatic patient may be monitored. [13] Most lesions enlarge progressively and warrant operative repair, either by transcatheter or surgical techniques.
Endocarditis and other complications are risks, and patients should be monitored for the same. In older individuals, the fistulae can rarely get obstructed with progressive atherosclerosis and cause resolution of symptoms.
Diagnostic cardiac catheterization should be performed initially with or without additional therapeutic intervention. Initial diagnostic catheterization should both define hemodynamic significance of the lesion and provide detailed angiographic assessment of the anatomy of the abnormality, in particular, the origin, course, regional narrowings, and the nature of the insertion. [14]
Procedural options can be optimized by careful identification of the number of fistulous connections, nature of feeding vessel or vessels, sites of drainage, and quantification of myocardium at risk for injury or loss and the hemodynamic shunt related to the fistula (ie, Qp:Qs). The goal of treatment is the obliteration of fistulae, while preserving normal coronary blood flow. The risk of presence of fistula should be balanced with the risk of complications with procedures to occlude the fistula.
Therapeutic transcatheter embolization
Indications
In view of the natural progression in larger fistulae to dilate over time, with progressively increasing risk of thrombosis, endocarditis, or rupture, the general advice is to close all but the small fistulous connections. In borderline situations, provide close echocardiographic or angiographic follow-up imaging to identify enlargement of feeding vessel in asymptomatic patients. Patients with large fistulae, multiple openings, or significantly aneurysmal dilatation may not be optimal candidates for transcatheter closure.
Technique
Transcatheter embolization techniques using coils (as is shown in the image below), bags, or other devices can be performed on an outpatient basis at the time of diagnostic studies or later, and may obviate the need for cardiac surgical intervention.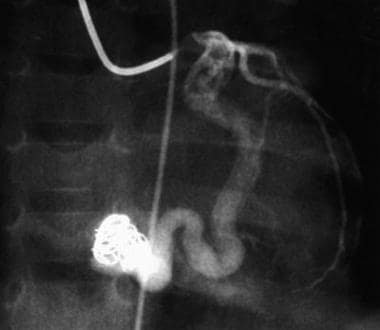 Selective left coronary angiogram immediately after transcatheter coil occlusion of the circumflex coronary fistula (4 7-mm X 70-mm target coils). A tiny residual leak and the proximal circumflex coronary dilatation are shown. Image courtesy of Texas Heart Institute. (Reproduced from McMahon CJ, Nihill MR, Kovalchin JP, et al. Coronary artery fistula. Management and intermediate-term outcome after transcatheter coil occlusion. Tex Heart Inst J. 2001;28(1):21-5.)
Generally, the course of the fistulous tract is delineated angiographically, selectively catheterized, and wired along its entire length. A delivery catheter or sheath is then positioned antegradely or retrogradely along the stabilizing wire for delivery of a suitable occlusive coil or device. The occlusive device is positioned so as to minimize myocardial muscle loss or injury. Often multiple devices or coils may be required for effective occlusion.
The transcatheter approach is, frequently, a fairly complicated intervention and requires an experienced operator and interventional specialist with expertise in both coronary arteriography and embolization techniques. Embolization often requires complicated catheter manipulation, as well as selection of various catheters and wires.
Results
To date, the literature has primarily provided only case reports and reports of small series. Results have been comparable to surgery without associated morbidities of cardiopulmonary bypass and/or sternotomy.
In a retrospective analysis of all patients with coronary artery fistula diagnosed between 1993 and 2014 (N=194), Christmann et al found that treatment was indicated in 10 patients (5.2%) and treated 6 of these patients via a catheter interventional approach. Five days after interventional closure, one patient showed a significant residual shunt through the fistula, thereby necessitating surgical removal of the device and closure of coronary artery fistula. At a median follow-up of 7 years, the other five patients who were treated with a catheter interventional approach showed successfully closed coronary artery fistula without thrombosis of the coronary artery. [15]
Surgical Care
Cardiac surgical intervention
Indications
Indications for surgical intervention are the same as in embolization (see above). Some fistulae are unsuitable for the transcatheter approach and preferably are addressed surgically. These coronary artery fistulae may include fistulae with multiple connections, circuitous routes, and acute angulations that make catheter positioning difficult or impossible.
Techniques
Surgical repair usually is approached via a median sternotomy and cardiopulmonary bypass. Identify the feeding vessel and delineate its course and site of insertion. Identify the site of presumed fistulous drainage prior to institution of the cardiopulmonary bypass. Transesophageal echocardiographic imaging has been very useful in assisting in the location of fistulous tract insertion.
A typical procedure includes opening the chamber into which the fistula drains, identifying the fistula, and closing the site of drainage with a patch or suture. If the fistula enters the ventricle or if the feeding vessel is large, the coronary artery is opened, and the opening to the fistula is closed with a running suture. The arteriotomy is closed. Large aneurysms may require excision. Rarely, when the fistula is an end artery, it may be ligated with or without bypass.
Activity
Most patients should anticipate no restrictions on activity; however, patients who wish to compete in athletic endeavors should undergo stress testing and may be at marginally increased risk for dysrhythmias and sudden death.
Long-Term Monitoring
Provide follow-up care after hospital discharge to check for evidence of ischemia or recurrence of coronary artery fistulae (CAF). Individuals who have undergone coronary surgical interventions and, particularly, patients who have sustained cardiac muscle loss should have ongoing cardiac follow-up monitoring that may include stress studies and repeat angiography as needed.
Patients treated surgically and with transcatheter techniques should receive maintenance doses of antiplatelet agents and, perhaps, an anticoagulant regime for the first 6 months postoperatively, until the operative surface has undergone endothelialization. Patients with persisting aneurysmal dilatations may benefit from prolonged antiplatelet agents.
Patients remain at risk for development of endocarditis until the flow is stopped and should receive antibiotic prophylaxis for any dental, gastrointestinal tract, and urologic procedures if associated with a cyanotic heart disease.
What would you like to print?