Workup
Laboratory Studies
Cardiac enzyme levels may be elevated in patients with coronary artery fistulae (CAF).
In addition, brain natriuretic peptide levels may be elevated in cases with heart failure.
Imaging Studies
Chest radiography
Chest radiography findings are generally normal in cases of coronary artery fistulae, except in the presence of significant shunt flow, at which time cardiomegaly may be evident. In addition, pulmonary venous congestion and interstitial edema may be seen.
Electrocardiography
Electrocardiography (ECG) findings are usually normal. However, in some cases, ECG can reveal changes in the setting of larger fistulas. ECG may reveal the effects of volume load on the left ventricle and left atrium. Rarely, in the presence of coronary steal, ischemic changes and/or arrhythmias may be evident.
Echocardiography
Echocardiography is helpful in diagnosing most fistulae and may reveal the following:
Left atrial and left ventricular enlargement as a result of significant shunt flow or decreased regional or global dysfunction as a result of myocardial ischemia

Dilatation of the coronary artery: The feeding coronary artery often appears enlarged, ectatic, and tortuous.

High-volume flow: This may be detected by color-flow imaging at the origin or along the length of the vessel

Drainage of the fistula: Carefully seek the site of drainage; often, it is evident as a disturbed flow signal, most frequently within the right ventricle.

Holodiastolic run-off in the descending aorta

A squirt of color flow into a chamber without significant dilatation of the coronary artery in cases of small coronary artery fistulas

A dilated coronary sinus, if fistula terminates in the coronary sinus
Cardiac catheterization and aortography
Cardiac catheterization remains the modality of choice for defining coronary artery patterns of structure and flow. Most frequently, intracardiac pressures are normal and shunt flow is modest. Aortography is shown in the first image below, and selective coronary arteriography is shown in the second image below.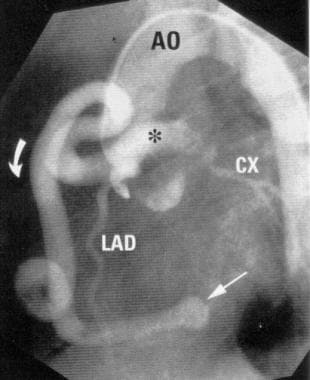 Selective left coronary artery (LCA) injection demonstrating a markedly enlarged left main (*) with normal size circumflex (CX) and left anterior descending (LAD) branches. The fistula continues across the right ventricle free wall to the atrioventricular groove where it terminates at the crux of the heart in the right atrium (straight arrow). (Reproduced from Congenital Heart Disease, Textbook of Angiocardiography.)
Retrograde aortic root injection, dilated left main (LCA) and circumflex (CX) vessels with the fistulous connection to the right ventricle (arrow). (Reproduced from Congenital Heart Disease, Textbook of Angiocardiography.)
Both studies supply the information required to manage the condition. In addition, therapeutic embolization using occlusive coils or devices may be performed via catheterization. [9]
Magnetic resonance imaging and computed tomography scanning
Reliable, complete, noninvasive 3-dimensional imaging of the coronary vasculature is advantageous. Traditionally, magnetic resonance imaging (MRI) has been a good alternative for imaging proximal coronary abnormalities, and newer imaging sequences have provided improved anatomic imaging as well as indices of coronary flow and function. Spatial resolution is often limiting, and the distal course and insertion of the fistulous connection may not be well imaged.
Multidetector row computed tomography (MDCT) cardiac imaging has provided excellent distal coronary artery and side branch imaging. Imaging of an entire 3-dimensional volume and the heart can be acquired within 20 seconds, with better temporal and spatial resolution than MR. Several authors now advocate consideration of MDCT in imaging of coronary anomalies (as is shown in the image below). [10]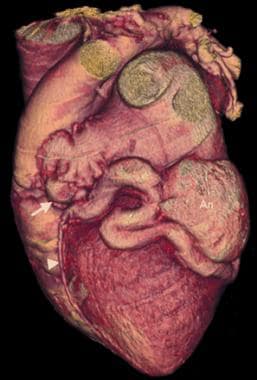 Three-dimensional multidetector row computed tomographic image showing a circumflex artery fistula. The left main stem is greatly dilated (arrow) and a dilated, tortuous circumflex artery becomes aneurysmal (An) before draining into the coronary sinus. Note also the left anterior descending (LAD) branches arising from this dilated vessel (arrowhead). (Image courtesy of Manghat NE, Morgan-Hughes GJ, Marshall AJ, Roobottom CA. Multidetector row computed tomography: imaging congenital coronary artery anomalies in adults. Heart. Dec 2005;91(12):1515-22.)
In a preoperative study, Shi et al found that dual-source computed tomography (DSCT) enabled accurate assessment of morphological features, quantitative features, and associated coronary artery lesions among 34 patients with coronary artery fistula. They used DSCT to morphologically and quantitatively analyze CAF, and they found that DSCT was as accurate as surgery (R = 0.95-0.98, P < 0.001). With DSCT, they identified 15 patients with left-sided CAF, 9 with right-sided CAF, and 10 with bilateral CAF, and they found that drainage was most commonly in the main pulmonary artery (41.2%). [11]
A retrospective study by Lim et al suggested that CT angiography is useful in detecting coronary artery fistulae. The study included 6341 patients who underwent coronary CT angiography; coronary artery fistulae were found in 56 patients (0.9%), a higher percentage, according to the investigators, than has generally been found using conventional angiography. Moreover, CT angiography found coronary artery fistulae to lead most commonly to the pulmonary artery, rather than, as conventional angiography has indicated, to the ventricle. [6]
Nuclear imaging
Stress thallium studies may be used to document areas of myocardial ischemia before and after operative repair.
What would you like to print?