Workup
Laboratory Studies
No specific laboratory studies are indicated in patients with suspected cor triatriatum.
Electrocardiography
Electrocardiographic (ECG) findings are nonspecific in those with cor triatriatum and may range from normal in asymptomatic older patients to mimicking those findings of a patient with the clinical picture of pulmonary hypertension.
In some patients, ECG may reveal the following:
Right atrial enlargement depicted by enlarged P waves

Right ventricular hypertrophy
Chest Radiography
Chest radiographic findings are usually nonspecific in cor triatriatum, but they may include pulmonary congestion with diffuse haziness or Kerley B lines and the ground glass pattern of acute pulmonary edema in hilar areas.
Patients may have mild cardiac enlargement and prominence of the pulmonary arterial segment.
The dilated proximal chamber may produce the appearance of left atrial enlargement.
Presence of an atrial septal defect or of an associated partial anomalous pulmonary venous connection adds pulmonary overcirculation to the pulmonary venous obstruction. [16] The radiograph may then reveal significant right ventricular enlargement.
Echocardiography
Echocardiography is often sufficient for diagnosis of cor triatriatum, and is the diagnostic modality of choice. [17] See the image below.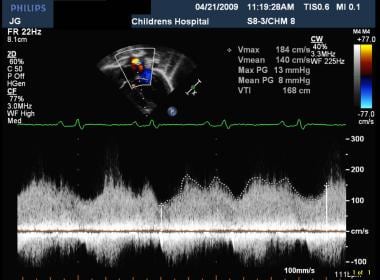 Pediatric Cor Triatriatum. This sonogram shows a mean Doppler gradient of 7-8 mmHg across the left atrial membrane indicating mildly elevated pulmonary venous pressures. With permission from Michael Pettersen, MD, Pediatric Cardiology, Children's Hospital of Michigan, Detroit, MI.
The membrane dividing the left atrium can be visualized using 2-dimensional echocardiography, as can the presence of an associated atrial septal defect. The origin of each of the pulmonary veins should be identified to exclude the presence of anomalous pulmonary venous return.
The distinction between cor triatriatum and a supramitral ring should be made by the location of the left-atrial appendage. Differentiating between cor triatriatum and total anomalous pulmonary venous drainage to the coronary sinus may be difficult.
Common cardiac anomalies can also be demonstrated
Transesophageal echocardiography (TEE) and intracardiac echocardiography offer precise image definition and spatial relationship of the membrane.
TEE is very useful in larger and older patients in whom transthoracic images are suboptimal especially in visualizing the left atrium. [18]
Angiography
Angiography is generally indicated in cor triatriatum to assess pulmonary venous return and pulmonary arterial pressures. Because approximately 10% of patients have partial anomalous venous return, angiography is helpful in defining the precise venous anatomy.
When performed, catheterization generally reveals pulmonary hypertension in a degree that varies directly with the severity of obstruction to pulmonary venous drainage. [15] Demonstration of a pressure gradient between the left atrium and capillary wedge pressure is classic.
The proximal chamber is visualized during the venous phase, and a delay then occurs before the true left atrium and left ventricle are visualized. The proximal chamber then remains opacified and does not contract with the distal chamber.
Cardiac CT Scanning and MRI
Both Computed tomography (CT) scanning and magnetic resonance imaging (MRI) provide very detailed anatomic images. [19, 20, 21] MRI has the advantage of not subjecting the patient to radiation. [22, 23]
Cor triatriatum on CT angiography shows a septum dividing the left atrium, with the proximal chamber receiving blood flow from the pulmonary veins. [24]
Procedures
In classic cor triatriatum, cardiac catheterization reveals pulmonary hypertension without a left-to-right shunt. Pulmonary wedge pressures are high and left atrial pressures are within normal limits. Angiography via pulmonary artery injection shows an opacified pulmonary venous chamber draining into the left atrium.
Histologic Findings
Histology plays no part in the diagnosis of cor triatriatum; however, pulmonary hypertension results in well-defined structural changes.
There may be pulmonary edema and alveolar hemorrhage with lymphatic dilatation. Increased pulmonary arterial muscularity is present very early, with increased thickness of the arterial wall and extension of muscle into the arterioles. Necrotizing arteriolitis may be present.
What would you like to print?