Workup
Laboratory Studies
Blood tests indicated in cases of suspected endocardial fibroelastosis (EFE) include the following [2] :
Blood urea nitrogen (BUN) and creatinine levels

Complete blood cell (CBC) count

Complete metabolic profile

Blood culture tests indicated for management of acute episodes

Autoantibody profile including anti-Ro and anti-La

Brain natriuretic peptide
Imaging Studies
Chest radiography
Note the following:
Cardiomegaly and cardiothoracic ratios exceed 0.65 in 50% of patients.Cardiac enlargement (CE) is present in some patients at birth. In others, the heart size is normal during the first few weeks to the first few months of life, but CE subsequently develops.

The shape of the cardiac silhouette varies, although it is often globular.

Pulmonary venous congestion is common.

Left lower lobe atelectasis secondary to dilated left atrium (LA) is found in 25% of patients.
See the images below.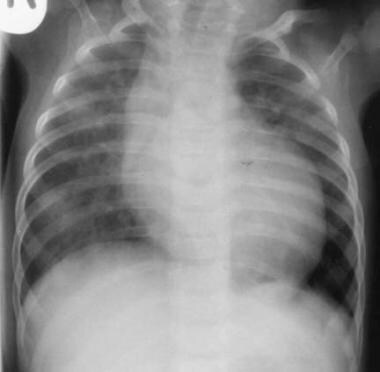 Endocardial Fibroelastosis. Chest radiograph, anteroposterior view, showing cardiomegaly and pulmonary venous congestion in a 6-month-old infant with endocardial fibroelastosis (EFE).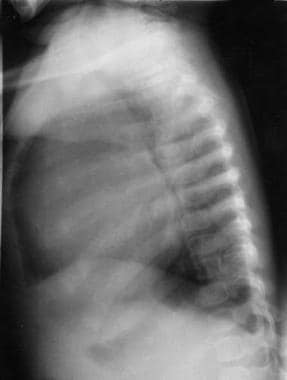 Endocardial Fibroelastosis. Chest radiograph, left lateral view, showing an enlarged heart in 6-month-old infant.
Echocardiography
Echocardiographic features may include the following:
LA and left ventricular (LV) dimensions are increased.

LV, septal, and posterior wall (PW) excursions are reduced.

The ejection fraction (EF) is reduced.

Mitral valve (MV) motion is abnormal.

Echogenicity along the endocardium of the LV (diagnostic clue) is dense.

Suggestive indicators include increased endocardial echo brightness and globular shape of the LV.

The echocardiograph may depict a normalization of the shortening fraction and the LV dimensions when the clinical condition improves following medical therapy.

A varying degree of mitral regurgitation is common.
Fetal echocardiography
Fetal echocardiography is a valuable tool for early identification, particularly of the secondary type.
One of the congenital malformations (eg, aortic stenosis) is often demonstrated at the initial study. The endocardial fibroelastosis becomes obvious in repeat studies.
Electron beam computed tomography (CT) scanning
Electron beam CT scanning has been reported to be useful in the early diagnosis of endocardial fibroelastosis because of its demonstration of calcification and fibrosis of the ventricles, especially at the apex.
Magnetic resonance imaging (MRI)
Reports highlight the role of MRI in identifying the presence of endocardial fibroelastosis. [12, 13] MRI that uses perfusion and myocardial delayed enhancement can be useful in establishing the diagnosis. Endocardial fibroelastosis gives the endocardial surface a rim of hypointense signal in the perfusion sequences and a rim of hyperintense signal in the myocardial delayed-enhancement sequences.
Other Tests
Twenty-four–hour Holter electrocardiography (ECG)
The 24-hour Holter study is useful for documenting ambient arrhythmias.
Electrocardiography
Findings on ECG may include the following:
Tall R waves, deep Q waves, and T-wave inversion or flattening in the left precordial or inferior lead have been reported.

Findings depict left ventricular (LV) hypertrophy in more than 75% of patients.

In the first few weeks of life, right-axis deviation and isolated right ventricular hypertrophy are more common.

Pulmonary hypertension may develop in patients who survive for a long period and appears as biventricular hypertrophy on electrocardiography.

Patterns of left, right, or biatrial enlargement are evident in 50% of patients.

Conduction or rhythm abnormalities include Wolff-Parkinson-White syndrome, left bundle branch block, supraventricular and ventricular arrhythmias, and varying degrees of atrioventricular block.

Low-voltage tracings in the initial stage of heart failure and in the terminal phase are noted in 5% of patients.

Occasionally, an infarct pattern appears, pointing to extensive myocardial fibrosis and necrosis.
Procedures
Cardiac catheterization
Cardiac chambers and pulmonary arteries contain elevated pressures consistent with heart failure. Generally, systolic pulmonary artery pressure is not more than 50% of systemic pressure. Marked pulmonary hypertension may be seen in older children.
The constrictive type of endocardial fibroelastosis is rare and is associated with a left-sided atrioventricular obstructive pattern, with very high left atrial (LA) pressures from an early age. A diastolic gradient can be detected across the mitral valve (MV). Pulmonary artery pressure is elevated and often reaches systemic levels in this type of endocardial fibroelastosis.
Postcatheterization precautions include hemorrhage, vascular disruption after balloon dilation, pain, nausea and vomiting, and arterial or venous obstruction due to thrombosis or spasm.
Complications may include blood vessel rupture, tachyarrhythmias, bradyarrhythmias, and vascular occlusion.
Angiography
Angiocardiographic findings include the following:
Marked dilation of the left ventricular (LV) cavity

Reduced ejection fraction (EF) with little or no LV wall thickening

Dyskinetic LV contraction

Mitral regurgitation (common)

In the contracted type, dilated right ventricle, right atrium, and pulmonary artery with slow clearance of the contrast from the left side of the heart
Digital subtraction angiography
This may reveal an avascular rim between the opacified LV cavity and the ventricular walls perfused by the coronary arteries. The contrast void rim can be identified even in ordinary cineangiographic films.
Biopsy
In cases in which the diagnosis is unclear, myocardial biopsy can be helpful.
Histologic Findings
Endomyocardial biopsy has its risks, especially in an infant, and it is not essential to make a diagnosis in the majority of affected babies. [14]
Endomyocardial biopsy reveals an invasion of the endocardium and subendocardium by fibroelastic tissue.
Abnormalities are largely confined to the endocardium, with marked hyperplasia of its constituents, especially collagen and elastic fibers; hence, the basic abnormality in endocardial fibroelastosis appears to involve the synthesis of abnormally large amounts of collagen and elastin rather than a qualitative change in the structure of elastic fibers.
Surface deposits of fibrin have also been detected using electron microscopy. The underlying myocardium generally appears normal.
What would you like to print?