Treatment
Acute Phase
Medical Issues/Complications
Important variables affect the choice of treatment. The general rule is the younger the patient, the better the prognosis. Guidelines for treatment are outlined by the following categories:
Category 1 (ie, girls younger than 11 y, boys younger than 13 y): These patients usually do well with nonoperative treatment.

Category 2 (girls aged 11-15 y, boys aged 13-17 y): These patients are near skeletal maturity. Treatment depends on the looseness of the lesions.

Category 3: Physeal closure and skeletal maturity have occurred. Treatment is based on the size and stability of the lesion.

Grade 1 - Positive radiography findings and an intact articular surface

Grade 2 - Articular injury noted at arthroscopy

Grade 3 - Loose lesion (stays within crater)

Grade 4 - Loose fragment within joint
Surgical Intervention
Arthroscopy versus open treatment
Arthroscopy is preferred so that arthrotomy can be avoided.
Drilling of the defect may be performed, with the hope that revascularization will occur.
Pinning may be performed to stabilize the fragment. Stainless-steel pins usually require removal to avoid additional chondral injury. Resorbable pins can be used to avoid the need for removal; however, they may not be rigid enough or may not last long enough to allow healing.
Excision of the fragment and removal of loose bodies may be necessary.
Screw fixation may be performed for fragment stabilization. In this method, usually a specialized screw or Herbert-type screw, as shown in the images below, is used.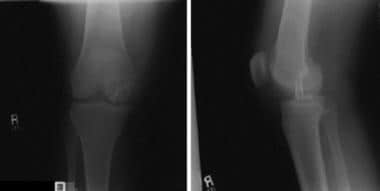 Herbert screw stabilization of medial femoral condyle osteochondritis dissecans.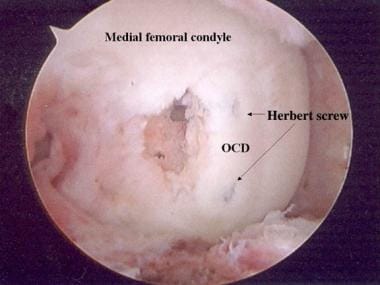 Completed osteochondritis dissecans stabilization with 2 Herbert screws. On initial examination, the most lateral defect was comminuted and removed; the larger weight-bearing surface was maintained and stabilized.
One study on children with symptomatic osteochondritis dissecans lesions in the knee found significant improvement in knee function scores after simple arthroscopic fixation using polylactide biodegradable lag screws. [8]
Abouassaly et al studied common techniques for surgically managing osteochondritis dissecans, including transarticular drilling for stable lesions and bioabsorbable pin fixation for unstable lesions. The researchers concluded that most lesions healed postoperatively, regardless of technique and that further high-quality trials are required to more appropriately compare the effectiveness of techniques. [9]
In another study of surgical procedures, Schulz et al found that thinking is shifting toward greater popularity for surgical treatment to encourage vascular ingrowth and healing. However, unstable and displaced lesions are still difficult to treat. Although various salvage procedures have shown promise, the potential for long-term morbidity remains. [10]
Osteochondral autograft transplantation (OATS) involves harvesting cylindrical osteochondral grafts from other areas of the knee to reconstruct a weight-bearing surface. A maximum 1-cm lesion (crater) depth is allowed for use of this treatment method.
Osteochondral allograft transplantation is similar to OATS except that a freshly harvested allograft condyle is used. The advantages are that the exact condyle curvature can be reconstructed and no further defect is created during autograft harvest.
Autologous chondrocyte implantation (ACI), by Carticel, requires a diagnostic arthroscopy, harvesting of a small amount of cartilage cells for cloning, and subsequent arthrotomy for reimplantation. Bone grafting of the OCD crater is often necessary prior to implantation.
Newer surgical treatments, including single-stage cell-based procedures, use mesenchymal stem cells and matrix augmentation. Any decision about appropriate surgery requires evaluation of both lesional (size, depth, stability) and patient (age, athletic level) characteristics. [11]
Other Treatment
In children with nondisplaced fragments, initial treatment includes limitation of activity with the use of crutches and restricted range of motion (eg, knee immobilizer, range-of-motion brace).
Recommend a trial of nonoperative treatment for 6-12 months. [12] If symptoms persist or failure to unite is observed, proceed with surgical treatment.
Return to Play
Return to play is allowed once the OCD lesion has healed and quadriceps strength has returned to within normal limits. If the athlete was treated surgically, he or she may return to play when the OCD lesion has healed and any obstructive retained hardware has been removed.
What would you like to print?