Workup
Imaging Studies
Images of osteochondritis dissecans of the knee are depicted below: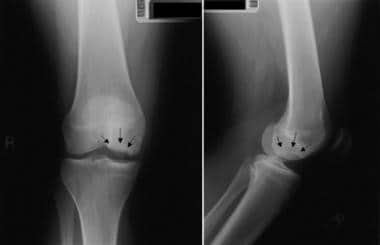 Anteroposterior and lateral radiographs of medial femoral condyle osteochondritis dissecans.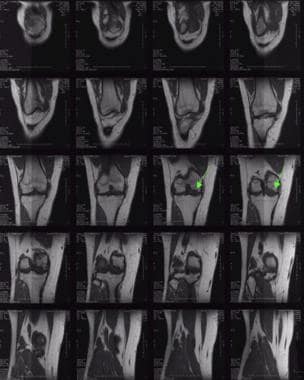 Anteroposterior MRI of medial femoral condyle osteochondritis dissecans.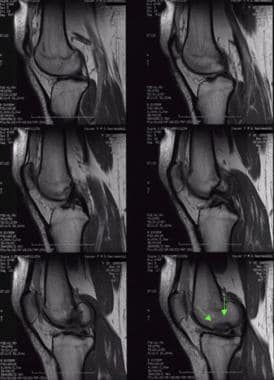 Lateral MRI of osteochondritis dissecans.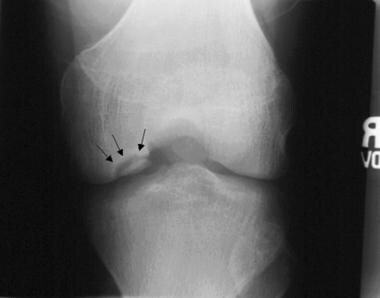 Anteroposterior radiograph of medial femoral condyle osteochondritis dissecans.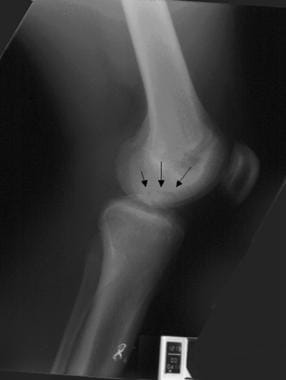 Lateral radiograph of osteochondritis dissecans.
Plain radiography (anteroposterior, lateral, and tunnel views) shows OCD lesions as well-circumscribed crescent-shaped areas of radiolucency above an area of subchondral bone, separated from the femoral condyle. In 75% of cases, the lesion is located on the posterolateral aspect of the MFC.
Arthrography, which is not used routinely, may be helpful but is invasive; MRI can obtain similar data.
Bone scanning may be helpful with a high index of suspicion or in patients with occult bilateral involvement; however, it cannot determine the age of the lesion.
With gadolinium enhancement, MRI is helpful for determining the vascularity of the lesion, for determining whether involvement is bilateral, and for determining if smaller lesions are present. MRI also helps determine the degree of loosening of the lesion. However, to determine lesion instability in young patients, MRI should not be used in isolation; it should be used in conjunction with clinical symptoms (eg, locking, catching, and swelling) and physical examination to determine if the lesion is unstable and may require surgical fixation. [7] In this setting, MRI can be helpful in determining appropriate treatment and tracking the extent of healing.
CT scanning may helpful in determining the appropriate treatment and is used when MRI is unavailable or contraindicated.
Procedures
Knee arthroscopy can be used as a diagnostic tool and a therapeutic tool. Results of arthroscopic evaluation allow determination of the size and stability of the lesion and allow tracking the lesion for evidence of healing. In addition, arthroscopic treatment of OCD, by whatever means, is possible and avoids formal knee arthrotomy.
What would you like to print?