Workup
Echocardiography
Echocardiography is the most important diagnostic tool to evaluate patients with mitral stenosis (MS). This noninvasive imaging modality provides excellent anatomic and hemodynamic assessment of MS.
Echocardiography provides the following:
Direct anatomic data, such as visualization of valve leaflet morphology and motility as well as measurement of valve orifice dimensions

Evaluation of left atrial size and detection of left atrial thrombi

Indirect physiologic data (ie, estimation of pressure gradients across the mitral valve and right ventricular systolic pressure), which may be measured using Doppler echocardiography
Transesophageal echocardiography
Transesophageal echocardiography is used when transthoracic echocardiographic pictures are inadequate. It may also be used to guide intervention and assess results in the operating room and cardiac catheterization laboratory.
Dynamic 3-dimensional transthoracic or transesophageal echocardiography
These techniques can provide good insight into valvular motion and help preoperative planning in situations in which valve reconstruction is considered. [5] However, the accuracy of these techniques is currently limited by the quality of the original 2-dimensional echo cross-sectional images, which can be adversely affected by patient motion, breathing, and cardiac arrhythmia such as atrial fibrillation.
A 2-dimensional echocardiogram of a boy with congenital MS is depicted below.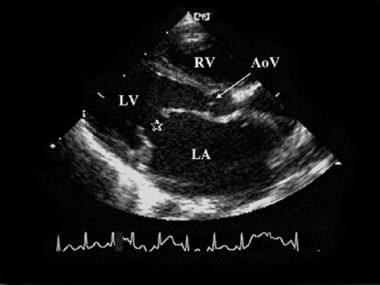 Congenital Mitral Stenosis. Two-dimensional echocardiograph, parasternal long axis view of a 5-month-old boy with congenital mitral valve stenosis. A small mitral valve annulus (star) is appreciated when compared with the normal-sized tricuspid valve annulus. Mitral valve stenosis has caused left atrial (LA) enlargement. AoV = Aorta; LA = Left atrium; LV = Left ventricle; RA = Right atrium; RV = Right ventricle.
A 2-dimensional echocardiogram of a patient requiring mitral valve replacement is depicted below.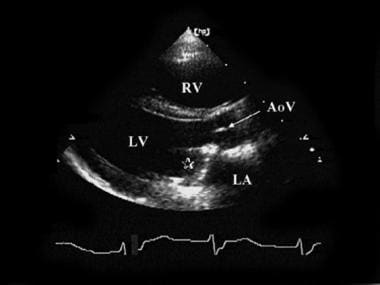 Congenital Mitral Stenosis. Two-dimensional echocardiograph, parasternal long axis view of a patient who required mitral valve replacement with a St. Jude's prosthetic mitral valve (star). He developed a stroke one month after mitral valve replacement despite anticoagulation with warfarin and required re-replacement of the prosthetic mitral valve. He will eventually outgrow this new prosthetic mitral valve and require subsequent mitral valve replacements with a larger mitral valve prosthesis. AoV = Aorta; LA = Left atrium; LV = Left ventricle; RA = Right atrium; RV = Right ventricle.
Imaging Studies
Chest radiography
Chest radiographic findings may include may the following:
Posteroanterior (PA) dilation secondary to high pulmonary vascular pressure and resistance

Pulmonary venous congestion

Right ventricular enlargement
Computed tomography
Computed tomography may be an adjunct to echocardiography for preprocedural or preoperative planning when mechanical mitral valve malfunction is suspected.
Magnetic resonance imaging
Magnetic resonance imaging is used infrequently. It may be an adjunct to echocardiography when masses or lesions are suspected.
Other Tests
Laboratory studies
Measure electrolyte balance and renal function if congestive heart failure is suspected.
Electrocardiography
Electrocardiography (ECG) findings may be normal in patients with mild MS. Hemodynamically significant stenosis results in ECG findings of left atrial or biatrial enlargement and right ventricular enlargement in proportion to severity of the obstruction.
Procedures
Cardiac catheterization
Cardiac catheterization may be used to obtain direct intracardiac pressure measurements, the mitral valve gradient, pulmonary vascular resistance, and systemic cardiac output.
The mitral valve effective orifice can be calculated using the Gorlin formula.
The diagnosis and hemodynamic assessment of most patients with MS is performed noninvasively with echocardiography. However, cardiac catheterization is used only when echocardiography does not provide complete information or if the patient undergoes mitral balloon valvuloplasty.
What would you like to print?