Workup
Imaging Studies
Plain radiographs should be ordered in most patients to rule out the differential diagnosis or concurrent possible pathology of a medial synovial plica. Routine radiographs should include a standing anteroposterior (AP), lateral view, and a 45° patellofemoral view. These radiographs help to demonstrate any evidence of medial compartment arthritis, osteochondritis dissecans, or patellofemoral joint pathology.
See the images below.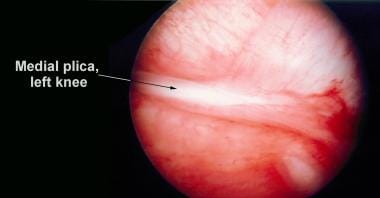 Medial plica of left knee.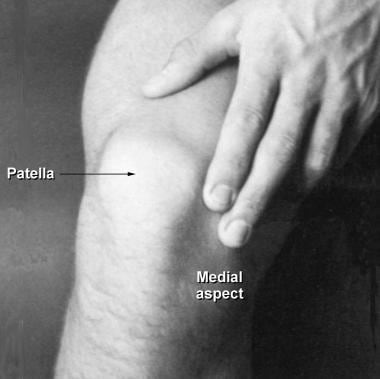 Patella in a male patient, medial aspect.
See also Knee Osteochondritis Dissecans, Medial Compartment Arthritis, and Osteochondritis Dissecans.
Magnetic resonance imaging (MRI) may also be useful to confirm the presence of a thickened plica (axial view) and to rule out other causes of medial-sided knee pain (eg, medial meniscus tear, bone bruise, osteochondritis dissecans). However, the plica can rest flat against the synovium and capsule, causing an MRI appearance of normal synovium. Large synovial effusions separate the plica from the synovial membrane and make diagnosis on MRI easier.
Studies that investigated the use of dynamic ultrasonography to diagnose symptomatic plicae in the knee have reported good sensitivity and specificity. [5]
Procedures
Diagnostic intra-articular lidocaine injections can be useful in some patients in whom it is difficult to determine if the pathology is intra-articular or extra-articular. Continued pain after an intra-articular lidocaine injection would point to an extra-articular cause of a patient's pain.
What would you like to print?