Presentation
History
Symptoms caused by pulmonary arteriovenous malformations (AVMs) are often insidious, as the arteriovenous malformations slowly enlarge.
Dyspnea, especially with exercise, may develop over many years. In severe cases, dyspnea in the upright position (platypnea) may be present. Visible cyanosis may be present if a significant degree of desaturation is present.
Hemoptysis and rarely massive hemoptysis may occur.
Less common complaints include chest pain, cough, migraine headaches, tinnitus, dizziness, dysarthria, syncope, vertigo, and diplopia. The cause of these symptoms is not entirely clear, but it may be related to hypoxemia, polycythemia, or paradoxical embolization through the pulmonary arteriovenous malformations.
Physical Examination
Murmurs or bruits over the location of the pulmonary arteriovenous malformations are heard in patients with large pulmonary arteriovenous malformations. These murmurs are most audible during inspiration and are called machinery murmurs.
Digital clubbing and cyanosis may be observed.
The phenomenon of orthodeoxia (desaturation with upright position) is characteristic. Because pulmonary arteriovenous malformations are more frequently found in the lower lobes, with upright position, more blood is directed to the lower lobes because of the effects of gravity, exacerbating the degree of shunting. In addition, platypnea (dyspnea with upright position) may also be noted because of the increased degree of cyanosis.
Because most patients with pulmonary arteriovenous malformations also have HHT, the characteristic mucocutaneous telangiectasias are frequently observed in patients with pulmonary arteriovenous malformations. These lesions are papular, slightly rounded, and sharply demarcated from surrounding skin. They have a few dendritic projections that are ruby colored and partially blanche with pressure. The lesions are present on the face, mouth, chest, and upper extremities (see the image below).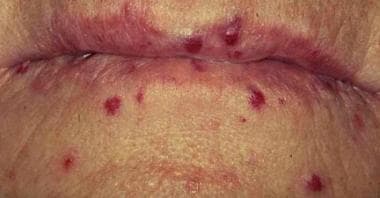 Mucosal telangiectasias are shown in a patient with hereditary hemorrhagic telangiectasia (HHT).
Certainly, the finding of mucocutaneous telangiectasias should prompt a workup for HHT and include evaluation for pulmonary arteriovenous malformations.
What would you like to print?