DDx
Diagnostic Considerations
Failure to diagnosis cyanotic congenital heart disease is a potential medicolegal pitfall.
Differential diagnostic considerations depend on the type of presentation, namely moderate-to-severe cyanosis with decreased pulmonary flow on a chest radiograph and mild cyanosis with increased pulmonary vascular marking on a chest radiograph with or without congestive heart failure.
Decreased pulmonary blood flow
The differential diagnosis of cyanotic infants with pulmonary oligemia is discussed below, under "Differential diagnosis."
Electrocardiography is useful for arriving at a diagnosis (see the image below). [18] Cardiac catheterization and selective cineangiography is rarely, if ever, needed to document the diagnosis.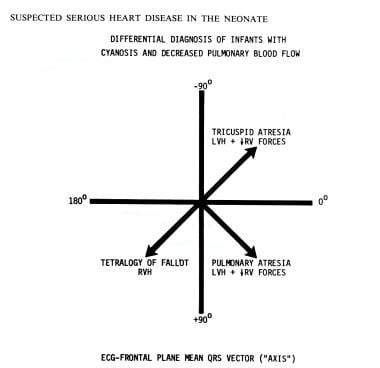 Use of electrocardiographic mean QRS vector (axis) in the frontal plane for the differential diagnosis of a cyanotic newborn with decreased pulmonary blood flow. Associated ventricular hypertrophy patterns (as marked in each quadrant) and decreased right ventricular (RV) forces are also helpful. From Rao PS. Management of neonate with suspected serious heart disease. King Faisal Spec Hosp Med J 1984 (4):209, with permission.
Increased pulmonary blood flow
The differential diagnosis of mild cyanosis with pulmonary plethora is below, under Differential Diagnosis.
Although the characteristic abnormal superior vector (left axis deviation) of tricuspid atresia is helpful, it is not present in all cases of tricuspid atresia with transposition of the great arteries. In addition, some of the defects listed under Differential Diagnosis have similar electrocardiographic features. Often, echocardiography and, occasionally, angiocardiography are necessary to confirm the diagnosis.
Differential diagnosis
The differential diagnosis of tricuspid atresia in the neonate with decreased pulmonary flow is as follows [18] :
Tetralogy of Fallot, including pulmonary atresia with ventricular septal defect (VSD)

Pulmonary atresia or severe stenosis with intact ventricular septum

Complex cardiac defects with severe pulmonary stenosis or atresia
The differential diagnosis of tricuspid atresia in the neonate with increased pulmonary blood flow is as follows [18] :
D-Transposition of the great arteries with a large VSD

Coarctation of the aorta with VSD

Multiple left-to-right shunts (VSD, common atrioventricular canal, patent ductus arteriosus)

Single ventricle, double-outlet right ventricle, and other complex cardiac defects without pulmonic stenosis

Total anomalous pulmonary venous connection without obstruction

Hypoplastic left heart syndrome
Differential Diagnoses
What would you like to print?