Workup
Imaging Studies
Chest radiography
An anteroposterior chest radiograph often reveals the characteristic features, including a straightened upper left heart border caused by the side-by-side great arteries instead of the aorta and the pulmonary arteries twisting around each other, as is observed normally. Cardiomegaly may be observed if associated conditions such as ventricular septal defect (VSD) or tricuspid regurgitation are present. See the image below.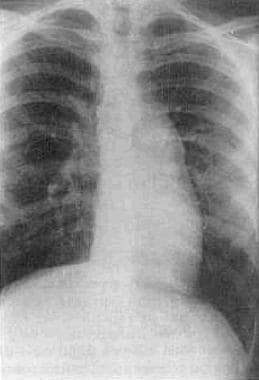 An anteroposterior chest radiograph revealing the straightened left heart border formed by the aorta, which is more leftward and anterior than usual.
Echocardiography
Relatively recent advances in the technology of Doppler echocardiography make noninvasively diagnosing this condition possible and allows for great accuracy, not only postnatally but also using fetal echocardiography. Two important, suggested clues have been the presence of a left-sided ventricle with a moderator band and an abnormal parallel orientation of the great arteries. [26]
Because dextrocardia is present in 25% of these patients, the position of the heart within the thorax should be initially determined. All standard views are essential to assess the atrial and ventricular morphology in detail and to look for the commonly associated malformations.
See the images below.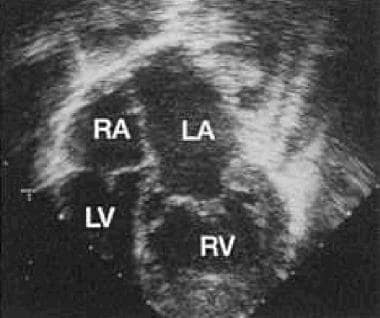 A transthoracic echocardiogram in the apical 4-chamber view illustrating the moderator band in the left-sided ventricle and the apically displaced left atrioventricular valve suggesting that it is the morphologic right ventricle.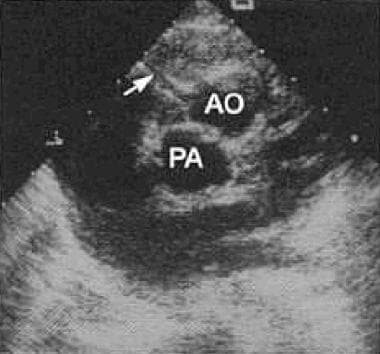 A transthoracic echocardiogram in the parasternal short axis view demonstrating the anterior and leftward aorta. The left coronary artery can be observed at the 10-o'clock position.
Other Tests
Electrocardiography (ECG) may provide the most significant clue of this condition. The presence of Q waves over the right precordium (because of reverse septal depolarization) with absent Q waves over the lateral precordium in the absence of other criteria for right ventricular hypertrophy should suggest this defect.
Diagnostic Procedures
Angiocardiography is no longer required for the diagnosis because echocardiographic findings are diagnostic. Real danger of causing complete heart block exists during this procedure because the atrioventricular (AV) bundle is located on the left ventricular side of the septum, and because the left ventricle is connected to the right atrium, it is in the direct path of a catheter in a right heart catheterization. [18]
What would you like to print?