Overview
Background
Transient neonatal pustular melanosis is a benign, self-limited condition of unknown etiology. [1, 2, 3, 4] Historically, the disorder was lumped together with vesicular and bullous lesions and called pemphigus neonatorum. It was not described as a separate entity until 1976, although it may have been recognized as early as 1961 and published under the name of lentiginosis neonatorum. Note the image below.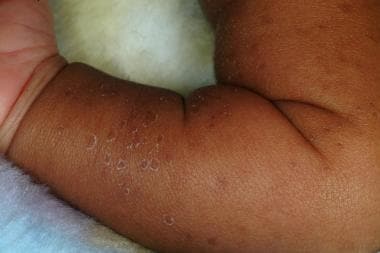 Ruptured pustules and vesicles with remaining characteristic collarette of scale and brown hyperpigmented macules. Courtesy of Anthony J. Mancini, MD.
Etiology
The etiology is unknown. Some reports have described cases that evolved into erythema toxicum neonatorum [5] ; however, in the author's opinion, the disorders may coexist and are clinically distinct entities.
Epidemiology
US frequency
Few reports of large numbers of screened infants are available; however, incidence has been reported to be as much as 2.2% in white infants and 4.4% in black infants.
Race
Transient neonatal pustular melanosis is common in black infants. It can be observed in all racial groups, especially those with darker constitutive pigmentation, Latinos, South Asians, and those of Mediterranean extraction.
Age
The eruption is almost always present at birth but the clinical appearance or stage may vary.
Prognosis
Neonatal pustular melanosis is a completely benign condition that is not known to cause any long-term sequelae. [6] The prognosis is excellent. Postinflammatory pigmented macules resolve in 2-4 months.
Patient Education
If pustules continue to erupt, other diagnoses should be considered.
What would you like to print?