Presentation
History
Patients present for care of ingrown nails due to discomfort. Ingrown nails may cause significant pain. If a toenail is involved, the discomfort worsens with weightbearing and ambulation. The patient with an ingrown nail presents with a sharp, focal pain adjacent to the nail bed of the affected digit. The patient or parents may typically describe crusting, purulence, and friable granulation tissue at the site.
Physical Examination
Upon examination, the following may be present:
Edema or inflammation of tissue surrounding the nail bed

Erythema of the same tissue

Macerated or friable granulation tissue

Hypertrophy of the nail margin

Hypertrophy of the surrounding epidermis
Accordingly, ingrown nail has been divided into the following three stages [20] :
Stage 1: Mild erythema edema and pain with pressure

Stage 2: Significant erythema, edema, local infection, and discharge
Complications
Development of paronychia is the most common complication. If paronychia is not treated, the condition may progress to cellulitis, osteomyelitis, or systemic infection.
If neglected, abscess formation (paronychia) can spread and lead to osteomyelitis, systemic infection, and sepsis; amputation of the digit may even be required for definitive treatment.
An ingrown nail causes varying degrees of inflammation in the surrounding tissue, and this may predispose to infection if not well treated.
Hypertrophy of the medial and lateral skin folds may occur, as shown in the image below, and bilateral sidewall hypertrophy that covers the entire nail has been reported. [21]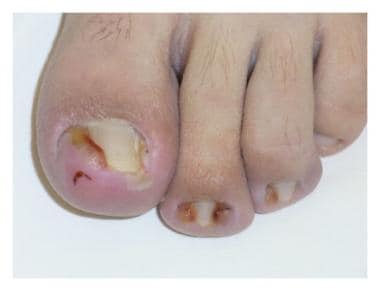 Hypertrophy of the lateral nail fold that partially cover the nail. Courtesy of Dermatology Research and Practice (Haneke, E. "Controversies in the Treatment of Ingrown Nails." Dermatology Research and Practice. 2012; 2012:783924).
Pyogenic granuloma may develop on longstanding infected ingrown nails.
If left untreated, chronic inflammation may cause skin bridging secondary to epithelialization of the adjacent inflamed hypertrophied soft tissue. [22]
Keloid formation may result from chronic inflammation, especially in cases of recurrent ingrown nails. [23]
Recurrence is defined as the occurrence of pain, discomfort, erythema, and/or drainage at the site of the treated nail edge.
Although infrequent, postsurgical infection may occur in a small percentage of patients. Appropriate precautions should be given to return for any signs of infection or fever.
What would you like to print?