Presentation
History
Molluscum contagiosum is usually asymptomatic; however, individual lesions may be tender or pruritic. In general, the patient does not experience systemic symptoms, such as fever, nausea, or malaise.
The patient may recall contact with an infected sexual partner, family member, or other person. Patients who report having multiple sexual partners or unprotected sex have an increased risk of infection. Contact may be reported in children sharing a bath or in athletes sharing gymnasium equipment and benches. Parents may report recent exposure to other children affected with molluscum contagiosum at school, camp, or public recreational facilities (eg, gymnasiums, swimming pools).
If the patient has skin conditions that disrupt the epidermal layer, molluscum tends to spread more rapidly.
The patient may notice new lesions, or bumps, developing along a scratch in areas of involved skin. Patients with atopic dermatitis may have more extensive disease and may have a positive family history of atopy (eg, eczema, asthma, hayfever). Children frequently have active atopic dermatitis.
A report detailed an eruption of molluscum contagiosum in a patient who had undergone a renal transplant. [17] Case reports have detailed molluscum contagiosum eruptions in areas that were treated with tacrolimus 0.1% (Protopic). [2, 3, 4]
Duration of the individual lesion and of the attack varies. Although most cases resolve without therapy within 6-9 months, some persist for 3-4 years. Individual lesions seldom persist more than 2 months.
Patients with HIV or those receiving prednisone, methotrexate, or other immunosuppressive medications may have more extensive and resistant infections.
Patients infected with HIV
Patients generally have a low CD4 count, with the severity of infection being inversely related to the count.
Patients who are poorly compliant or noncompliant with highly active antiretroviral therapy (HAART) for the treatment of HIV are at an increased risk, as are patients who have multiple sexual partners. The frequency of unprotected sex also increases the risk of transmission.
Physical Examination
Lesions are discrete, nontender, flesh-colored, dome-shaped papules (bumps, dimples) that show a central umbilication (which is more apparent when the lesion is frosted with liquid nitrogen). (See the image below.)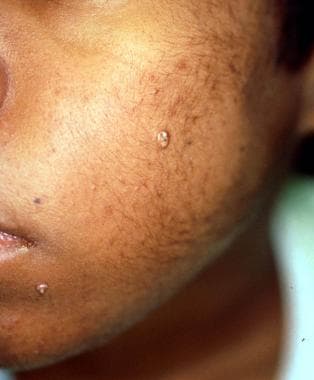 Presented here are the classic umbilicated papules of molluscum contagiosum lesions on the cheek of a child. Facial lesions occur frequently in children, although lesions generally are few.
Lesions are usually 2-5 mm (rarely up to 1.5 cm in the case of giant molluscus) in diameter and may be present in groups or widely disseminated. Immunocompetent children and adults usually have fewer than 20 lesions. Larger lesions may have several distinct clumps of molluscum bodies (see the image below). Beneath the umbilicated center is a white, curdlike core that contains molluscum bodies. Some lesions become confluent to form a plaque (agminate form).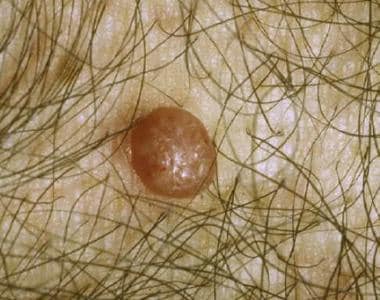 Molluscum contagiosum. Larger lesions may have several clumps of molluscum bodies rather than the more common single central umbilication. This may make them difficult to recognize as molluscum contagiosum.
Lesions may be located anywhere; however, a predilection for the face, trunk, and extremities is observed in children and a predilection for the groin and genitalia is observed in adults. Lesions are seldom found on the palms and are rarely documented on the soles, oral mucosa, or conjunctiva.
Distribution is influenced by the mode of infection, type of clothing worn, and climate. In sexually active individuals, the lesions may be confined to the penis, pubis, and inner thighs (see the image below). Widespread and persistent molluscum contagiosum may occur in patients with AIDS and may be the presenting complaint.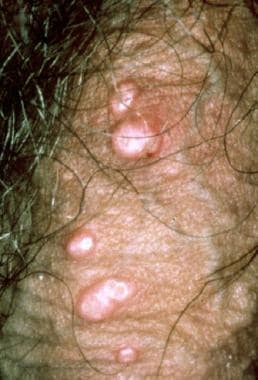 Molluscum contagiosum on the shaft of the penis. Molluscum contagiosum in the genital region of adults is most commonly acquired as a sexually transmitted disease.
Molluscum contagiosum may be randomly associated with other lesions, such as epidermal cysts, nevocellular nevi, sebaceous hyperplasias, and Kaposi sarcoma. Pseudocystic molluscum contagiosum, giant molluscum contagiosum, and molluscum contagiosum associated with other lesions are responsible for frequent clinical misdiagnosis.
Other characteristics of molluscum contagiosum to consider include the following:
Intertriginous areas: Hundreds of lesions may develop in intertriginous areas, such as the axillae and intercrural region.

Atopic dermatitis: Patients with atopic dermatitis occasionally develop large numbers of lesions, which are confined to areas of lichenified skin.

Eczema: Approximately 10% of patients develop eczema around the lesions, with this being attributed to toxic substances produced by the virus or to a hypersensitivity reaction to the virus; eczema that is associated with molluscum lesions subsides spontaneously following removal (see the first image below).

Inflammatory changes: These result in suppuration, crusting, and eventual resolution of the lesion; this inflammatory stage does not usually represent secondary infection and seldom requires antibiotic therapy (see the second image below).

Molluscum contagiosum. Approximately 10% of patients develop eczema around lesions. Eczema associated with molluscum lesions spontaneously subsides following removal.

After trauma, or spontaneously after several months, inflammatory changes result in suppuration, crusting and eventual resolution of the lesion. This inflammatory stage does not usually represent secondary infection and seldom requires antibiotic therapy.
Disfiguring lesions may occur in patients with the following conditions:
AIDS: Facial and perioral molluscum contagiosum are most commonly observed as a manifestation of HIV infection, particularly in homosexual men with HIV [18] ; at the time of molluscum contagiosum diagnosis, the CD4 count is low.

Immunocompromise: Lesions are especially common and extensive on the face and neck.

Congenital immunodeficiency

Selective immunoglobulin M (IgM) deficiency

Treatment with prednisone and methotrexate

Refractory atopic dermatitis
Complications
Complications of molluscum contagiosum include irritation, inflammation, and secondary infections. Lesions on eyelids may be associated with follicular or papillary conjunctivitis. Bacterial superinfection may occur but is seldom of clinical significance. (See Prognosis, Treatment, and Medication.)
Cellulitis is an unusual complication of molluscum contagiosum in patients who are HIV infected. [19] Secondary infection with Staphylococcus aureus has resulted in abscess formation, whereas Pseudomonas aeruginosa can cause necrotizing cellulitis.
What would you like to print?