Presentation
History
The rash of Gianotti-Crosti syndrome (GCS) usually has sudden onset and may be associated with an acute infectious illness or immunization. Epstein-Barr virus (EBV) is the most common inciting cause of GCS. The rash is usually present for 2-4 weeks but can last as long as 4 months. [7] Although often asymptomatic, it may be mildly pruritic. Recurrent episodes have been rarely reported. [16]
Physical Examination
Children with Gianotti-Crosti syndrome (GCS) generally appear healthy; however, multiple papules may erupt on the face, buttocks, and extensor surface of the extremities; papules are symmetrically distributed, discrete, and flesh-toned–to–erythematous-to-brown and flat-topped. New lesions can continue to appear for 8-11 weeks. [6] See the images below.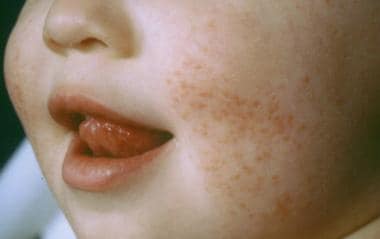 Multiple erythematous flat-topped papules on the cheeks of an 18-month-old boy with Gianotti-Crosti syndrome.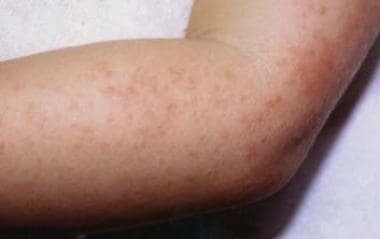 Arm of a 3-year-old boy with Gianotti-Crosti syndrome demonstrating well-defined erythematous lichenoid papules on the arm and forearm.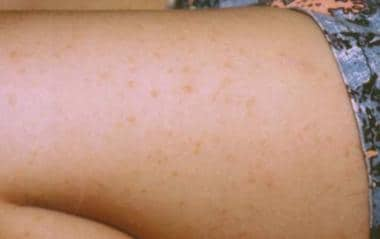 Thigh of the 3-year-old boy with Gianotti-Crosti syndrome.
The trunk is strikingly spared, although a transient eruption can occur. The mucous membrane is not involved. [5] Individual papules are monomorphous and range in size from 1-5 mm. They may be hemorrhagic or edematous to the point of forming vesicles. They may coalesce into larger plaques. The face may be the only area of involvement. One report that highlighted this clinical presentation showed that all children with an exclusively facial eruption had Epstein-Barr virus. [17]
Hepatosplenomegaly and axillary or inguinal adenopathy are inconsistent findings.
What would you like to print?