Overview
Practice Essentials
Atopic dermatitis (AD) is a chronically relapsing skin disorder with an immunologic basis. [1] The clinical presentation varies from mild to severe. In the worst cases, atopic dermatitis may interfere with normal growth and development. Treatment consists of adequate skin hydration, avoidance of allergenic precipitants, topical anti-inflammatory medications, systemic antihistamines, and antibiotic coverage of secondary infections.
Although often used interchangeably, the terms eczema and atopic dermatitis are not equivalent. Eczema is a reaction pattern with various causes and the most common pediatric cause is atopic dermatitis. Other causes of eczematous dermatitis include allergic contact dermatitis, irritant contact dermatitis, seborrheic dermatitis, nummular eczema, dyshidrotic eczema, asteatotic eczema, and lichen simplex chronicus. Eczematous reactions can be classified as acute, subacute, or chronic, depending on historical and physical characteristics.
The images below depict patients with atopic dermatitis.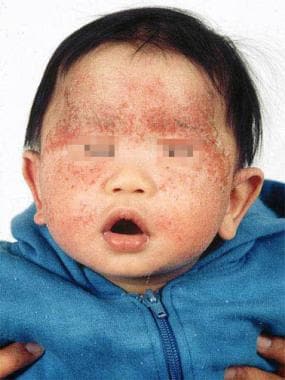 Typical atopic dermatitis on the face of an infant.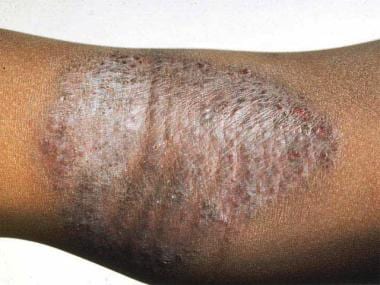 Flexural involvement in childhood atopic dermatitis.
Prognosis
Atopic dermatitis persists into adulthood in 20-40% of children with the condition. Many children outgrow severe atopic dermatitis and only experience itchy or inflamed skin if exposed to exogenous irritants as adults.
Signs and symptoms
See Physical Examination.
Diagnostics
No definitive laboratory tests are used to diagnose atopic dermatitis (AD). Elevated serum immunoglobulin E (IgE) levels and peripheral blood eosinophilia occur in most individuals with atopic dermatitis, and these findings may be useful in confirming the atopic status of suspected cases. The presence of serum IgE directed against the cell wall of S aureus is observed in hyper-IgE syndrome and atopic dermatitis.
Common infections that mimic or complicate atopic dermatitis can be tested for as follows: conduct a Tzanck smear for herpes simplex virus (HSV), a potassium hydroxide (KOH) preparation for dermatophytes, and a Gram stain for bacterial infections.
Histologic findings
Acute eczematous lesions show histologic markings of hyperkeratosis, parakeratosis, and acanthosis with a decreased or absent granular cell layer.
Important features in histologic diagnosis include spongiosis (accumulation of fluid in the intercellular and intracellular areas) and exocytosis (infiltration of leukocytes through the epidermis).
Chronic eczematous lesions display hyperkeratosis with areas of parakeratosis and papillomatosis (upward proliferation of dermal papillae).
Also see Other Tests.
Management
See Treatment and Medication.
Pathophysiology
Clinically unaffected skin in patients with atopic dermatitis has increased numbers of T-helper type 2 (Th2) cells compared with skin in patients without atopic dermatitis. Increased levels of interleukin (IL)-4 and IL-13 (Th2 cytokines) are seen in acute atopic dermatitis skin lesions, whereas chronic atopic dermatitis lesions show increased expression of IL-5 (Th2 cytokine) and IL-12 and interferon (IFN)-γ (Th1 cytokines). Chronic atopic dermatitis lesions also exhibit greater eosinophil infiltration compared with skin in patients without atopic dermatitis.
IL-4 enhances differentiation of T-helper cells along the Th2 pathway, and IL-13 acts as a chemoattractant for Th2 cells to infiltrate atopic dermatitis lesions. IL-13 may also directly induce IL-5 expression and eosinophil infiltration, thereby facilitating the transition from acute lesions into chronic lesions. [2]
In addition, patients with atopic dermatitis appear to have significantly decreased levels of skin barrier molecules compared with normal controls. Ceramide lipids in the stratum corneum, which are responsible for water retention and permeability functions, and skin barrier proteins such as filaggrin are expressed at significantly lower levels in the skin of patients with atopic dermatitis compared with the skin of patients without atopic dermatitis. [2, 3]
Significant evidence favors the hygiene hypothesis for the development of atopic dermatitis. An inverse relationship is recognized between helminth infections and atopic dermatitis but no other pathogens. [4] In addition, early day care, endotoxin, unpasteurized farm milk, and animal exposure appear to be beneficial, likely because of a general increase in exposure to nonpathogenic microbes.
Positive association was shown between maternal exposure to increased concentrations of particulate matter and atopic dermatitis. [5]
Etiology
The etiology of atopic dermatitis appears to be linked both to genetic causes and to environmental agents.
The prevalence of atopic dermatitis in children with one affected parent is 60% and rises to nearly 80% for children of two affected parents. Additionally, nearly 40% of patients with newly diagnosed cases report a positive family history for atopic dermatitis in at least one first-degree relative. Children of parents with atopic dermatitis have an increased risk of developing atopic dermatitis by age 3 years. [6] Much higher concordance rates for atopic dermatitis are observed in monozygotic twins (77%) than in dizygotic twins (15%). [2]
Evidence has demonstrated a strong genetic predisposition towards the development of atopic dermatitis in patients with loss-of-function mutations in the gene that encodes the epidermal structural protein filaggrin (FLG). Filaggrin deficiency causes a significant defect in the normal epidermal barrier that allows for enhanced allergen absorption through the skin, resulting in a higher incidence of dermatitis. FLG gene mutations have been associated with a more severe atopic dermatitis phenotype, earlier onset of atopic dermatitis, increased levels of systemic allergen sensitivity, and a higher proportion of patients with atopic dermatitis who eventually develop asthma. [7]
In addition, the specific loss-of-function null mutation R501x in the filaggrin gene appears to confer a higher risk of developing eczema herpeticum, which is a rare but serious complication that requires treatment with antiviral medications. [8]
Prenatal risk factors for atopic dermatitis are under investigation. Term infants of mothers who had gestational diabetes during pregnancy had an almost 8-fold increase in the prevalence of atopic dermatitis by age 6 years. Interestingly, this relationship did not occur in preterm infants of mothers with gestational diabetes. The reasons for this discrepancy are yet to be determined. [9]
A retrospective study of 414 children and adolescents with atopic dermatitis suggested that prolonged obesity in early childhood may be a risk factor for atopic dermatitis; this advocated the concept that weight loss may facilitate prevention and treatment of childhood atopic dermatitis. [10]
Environmental allergens repeatedly have been shown to trigger exacerbations of atopic dermatitis in susceptible individuals. Contact irritants, climate, sweating, aeroallergens, microbial organisms, and stress/psyche commonly trigger exacerbations.
Contact irritants (eg, soaps, solvents, wool clothing, mechanical irritants, detergents, preservatives, perfumes) compromise the integument, creating inflammation, irritation, and a portal of entry for further environmental insult. These surface irritants, along with the macerative effects of sweating and the drying effects of low humidity, lower the pruritic threshold. A vicious cycle of itching and scratching ensues, in which added cutaneous damage caused by scratching further lowers the pruritic threshold and subsequently causes increased itching.
Aeroallergens (eg, house dust mite, molds, pollen, dander) induce peripheral eosinophilia and elevate serum IgE levels. These early effects lead to increased histamine release from IgE-activated mast cells and elevated activity of the T-helper cell–mediated immune system. The increased release of vascular mediators (eg, bradykinin, histamine, slow-reacting substance of anaphylaxis [SRS-A]) induces vasodilation, edema, and urticaria, which in turn stimulate pruritus and inflammatory cutaneous changes.
Microbial agents (eg, S aureus, Pityrosporum yeasts, Candida organisms, Trichophyton dermatophytes) act in two different ways to promote the flares of atopic dermatitis. The microorganisms directly invade the skin, creating local injury and inflammation, and they induce a systemic allergic response to specific antigens, causing a rise in serum IgE and enhanced activity of the immune system. Anti-IgE drugs diminish pediatric atopic dermatitis severity. [11]
Nearly all patients with atopic dermatitis are colonized by S aureus on lesional skin. More than half of patients with atopic dermatitis are colonized by S aureus strains capable of producing superantigens. These patients can develop superantigen-specific IgE antibodies that activate inflammatory cells in the skin. Staphylococcal enterotoxin B is a superantigen known to upregulate IL-31 expression in skin. IL-31 has been shown to induce pruritus and skin lesions resembling atopic dermatitis in mice. [2] In addition, methicillin-resistant S aureus strains with reduced susceptibility to vancomycin are increasing worldwide and have been documented in atopic children. [12]
Specific IgE levels to Malassezia furfur have been correlated with atopic dermatitis severity in a subgroup of patients. These Malassezia -specific IgE antibodies have been shown to crossreact with autoantigens in atopic dermatitis skin. [2]
Food allergy is implicated as a cause in one third to one half of children with atopic dermatitis. Food allergens may be the initial trigger for IgE autoreactivity to epithelial autoantigens in young children with atopic dermatitis. [2] The most common food allergens in children are egg, soy, milk, wheat, fish, shellfish, and peanut, which together account for 90% of food-induced cases of atopic dermatitis in double-blind, placebo-controlled food challenges. Fortunately, many clinically significant food allergies self-resolve within the first 5 years of life, eliminating the need for long-term restrictive diets.
Stress may trigger atopic dermatitis at the sites of activated cutaneous nerve endings, possibly by the actions of substance P, vasoactive intestinal peptide (VIP), or via the adenyl cyclase–cyclic adenosine monophosphate (cAMP) system.
Atopic dermatitis is the result of a complex relationship between genetic predisposition and environmental exposures, including climate. [13] Atopic dermatitis prevalence was significantly lower with highest-quartile mean annual relative humidity, and with 2 other factors associated with increased UV exposure.
Epidemiology
Frequency
United States
Atopic dermatitis occurs in approximately 10-20% of children and 2% of adults. [2] Children with concurrent asthma or hayfever have a 30-50% incidence of developing atopic dermatitis.
International
Prevalence rates for atopic dermatitis in children over a 1-year period ranged from around 2% in Iran and China to about 20% in Australasia, England, and Scandinavia. [14] Interestingly, populations that migrate from areas of low prevalence to areas of higher prevalence have shown an increased incidence of atopic dermatitis, bolstering the idea of strong environmental influences in the development of atopic dermatitis.
Race, sex, and age-related information
No clear racial predilections have been identified.
Males and females are affected with equal incidence and severity.
Atopic dermatitis may occur in people of any age but often starts in infants aged 2-6 months. Ninety percent of patients with atopic dermatitis experience the onset of disease prior to age 5 years. [15] Seventy-five percent of individuals experience marked improvement in the severity of their atopic dermatitis by age 14 years; however, the remaining 25% continue to have significant relapses during their adult life. A 2009 study concluded that the prevalence of atopic dermatitis in children younger than 2 years was 18.6%. [16]
What would you like to print?