Overview
Background
Atopic dermatitis (AD) is a chronically relapsing skin disorder with an immunologic basis. [1] The clinical presentation varies from mild to severe. In the worst cases, atopic dermatitis may interfere with normal growth and development. Treatment consists of adequate skin hydration, avoidance of allergenic precipitants, topical anti-inflammatory medications, systemic antihistamines, and antibiotic coverage of secondary infections.
Although often used interchangeably, the terms eczema and atopic dermatitis are not equivalent. Eczema is a reaction pattern with various causes and the most common pediatric cause is atopic dermatitis. Other causes of eczematous dermatitis include allergic contact dermatitis, irritant contact dermatitis, seborrheic dermatitis, nummular eczema, dyshidrotic eczema, asteatotic eczema, and lichen simplex chronicus. Eczematous reactions can be classified as acute, subacute, or chronic, depending on historical and physical characteristics.
The images below depict patients with atopic dermatitis.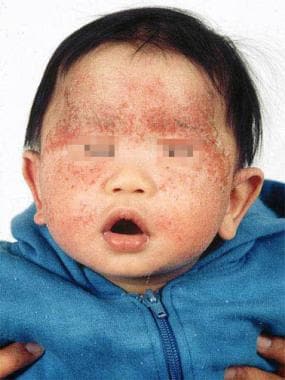 Typical atopic dermatitis on the face of an infant.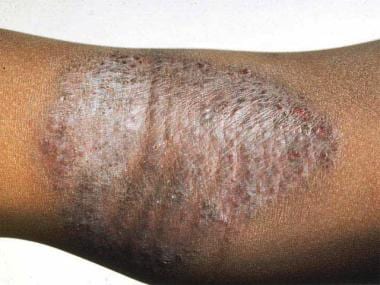 Flexural involvement in childhood atopic dermatitis.
Pathophysiology
Clinically unaffected skin in patients with atopic dermatitis has increased numbers of T-helper type 2 (Th2) cells compared with skin in patients without atopic dermatitis. Increased levels of interleukin (IL)-4 and IL-13 (Th2 cytokines) are seen in acute atopic dermatitis skin lesions, whereas chronic atopic dermatitis lesions show increased expression of IL-5 (Th2 cytokine) and IL-12 and interferon (IFN)-γ (Th1 cytokines). Chronic atopic dermatitis lesions also exhibit greater eosinophil infiltration compared with skin in patients without atopic dermatitis.
IL-4 enhances differentiation of T-helper cells along the Th2 pathway, and IL-13 acts as a chemoattractant for Th2 cells to infiltrate atopic dermatitis lesions. IL-13 may also directly induce IL-5 expression and eosinophil infiltration, thereby facilitating the transition from acute lesions into chronic lesions. [2]
In addition, patients with atopic dermatitis appear to have significantly decreased levels of skin barrier molecules compared with normal controls. Ceramide lipids in the stratum corneum, which are responsible for water retention and permeability functions, and skin barrier proteins such as filaggrin are expressed at significantly lower levels in the skin of patients with atopic dermatitis compared with the skin of patients without atopic dermatitis. [2, 3]
Significant evidence favors the hygiene hypothesis for the development of atopic dermatitis. An inverse relationship is recognized between helminth infections and atopic dermatitis but no other pathogens. [4] In addition, early day care, endotoxin, unpasteurized farm milk, and animal exposure appear to be beneficial, likely because of a general increase in exposure to nonpathogenic microbes.
Positive association was shown between maternal exposure to increased concentrations of particulate matter and atopic dermatitis. [5]
Epidemiology
Frequency
United States
Atopic dermatitis occurs in approximately 10-20% of children and 2% of adults. [2] Children with concurrent asthma or hayfever have a 30-50% incidence of developing atopic dermatitis.
International
Prevalence rates for atopic dermatitis in children over a 1-year period ranged from around 2% in Iran and China to about 20% in Australasia, England, and Scandinavia. [6] Interestingly, populations that migrate from areas of low prevalence to areas of higher prevalence have shown an increased incidence of atopic dermatitis, bolstering the idea of strong environmental influences in the development of atopic dermatitis.
Race
No clear racial predilections have been identified.
Sex
Males and females are affected with equal incidence and severity.
Age
Atopic dermatitis may occur in people of any age but often starts in infants aged 2-6 months. Ninety percent of patients with atopic dermatitis experience the onset of disease prior to age 5 years. [7] Seventy-five percent of individuals experience marked improvement in the severity of their atopic dermatitis by age 14 years; however, the remaining 25% continue to have significant relapses during their adult life. A recent study concluded that the prevalence of atopic dermatitis in children younger than 2 years was 18.6%. [8]
Prognosis
Atopic dermatitis persists into adulthood in 20-40% of children with the condition. Many children outgrow severe atopic dermatitis and only experience itchy or inflamed skin if exposed to exogenous irritants as adults.
What would you like to print?