Presentation
History
In assessing patients with suspected acrodermatitis enteropathica (AE), inquire if any siblings or relatives had similar symptoms or required zinc supplementation. A history of diarrhea, anorexia, photophobia, taste changes, or behavioral changes suggests AE as a possible diagnosis. In the elderly, elicit a history of major life changes, such as the death of a spouse, which may create lifestyle changes including a restrictive diet. [13]
Certain medical conditions and medications can be predisposing factors for zinc deficiency. Some of the medical conditions include cirrhosis, diabetes mellitus, burns, end stage renal disease, Celiac disease, inflammatory bowel disease, and cystic fibrosis. [12, 14]
Physical Examination
In general, older patients are miserable and depressed. Infants are inconsolable, irritable, have a hoarse cry, and may withdraw from contact.
Erythematous, vesiculobullous, or pustular lesions that lead to dry, scaly, or eczematoid lesions distributed around periorificial and acral areas of the body are characteristic of AE. [15, 16, 17]
The borders of affected areas are sharply demarcated and have an accentuation of craquelé-like scale at the periphery. Paronychia may be present and may be bullous and confused with epidermolysis bullosa. [18]
See the images below.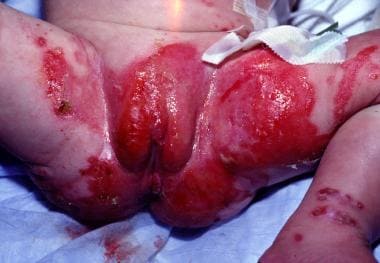 Skin lesions in the diaper area.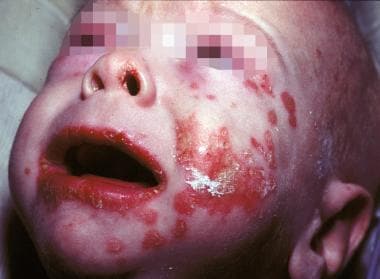 Facial lesions.
Foot lesions.
Partial or total hair loss may be evident. In a series of 58 cases, Wells and Winkelman found that 91% of their patients had diarrhea, 98% had alopecia, 96% had nail dystrophy, and 100% had dermatitis. [19]
Acquired zinc deficiency can have milder clinical features characterized by eczematous or psoriasiform dermatitis accompanied by perlèche. Areas of pressure or rubbing may also be involved. Some plaques appear annular or nummular and may not be as inflamed in chronically undiagnosed patients.
Signs of secondary infection (ie, candidiasis) may obscure the presentation.
What would you like to print?