Overview
Background
Although the discussion of pediatric growth failure can be traced back over a century in the medical literature, the term failure to thrive (FTT) has only been used in the past several decades. The previously used dichotomy of nonorganic (environmentally related) and organic growth failure is the result of either inadequate calorie absorption, excessive calorie expenditure or inadequate intake of calories. [1] See the image below.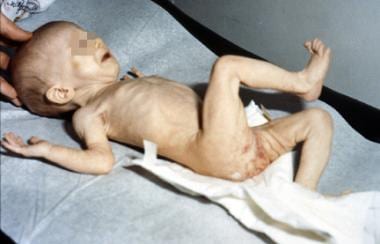 This 6-month-old infant was admitted with marasmus. The infant was born to a mother who did not bond effectively because of postpartum depression. He has evidence of severe wasting and neglectful care as also evidenced by the diaper excoriation. Weight gain was achieved by placement in foster home.
The objective parameter is usually the deceleration of growth height and weight. If FTT is severe, the parameter is poor brain growth as evidenced by head circumference. The diagnosis is based on growth parameters that (1) fall over 2 or more percentiles, (2) are persistently below the third or fifth percentiles, or (3) are less than the 80th percentile of median weight for height measurement. Growth failure is now generally accepted to be overly simplistic and obsolete.
A good working definition of growth failure related to aberrant caregiving is the failure to maintain an established pattern of growth and development that responds to the provision of adequate nutritional and emotional needs of the patient. Most cases of FTT are not related to neglectful caregiving, although it may be a sign of maltreatment and should be considered during an evaluation for growth failure. [2] A joint clinical report by the American Academy of Pediatrics Committee on Child Abuse and Neglect and the American Academy of Pediatrics Committee on Nutrition outlines 3 indicators of neglect: "Intentional withholding of food from the child; strong beliefs in health and/or nutrition regimens that jeopardize a child's well-being; and family that is resistant to recommended interventions despite a multidisciplinary team approach." [3]
Epidemiology
Frequency
United States
Incidence of true growth failure of children in the United States is not accurately known. However, nearly 20% of children younger than 4 years live in poverty, and the inability to obtain adequate food is directly related to such conditions.
International
International problems of poverty and hunger occur in many nations. The death rate from malnutrition and infection for these countries can be high. [4]
Mortality/Morbidity
The morbidity of malnutrition as a separate clinical entity is discussed in Malnutrition. Malnutrition that accompanies FTT can lead to significant developmental delays in children. The first 2 years of a child's life are a sensitive period of rapid brain growth when neurodevelopmental outcomes can be influenced. Motor, fine motor, speech, language, and cognitive delays have been documented. The resultant poor cognitive ability can lead to emotional and behavioral problems as well. Children die each year in the United States from malnutrition; some severe cases are directly related to intentional child neglect.
Race
No racial predilection is noted because growth failure related to aberrant caregiving can affect people of all races.
Sex
No sex predilection is important to note.
Age
Growth failure for this discussion is described in children from infancy through the toddler period.
What would you like to print?