Workup
Laboratory Studies
History and the physical examination findings determine which laboratory and diagnostic imaging studies are necessary. [1]
If a bleeding problem is suspected, a basic bleeding evaluation (platelets, PT, aPTT) is a valuable screening tool, the results of which may suggest the need for more sophisticated bleeding evaluation and/or hematology consultation, if available. Pattern mark or highly suspicious bruising, in the absence of other bruising in more common locations (eg, shins of school-age child), likely does not require an extensive bleeding workup.
If a genetic bone disease or mineralization defect is suspected, screening calcium, magnesium, phosphorus, and vitamin D levels is indicated. Interpretation of vitamin D levels in children is complex due to lack of robust evidence establishing normal values and thresholds below which bones would be clinically more susceptible to fracture. Review of radiographs with a pediatric radiologist is ideal to evaluate bones for signs of poor growth or healing. Genetic consultation, if available, may be warranted.
Toxicology screening is indicated if the clinical situation suggests a possible ingestion as the cause of the findings on examination and evaluation or when a child presents from a household where drug use or production is suspected or confirmed. [2]
Screening for abdominal injury is recommended in children younger than age 5 years in whom abuse is suspected, even in the absence of clear external evidence of abdominal injury or symptoms such as pain or vomiting. Note the image below.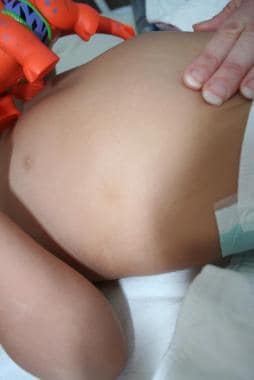 Faint abdominal bruising. This toddler had elevated liver function test results, liver laceration found on abdominal CT scan, and an upper lip frenulum tear. Note that abdominal injury may be present with little or no bruising of the abdomen.
Screening includes aspartate aminotransferase (AST) and alanine aminotransferase (ALT) as markers for liver injury, amylase and lipase levels for pancreatic injury, urine analysis for red blood cells to evaluate for urinary tract injury, and stool guaiac for intestinal injury. [3, 4]
Basic guidelines for the appropriate evaluation of a child suspected to be a victim of physical abuse, by age, are shown below.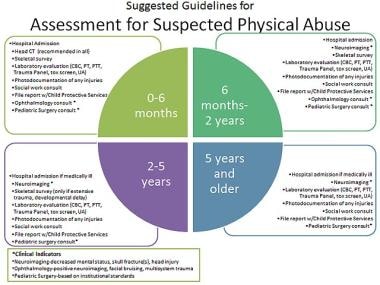 Guidelines for the assessment of suspected physical abuse.
Imaging Studies
For children younger than 2 years suspected of having been physically abused, a skeletal survey is recommended to rule out skeletal injury, both new and old. A retrospective study on children assessed with skeletal surveys to evaluate for missed physical abuse and unsuspected fractures found that about 11% of the survey results were positive for a previously unsuspected fracture. The skeletal survey results directly influenced making the diagnosis of abuse in 50% of the children with positive skeletal survey results. Wider use of skeletal survey may be justified, especially for high-risk populations. [27]
In 2014, a multispecialty panel of experts released skeletal survey guidelines to help guide assessment of whether fractures in children under 2 years of age are due to abuse or accidents. [23, 24] Recommendations include the following:
Skeletal survey should be performed in children with fractures resulting from abuse, domestic violence, or being hit by a toy or other object.

Skeletal survey should be performed in children with rib fractures and in those without a history of fracture from trauma, except in ambulatory children 12 months of age or older with a toddler fracture or buckle fracture of the radius/ulna or tibia/fibula.

If no abuse is suspected, skeletal survey should not be performed in cases of distal spiral fracture of the tibia/fibula in children 12-23 months old with a history of falling while running/walking, or in cases of distal radial/ulna buckle fracture in ambulatory children 12-23 months old with a history of falling onto an outstretched hand.

Skeletal survey should be performed in most children under 12 months of age.
Depending on history and physical examination, other diagnostic and imaging tests may be indicated including the following:
Radionuclide bone scanning assists in identifying new rib fractures and subtle long bone fractures not apparent on the skeletal survey.

CT scanning of the head is indicated in any child suspected of inflicted head trauma in order to image the brain and assess for injury (see guidelines in image below)

MRI can be a valuable adjunct to head CT scanning because it can further define an injury and help identify different ages of blood contained in a subdural hematoma

CT scanning of the thorax and abdomen may be helpful to view the organs in the chest and abdomen if injury is suspected. CT scanning of the abdomen is recommended in suspected abuse victims who have abnormal values for AST, ALT, amylase, lipase, or urine red blood cells, as indicated in Lab Studies. Note the images below.

Guidelines for the assessment of suspected physical abuse.

CT scan showing liver laceration. Child had severe abdominal bruising (see next image). Caregiver admitted to repeatedly punching the child in the abdomen.

Abdominal bruising in a toddler who also had a liver laceration (also see previous CT scan).
Procedures
Photodocumentation of cutaneous injuries, such as burns, bite marks, bruising, or other injuries, is very helpful in cases of child abuse. Photodocumentation, when used as an adjunct to standard medical written documentation, allows consulting physicians, child protective services (CPS) workers, law enforcement personnel, attorneys, and others to view and better comprehend the injuries. Photographs of injuries are very helpful in legal proceedings for protecting the child and determining guilt. Photodocumentation should be performed in accordance with institutional policies and procedures and should be treated as protected health information under the Health Insurance Portability and Accountability Act (HIPAA).
What would you like to print?