Treatment
Acute Phase
Rehabilitation program
Recreational therapy
Recreational therapy should include evaluation of the rider's position on the bicycle and could include changing the seat height and tilt position.
Medical issues/complications
Medical issues and complications include continued injury or insult to the area, resulting in continuation of the neuropathy and long-term sequelae such as impotence. Reevaluate the patient after making changes to the bicycle or riding style or after decreasing the training volume to ensure that improvement in symptoms is occurring. Continued symptoms despite changes in the bicycle seat position and training volume may indicate a different source of the symptoms and should warrant reevaluation by the physician.
Consultations
Possible consultations include specialists in urology and neurology, based upon the patient's clinical presentation.
Other treatment
The mainstay of treatment of bicycle seat neuropathy is the adjustment of the bike seat and bike position, such as tilting the nose of the seat down or lowering the seat height to relieve pressure off the perineum. Other recommendations include having the rider change the style of riding (eg, change positions more frequently or stop riding as frequently).
Newer bicycle seats with a split nose or a center cutout may also help to reduce the prevalence of neuropathy by limiting compression on the perineal area (see the image below). A study by Lowe et al compared pressure measurements in the perineal area of cyclists on these different bicycle seats and found that some of the newer seats reduced perineal pressure by approximately 50%. [17]
Another study by Parthiban et al used Doppler ultrasound to identify perineal artery occlusion forces and to facilitate force sensor placement in order to measure the occlusive force exerted over the perineal arteries in a variety of bicycle seat designs. The study found that that the "no-nose" bicycle seat design is associated with significantly less instances of perineal arterial occlusive pressure during bicycling. However, the study also added that all seats that were studied achieved occlusive pressures for a minimum 41% of riding time. [26]
The results of a systematic review and meta-analysis by Litwinowicz et al support the use of a no-nose bicycle seat to decrease internal perineal compression in men. The researchers also found indirect evidence that standing on the pedals every 10 minutes can reduce the impact of cycling on the perineum. [27]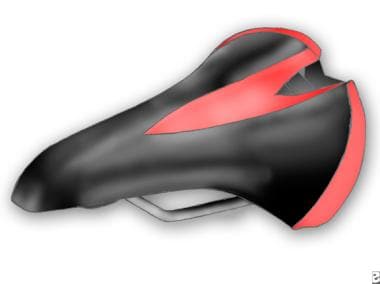 Example of a bicycle seat with a cut-away middle.
What would you like to print?