Presentation
History
Infants with congenital hypothyroidism are usually born at term or after term.
Symptoms and signs include the following:
Large anterior fontanelle

Poor feeding and weight gain

Small stature or poor growth

Decreased stooling or constipation
Often, they are described as "good babies" because they rarely cry and sleep most of the time.
Family history should be carefully reviewed for information about similarly affected infants or family members with unexplained mental retardation. In regions of iodide deficiency and a known prevalence of endemic cretinism, the diagnosis may be straightforward.
Maternal history of a thyroid disorder and mode of treatment, whether before or during pregnancy, can occasionally provide the etiology of the infant's problem.
Physical Examination
The physical findings of hypothyroidism may or may not be present at birth (see the image below).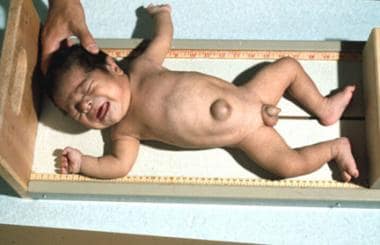 Congenital Hypothyroidism. An infant with cretinism. Note the hypotonic posture, coarse facial features, and umbilical hernia.
Signs include the following:
Macroglossia (See the image below.)

Congenital Hypothyroidism. Note the macroglossia.

Mottled, cool, and dry skin
A small but significant number (3-7%) of infants with congenital hypothyroidism have other birth defects, mainly atrial and ventricular septal defects. [1]
Newborn screening involves the following:
Infants with congenital hypothyroidism are usually identified within the first 2-3 weeks of life.

These infants should be carefully examined for signs of hypothyroidism, and the diagnosis should be confirmed by repeat testing.

Infants with obvious findings of hypothyroidism (eg, macroglossia, enlarged fontanelle, hypotonia) at the time of diagnosis have intelligence quotients (IQs) 10-20 points lower than infants without such findings.
Anemia may occur, due to decreased oxygen carrying requirement.
What would you like to print?