Treatment
Medical Care
The only specific treatment available for patients with genetic disorders causing GH resistance with growth failure due to GHRD, STAT5b mutations, ALS mutations, or IGF1 gene mutation is rhIGF-I.
Growth failure due to heterozygous mutation of the type I IGF receptor is responsive to rhGH. [23]
For those with secondary forms of GH resistance, other than that due to GH inactivating antibodies in rhGH-treated patients with GH1 gene deletion who require rhIGF-I treatment, the underlying cause (eg, malnutrition, liver disease) should be identified and treated appropriately.
Infants with GHRD may require more frequent feedings to avoid hypoglycemia. Nocturnal cornstarch feeding as is used for glycogen storage disease may help prevent fasting hypoglycemia.
Periodic blood sugar monitoring is necessary for some patients with GHRD and for patients who are receiving rhIGF-I therapy.
Surgical Care
At least 1 of 10 of patients treated with rhIGF-I requires a tonsillectomy/adenoidectomy as a result of the adverse effect of lymphoid hyperplasia.
All mothers with GHRD require cesarean delivery.
Consultations
Dental or orthodontic consultation may be needed for dental crowding, delayed eruption, or misalignment.
Nutritional consultation may be needed for children with inadequate intake, and to promote the high-protein, low-fat diet that appears to enhance response to IGF-I and reduce the common development of obesity with rhIGF-I treatment.
Treatment with rhIGF-I often requires ENT consultation for lymphoid hyperplasia, snoring, and hypoacusis and may require tonsillectomy/adenoidectomy.
Ophthalmologic or neurologic consultation may be needed for patients treated with rhIGF-I who develop headache as a possible sign of benign intracranial hypertension.
Diet
Prolonged fasting in patients with GHRD should be avoided, particularly in young children. Postreceptor defects are not associated with hypoglycemia. The already compromised growth of children with GHRD may be further compromised by poor appetite or social circumstances limiting nutrition. French investigators reported a patient with poor intake who grew normally in the hospital while receiving tube feeding, without rhIGF-I supplementation. [39] Three of the placebo-treated subjects in the Ecuadorian trial of rhIGF-I grew as well as those receiving rhIGF-I during the 6-month control period, presumably because of nutritional support provided by the investigators. [40]
Activity
The only limitations on physical activity are related to stature and the risk of hypoglycemia with prolonged fasting and exertion in GHRD. No limitations in putting in a full day of schoolwork, farming, or other occupations have been noted. Ecuadorian patients' occupations have included secretary, teacher, farmer, shopkeeper, lab technician, policeman, and cardiovascular surgeon.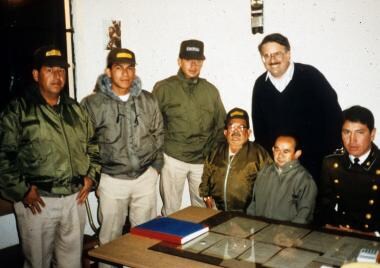 Adult with GHRD standing with 3 of his fellow police officers, his affected brother, a visiting US physician (Dr Frank Diamond) and the seated chief.
Prevention
Genetic counseling regarding mode of transmission, the contribution of consanguinity, and the risk of future offspring having conditions causing GH resistance is an important aspect of education and prevention.
Long-Term Monitoring
Children receiving recombinant human rhIGF-I therapy need to be monitored at least every 3 months for adverse effects and should have trough (before next injection) IGF-I levels measured soon after starting treatment and annually.
Families of treated children also require intense nutritional counseling to minimize the development of obesity and to enhance the therapeutic effect of rhIGF-I.
Adults with GHRD also require nutritional counseling and exercise encouragement to reduce the risk of obesity and should have lipids monitored and hyperlipidemia treated as necessary.
What would you like to print?