Treatment
Approach Considerations
Treatment of acromioclavicular separations has been a subject of debate. Type I and II injuries are generally treated nonoperatively in the acute setting, and types IV-VI injuries generally require surgical repair. However, reaching a consensus regarding the optimal management of acute type III injuries has been difficult, despite randomized trials that indicate success with nonoperative treatment in most cases. [33, 34, 35]
Conservative versus surgical management
For types I-III injuries in pediatric patients, closed reduction can be effective, although surgical intervention for selected cases may be indicated to achieve better functional results. As a result, surgical correction should at least be considered in younger, more active patients or younger patients who are unsure of their future careers, as well as for heavy laborers and soldiers. [36, 2, 37]
In most adult patients with type III injuries, nonoperative care achieves an excellent functional outcome. However, many surgeons believe that this degree of displacement leads to muscle-fatigue discomfort and difficulty manipulating heavy loads.
Type I-III injuries that are managed conservatively may result in persistent shoulder pain, dysfunction, or both. Type I and II separations may progress to develop symptomatic degenerative disease. Type III separations may result in impingement symptoms, muscle-fatigue discomfort, and/or neurovascular symptomatology. Late surgical management may be required.
Fractures in and around the acromioclavicular joint are mostly treated conservatively in a sling. The few times surgery needs to be considered are when there is a moderate amount of displacement of the fracture fragments. Surgery is indicated for open fractures, neurovascular injury, and for those cases in which the skin is compromised and may rupture from the pressure of the prominent bone.
Injuries that lead to arthritis of the acromioclavicular joint are also first treated with conservative measures. Anti-inflammatory medication and intra-articular steroid injections work well for degenerative changes in the acromioclavicular joint. In injuries that have failed conservative therapy, excision of the distal clavicle can be performed with a minimally invasive arthroscopic procedure. [38]
A systematic review and meta-analysis by Chang et al that compared outcomes between operative and nonoperative management of types III-V acromioclavicular joint dislocations reported that the operative group had better cosmetic outcome and radiographic reduction and that the nonoperative treatment was associated with faster return to work; however, no significant clinical difference in functional outcome scores were seen between the two groups. [39]
A review by Kibler and Sciascia found that nonoperative interventions are associated with a more rapid return to activities in persons with acromioclavicular joint injuries; however, residual symptoms such as pain and joint instability may persist. Operative management results in better joint reduction. [40]
Operative intervention
In general, surgical management should be offered acutely only to those who require high-level upper extremity function and late to those with significant shoulder pain and/or dysfunction refractory to nonoperative treatment. Given the proper choice of treatment, outcomes should be acceptable in more than 90% of patients. [2]
The current criterion standard is to reconstruct the torn coracoclavicular ligaments with either local tissue or an allograft. However, many procedures have been described for the repair of acute and chronic type III-VI injuries. [41, 42, 43, 44, 45, 46, 47] These all include open reduction and stabilization of the dislocation with repair of the usually torn deltotrapezial fascia and debridement of the acromioclavicular articulation.
Bosworth described the use of a screw placed from the clavicle into the coracoid base to stabilize the articulation, [48] whereas others have used bioabsorbable or nonbioabsorbable devices passed through a drill hole in the clavicle and around the coracoid base. Pins placed through the acromion, across the acromioclavicular joint, and down the clavicle have also been used. The acromioclavicular ligaments and coracoclavicular ligament are repaired, if possible. Many authors have also advocated performing a distal clavicle excision at the time of the operative repair, especially in late reconstructive procedures. [41, 42, 43, 44, 45, 46, 47]
Weaver and Dunn described a procedure designed to reconstruct the coracoclavicular ligament by excising the distal end of the clavicle and transferring the acromial attachment of the coracoacromial ligament to the resection site. [49, 50]
A study aimed to evaluate the vertical biomechanical behavior of two techniques for the anatomic repair of coracoclavicular (CC) ligaments after an acromioclavicular (AC) injury. The study concluded that anatomic repair of coracoclavicular ligaments with a double system (double tunnel in the clavicle and in the coracoid) permits vertical translation that is more like that of the acromioclavicular joint. Acromioclavicular repair in a "V" configuration does not seem to be biomechanically sufficient. [51]
Precautions
The presence of infection is a contraindication to repair of an acromioclavicular separation. Additionally, an open wound with compromised soft tissues may necessitate delay of the surgery until the risk of infection is minimized by irrigation and antibiotic prophylaxis. Other considerations include the patient's overall health and ability to undergo anesthesia.
Prehospital and Emergency Department Care
Acutely, acromioclavicular separations are generally quite painful. Prehospital providers should splint suspected acromioclavicular injuries in a position of comfort. Always check the neurovascular status of the injured extremity after application of a splint. If indicated, assess and immobilize the spine.
Acromioclavicular injuries requiring open reduction and internal fixation (ORIF) should be repaired within 2 weeks of the time of injury. Reduction of acromioclavicular injuries is rarely attempted in the emergency department. Such maneuvers should only be performed in cooperation with an orthopedic surgeon. [52] Unless other injuries are sustained, these patients do not require admission on the day of injury.
Orthopedic surgeons should also be consulted in pediatric cases and in adults with type III-VI acromioclavicular joint injuries.
Management of Type I and II Injuries
Acromioclavicular joint sprains do well with conservative management. Type I and type II injuries are generally accepted to be treated nonoperatively in the acute setting. A brief course of narcotics followed by nonsteroidal anti-inflammatory drugs in combination with locally applied ice and activity modification is usually sufficient for type I and II injuries.
However, these injuries may need further care if the acromioclavicular joint becomes arthritic from the injury (see below).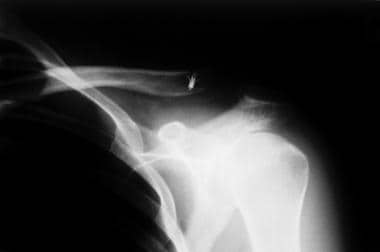 Postoperative coracoclavicular ligament reconstruction. The clavicle is back to its normal position. The anchor in the clavicle keeps the allograft tendon from coming off of the clavicle. Also note the distal clavicle has been excised, because it had traumatic arthritis from the injury.
Type I injuries involve minimal disruption of the acromioclavicular joint and are intrinsically stable. Treatment involves application of a sling for comfort and activity modification, ice, and analgesic agents until the symptoms subside and the range of motion is reasonably comfortable.
Athletes can usually return to sports in 1-2 weeks. For patients whose symptoms do not improve within this time frame, intra-articular steroid injections may be indicated. Patients with persistent pain for extended amounts of time may be candidates for a distal clavicle excision.
Type II
In patients with type II injuries, the acromioclavicular ligament is completely torn. For the most part, these patients receive the same treatment as those with type I injuries, in combination with a rehabilitation program that emphasizes maintaining or regaining range of motion. However, patients with type II injuries take longer to improve than those with type I injuries, because the acromioclavicular ligaments are disrupted. With significant instability, strap immobilization for 2-4 weeks and no heavy lifting for 6-12weeks are appropriate to allow healing and prevent progression to a type III injury. [53, 41]
A Kenny-Howard shoulder harness may be used for strap immobilization, although this device is frequently uncomfortable for the patient and may not change the outcome.
Late management of type II injuries may require intra-articular steroids or surgery. Distal clavicle excision has been noted to produce inferior results compared with the same surgery in patients with type I injury due to increased instability of the acromioclavicular joint.
Surgical intervention
When conservative measures fail to manage symptomatic acromioclavicular joint arthrosis after type I and type II injuries, a distal clavicle resection provides predictable relief. This can be performed in both an open manner and an arthroscopic manner.
The amount of bone that should be resected has been debated; original descriptions suggested 1-2 cm, and the arthroscopic advocates suggest less (5-7 mm). In general, adequate bone should be resected to prevent acromioclavicular contact during shoulder range of motion yet avoid violating the coracoclavicular ligament.
Management of Type III-VI Injuries
Type III
Patients with type III acromioclavicular injuries have complete tearing of both the coracoclavicular and acromioclavicular ligaments. This type of injury results in superior displacement and greater instability of the clavicle.
As noted earlier, there is controversy regarding the optimal management of type III injuries. Most studies suggest that conservative therapy produces better functional results than operative repair. [33, 34, 35] If nonoperative management is chosen after a type III separation, the treatment is similar to that for a type II injury.
However, comparison trials between operative and nonoperative management have suffered from an insufficient numbers of patients, a retrospective design in most cases, heterogeneous patient groups, or a lack of objective evaluation in the follow-up period. Furthermore, a variety of different surgical techniques have been developed, making comparison between conservative management and general operative management difficult.
Nissen and Chatterjee published a survey of members of the American Orthopaedic Society for Sports Medicine and accredited residency directors from the Accreditation Council for Graduate Medical Education (ACGME) in which they found conservative therapy is still the recommended first line of care for type III injuries (>90%). [54] An earlier meta-analysis of all studies looking at outcomes of acromioclavicular separations—consisting of 24 papers, 5 of which directly compared surgical and nonsurgical management of type III acromioclavicular injuries—appeared to conclude that nonsurgical intervention yielded improved strength, range of motion, and fewer complications than operative intervention. [55]
Surgical intervention
Surgical intervention may be an option in type III acromioclavicular joint sprains, but only after the patient's condition has failed a good trial of conservative treatment with physical therapy and medication. Some authorities indicate that individuals in certain active occupations, such as baseball pitchers, manual laborers, and soldiers, may disproportionately benefit from operative intervention. [36, 2, 37] The procedure for these patients is reconstruction of the torn coracoclavicular ligaments with either local tissue or an allograft.
In the past, surgeons have used screws, sutures, suture tape, synthetic grafts, and Kirschner (K)-wires to try to repair the type III defect. These have all fallen out of favor, and the current criterion standard is to reconstruct the torn ligaments as mentioned above. [56]
Leidel et al studied the operative outcome of acute grade III acromioclavicular joint separations after temporary K-wire transfixation in 70 patients and found no significant differences among patients divided into 3 groups: 1-2 years post procedure; 3-5 years post procedure; and 6-10 years post procedure. [36] All 3 treatment groups had good functional results and consistent outcome over the long term. [36]
In a cadaver study that assessed the capsular and ligamentous insertions around the acromioclavicular joint in 28 cadaveric shoulders to determine the amount of bone that can be removed without destabilizing the joint, Stine and Vangsness indicated that an acromioclavicular joint resection (5-7 mm) consisting of 2-3 mm from the medial acromion and 3-4 mm from the distal clavicle would not remove the acromioclavicular capsular insertions. [57] The investigators also noted that medial resections greater than 15 mm would begin to take down the trapezoid ligament and suggested that arthroscopic bone resection be directed into the acromioclavicular joint at approximately 50° in the axial plane and 12° in the coronal plane for safe symmetric resection. [57]
Type IV-VI Injuries
Type IV, V, and VI injuries in adults and pediatric patients generally require surgical repair. Because the clavicle is so far displaced from the acromial process in the posterior, superior, or inferior direction, respectively, conservative management is inadequate. The patient continues to experience pain and dysfunction if the articulation is not reduced and stabilized.
Type IV
In patients with a type IV injury, the deltotrapezial fascia is disrupted in addition to complete tears of the acromioclavicular and coracoclavicular ligaments. This injury complex allows posterior displacement of the clavicle into the trapezius and requires reduction, usually operative.
In theory, a closed reduction could be possible to convert the injury into a type III acromioclavicular injury, which could then be managed conservatively. Barring this possibility, surgery with an open reduction and internal fixation is necessary (ORIF).
Type V and VI injuries
Type V and VI acromioclavicular injuries are the most severe and will universally require ORIF. Acromioclavicular joint injection may be considered in the patient with recurrent visits to the emergency department for acromioclavicular pain. However, this is not recommended in the acute setting, as any fluid injected may complicate magnetic resonance imaging evaluation of the joint.
Physical Therapy
Acromioclavicular joint injuries are painful, and the patient often lacks full range of motion after the injury. Physical therapy plays a role in the treatment of these patients. Some clinicians routinely start therapy within the first couple of weeks in acromioclavicular joint sprains.
For fractures of the acromioclavicular joint, wait until evidence of healing is apparent either clinically or radiographically before starting formal therapy. Therapy for degenerative joint disease of the acromioclavicular joint has not been proven to be successful.
Activity
Some clinicians have strict return-to-sports criteria that they address with patients who have acromioclavicular joint injuries and with physical therapists. These criteria may include the following:
No swelling/pain with functional activity

Isokinetic strength that is 80% of the opposite rotator cuff

Full active and passive range of motion

Stable scapula through full range of motion, with a normal scapulohumeral rhythm

Pain-free activities of daily living (ADLs)
Long-Term Monitoring
Postoperative follow-up is important; this is mandatory for type III-VI injuries and recommended in all pediatric injuries. Patients are generally seen at 2-week intervals to monitor and update their rehabilitation program.
Patients undergoing reconstructive procedures remain in a sling for 2 weeks. Thereafter, a progressive, passive, range-of-motion program is begun. The patient's affected arm remains in the sling between sessions. At 6 weeks, healing is sufficient to allow patients to discontinue protection and to encourage progressive functional use.
Physiotherapy continues until the patient's range of motion and strength are maximized. Heavy physical use of the shoulder is prohibited for an additional 6 weeks. Patients undergoing a distal clavicle resection are simply protected in a sling for 2 weeks to allow soft-tissue healing to occur.
If a coracoclavicular screw or a trans-acromioclavicular joint pin is used for stabilization, the device is removed 6 weeks postoperatively.
Prevention
Prevention of significant acromioclavicular joint degenerative pathology generally consists of early diagnosis of the problem and avoidance of causative maneuvers, if possible. Football shoulder pads may decrease the extent of an injury, but they by no means prevent acromioclavicular injuries.
What would you like to print?