Treatment
Approach Considerations
If all clavicle fractures are considered together, the vast majority heal with nonoperative management, which includes use of a simple shoulder sling. Studies have found, however, that in cases of specific fracture patterns and locations, not all clavicle fractures behave the same way.
The focus of treatment of middle third fractures remains nonoperative, although evidence is mounting, in support of operative treatment for displaced midshaft clavicle fractures. Management of medial clavicle fractures also has remained nonoperative
The incidence of nonunion of displaced distal third fractures is high, and current recommendations are to fix these injuries surgically.
Consultations
In addition to an orthopedic surgeon if the fracture requires surgical fixation, consultations include the following:
General or thoracic surgeon: If an associated pneumothorax is identified

Vascular surgeon: For a suspected subclavian vessel injury
Surgical Indications
Patients with the following injuries should be sent to a surgeon to determine if operative intervention is necessary:
Severe displacement causing tenting of the skin with the risk of puncture: This is often seen with type 2 fractures of the distal clavicle.

Fractures with 2 cm of shortening

Comminuted fractures with a displaced transverse "zed" (or z-shaped) fragment [4]

Displaced medial clavicular fractures with mediastinal structures at risk [5]

Polytrauma (with multiple fractures): To expedite rehabilitation

An inability to tolerate closed treatment

Fractures with interposed muscle

Established symptomatic nonunion: Note that many nonunions are asymptomatic, and no treatment is needed.

Concomitant glenoid neck fracture (floating shoulder)
Relative indications for open reduction and internal fixation (ORIF) include athletes who require shoulder pads for sports participation, such as in football and hockey. Surgery in this case would be to avoid skin breakdown over pronounced callus formation about the fracture site.
Group I Fractures
Nonoperative treatment
The focus of treatment of middle third fractures remains nonoperative. Such treatment can be divided into the following 2 categories:
Simple support of the extremity - As in a sling or a sling and swath

Reduction and immobilization - Typically with figure-of-eight brace
These treatment options are applicable for almost all middle third clavicle fractures, with the exception of those that are severely displaced or shortened. The image below illustrates the displacing forces that can affect group I fractures.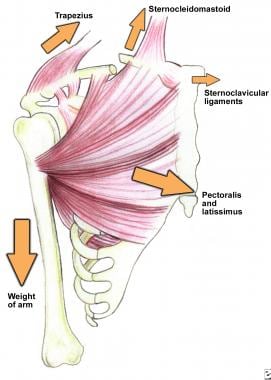 The displacing forces on a midshaft clavicle fracture.
The advantage of the figure-of-eight brace is that it gives patients the ability to use both hands. The literature, however, shows no real difference in outcomes between patients treated with a figure-of-eight splint versus a sling, so the choice of immobilization should depend on the comfort and functional demands of the patient. [31] Healing time may be as short as 2 weeks for infants, with most adults healing in 4-6 weeks. Immobilization should continue until repeat radiographs show callus formation and healing across the fracture site.
Stiffness is usually not a problem after nonoperative treatment of clavicle fractures. If the patient does require some rehabilitation, it should include forward elevation and external rotation. Laborers may return to light lifting after 6 weeks and full duty at 12 weeks. Athletes may return to contact sports after 3 months.
Grassi et al found that patients treated nonoperatively for uncomplicated midclavicle fractures recovered more quickly than did those who were treated operatively. The investigators examined 40 patients who were treated with a figure-of-eight brace and 40 patients treated with open reduction and intramedullary fixation with a 2.5-mm threaded pin. [32] Patients who were treated nonoperatively had fewer complications and faster return to normal daily activities, heavy lifting, and sports.
Overall, however, patients in both groups were satisfied with their results, although 35% of the surgical group had some adverse events during their recovery, most of which were minor. Nonetheless, 3 patients experienced refracture after removal of the intramedullary pin. When these patients were then treated with a figure-of-eight brace, union occurred.
Given the excellent results obtained with nonoperative treatment of uncomplicated midclavicular fractures, such therapy, using a figure-of-eight brace or regular support sling, is recommended. Operative treatment is best suited for more complicated fractures of the middle third of the clavicle.
Surgical studies
Evidence is mounting, however, in support of operative treatment for displaced midshaft clavicle fractures. A prospective, multicenter, randomized trial by the Canadian Orthopaedic Trauma Society found that operative repair for these injuries provided better results than did nonoperative treatment. In the study, involving 132 patients with a displaced midshaft fracture, outcome and complication rates were compared for nonoperative treatment and plate fixation. [33]
The investigators determined that mean time to radiographic union was significantly shorter in the operative group (16.4 wk vs 28.4 wk). Additionally, functional outcomes were improved at all time points measured in the operative group. This study provided level I evidence in support of plate fixation for completely displaced midshaft clavicle fractures in the active adult population. [33]
Similarly, a study by Smekal et al found better results with another operative procedure, elastic stable intramedullary nailing (ESIN), than with nonoperative treatment in the repair of fully displaced midshaft clavicle fractures. Outcomes with regard to the rate of successful bone union, functional outcome, time required for patients to resume their daily activities, and overall patient satisfaction were superior in the operative group than in nonoperative patients. There was also significantly less posttraumatic clavicular shortening in the surgical group.
Fracture shortening
Hill et al examined a subset of clavicle fractures in which initial shortening of the fracture was greater than 2 cm and found a high rate (15%) of nonunion in this population. [34] Also, final shortening of more than 2 cm was associated with unsatisfactory results. Open reduction and internal fixation of these injuries is recommended for patients with displaced middle third clavicle fractures with greater than 2 cm of shortening.
Wick et al reviewed 39 nonunions of midclavicular fractures treated nonoperatively and found a correlation between initial fracture shortening of greater than 2 cm and nonunion. [35] These patients subsequently underwent open reduction and internal fixation with subsequent union of the fracture. The major patient complaint for all of these nonunions was pain, and all patients had complete or near complete resolution of their symptoms. Wick, however, still recommended a trial of conservative treatment prior to open reduction and internal fixation of these fractures.
Reduction and fixation
When a midshaft clavicle fracture requires surgical fixation, the commonly performed involves open reduction of the fracture, followed by either insertion of an intramedullary device or fixation with a plate and screws. [6, 7, 8, 9] Precontoured plates in the S shape of the clavicle have also become available. [36]
When using plate-and-screw fixation to treat clavicle fractures, the surgeon must remember that the hardware will likely be prominent. Proper closure of these incisions is imperative to decrease the risk of painful, prominent hardware.
Intramedullary fixation
Intramedullary fixation requires a small incision over the fracture site. The incision is carried down sharply to the clavicle without stripping the periosteum. A Steinman pin is then placed in a retrograde fashion past the fracture site. It is recommended that the Steinman pin be threaded in the proximal fragment to prevent migration. If a smooth pin is used, bend the distal tip to prevent migration after crossing the fracture site. Cancellous bone grafting is indicated in cases of comminution and/or bone loss.
Plate-and-screw fixation
Surgical fixation with a plate and screws is another option for midshaft clavicle fractures. [37] An incision is made in line with the clavicle and carried sharply down to the periosteum, with caution to leave thick skin flaps for closure. The periosteum is then stripped to expose and reduce the fracture, after which plate-and-screw fixation is performed using any of a wide variety of plates. Recommendations vary from semitubular plates to dynamic compression plates, low-contact dynamic compression plates, and double plating. However, fixation of these fractures with semitubular or reconstruction plates is not as strong biomechanically as fixation with dynamic compression plating or the newer locking-plate technology.
Obtaining purchase in 6 cortices on either side of the fracture is recommended. Lag screw fixation is also appropriate when the fracture pattern allows. Again, cancellous bone grafting is suggested in fractures with comminution and/or bone loss.
Mehmet et al conducted an evaluation of the biomechanical properties and the stability of a locking clavicle plate (LCP), a dynamic compression plate (DCP), and an external fixator (Ex-fix) and found significant differences between them. The investigators used an unstable displaced clavicle fracture model under torsional and 3-point bending loading. For torsion and bending, an overall significant difference was found between the 3 types of fixation equipment in terms of failure loads; a significant difference was also noted between the LCP and the other 2 models in terms of initial stiffness. The LCP was significantly more stable than the DCP and Ex-fix when subjected to torsional and bending cyclic loading. [38]
Group II Fractures
Much controversy exists in the literature regarding the appropriate management of fractures of the distal third of the clavicle. Incidence of nonunion of these fractures is high, and current recommendations are to fix these injuries surgically. Neer found that although distal third clavicle fractures are rare, they account for approximately half of all clavicular nonunions. [39] Many different procedures have been described to fix these fractures, and intramedullary fixation is gaining popularity. However, a problem exists with migration of intramedullary wires.
Many articles have been published focusing on the treatment of distal third clavicle fractures. As mentioned previously, these injuries account for about 12-15% of all clavicle fractures. [40]
Type I fractures
Fractures of the distal clavicle are further divided into types I-III. In type I injuries, the coracoclavicular ligaments are intact and the fracture is usually minimally displaced or nondisplaced. The first image below illustrates displacing forces; the second image illustrates a type I fracture.
Type I fractures, as well as type III fractures (discussed below), are treated symptomatically with ice, analgesics, and a sling for support. Early motion with passive shoulder range-of-motion exercises is strongly urged to prevent the development of degenerative arthritis and to reduce the risk of adhesive capsulitis.
Type II fractures
Type II fractures are at the level of the coracoclavicular ligaments and are further subdivided into IIA and IIB fractures, as follows:
Type IIA - The conoid and trapezoid ligaments remain intact and the fracture is medial to the ligaments

Type IIB - These involve a disruption of the conoid ligament, with the trapezoid ligament remaining intact and attached to the distal fracture fragment; included in the IIB fracture is the more rare variant in which both the conoid and trapezoid are ruptured
Type IIB injuries tend to have significant displacement of the fracture fragments because of the loss of the downward restraint of the medial fragment by the coracoclavicular ligaments. Type II fractures are depicted in the images below.
Operative treatment
Many techniques of surgical fixation of distal clavicle fractures have been described in the literature. In general, surgical fixation is recommended for type II distal clavicle fractures. Treatment of these fractures requires direct visualization and reduction of the fracture fragments through a vertical incision. After the fracture is visualized and reduced, the coracoclavicular interval is stabilized. [41]
Stable fracture fixation can be achieved in many ways, including through combinations of a coracoclavicular screw, Dacron or Mersilene tape, tension banding, a Kirschner wire (K-wire), and clavicular plates. Regardless of the exact technique used, the general principles of fracture reduction and fixation and stabilization of the coracoclavicular interval apply.
Orthopedic consultation before 72 hours is recommended for type IIB clavicle fractures, because these injuries have a 30% incidence of nonunion and may require surgical repair. [10] If surgery is delayed, the results of treatment may be more problematic. [42]
Chen et al reported that 10 of 11 patients had good to excellent results with their repair technique for type IIB fractures. This procedure involves reconstruction of the conoid ligament with Mersilene tape, with the torn ligament being primarily repaired as well. The fracture is fixed with a number 7 or smaller steel wire. The wire fixation and the Mersilene tape provide stability for the fracture, allowing the repaired coracoclavicular ligament to heal. [43]
All fractures in Chen's study united within 6 months, and 10 of 11 fractures maintained the coracoclavicular reduction. Nine of the 11 patients had full pain relief and restoration of their full range of motion, and 10 of the patients were satisfied with the surgery and stated they would undergo the procedure again for treatment of this fracture.
Kao et al reported on an operative technique with which 11 of 12 fractures formed bony unions, with these patients experiencing pain-free range of motion. The study included 7 patients with displaced type IIA fractures and 3 patients with type IIB fractures; all of them underwent open reduction and internal fixation with Kirschner wires (K-wires) and a tension band. [44] Also included were 2 patients with comminuted distal clavicle fractures. Kao et al's technique spared the soft tissue around the fracture site, including the AC joint, with dissection limited only to the fracture site.
Another surgical option for distal clavicle fractures involves using a Dacron arterial graft as a sling around the medial fracture fragment and the coracoid. This acts to stabilize the medial fragment in a reduced position in the superior/inferior plane. This procedure was performed on 11 acute distal clavicle fractures, all of which united with full range of motion.
Four other patients included in this study were previously diagnosed as having established nonunions. These patients underwent fixation of the nonunion with a lag screw, iliac crest bone grafting, and stabilization with a Dacron sling. All of the patients subsequently developed bony union of the fracture site with full range of motion. Of note, the Dacron sling did cause some slight erosion of the clavicle that was in contact with the sling; however, this did not progress and did not cause any problems for the patients. The sling is also thought to allow for the return of function of the coracoclavicular ligaments. Once the coracoclavicular ligaments reconstitute, the Dacron sling becomes redundant.
The use of Wolter clavicular plates for unstable, comminuted distal clavicle fractures was reported to result in good bony union and range of motion in all 16 patients in a series by Mizue et al. [45] This procedure, however, requires a second operation for removal of the plate and is recommended only for injuries that are severely comminuted and unstable.
Type III fractures
Type III injuries are distal to the coracoclavicular ligaments and involve the acromioclavicular (AC) joint. These fractures are usually minimally displaced or nondisplaced and are treated nonoperatively, as previously described.
Group III Fractures
Current management of medial clavicle fractures remains nonoperative, including with ice, analgesics, and a sling for support, and the treatment results have been consistently good. Significant displacement is rare because of the extensive ligamentous attachments. However, if significant displacement occurs with this fracture, further imaging studies are warranted. A CT scan should help to define the nature of the fracture displacement and the status of the nearby neurovascular structures.
Group III fractures may be associated with intrathoracic injuries or the development of late complications, such as arthritis. [46]
Physical Therapy
Once the fracture pain begins to subside and the patient is weaning off pain medications, begin range-of-motion exercises with the shoulder and elbow out of the sling to prevent stiffening of these joints. Exercises should be performed within the limits of comfort.
As pain continues to improve, isometric exercises of the shoulder girdle and arm musculature can begin. These can be performed under the supervision of a physical therapist or by the patient on his or her own, with an instructional handout for guidance.
As fracture healing progresses, based on clinical and radiographic examination findings, isotonic exercises can begin using light weights or elastic bands for resistance.
Activity
For athletes, return to play depends on the location and severity of the clavicle fracture, the degree of clinical and radiographic healing, and the sport played.
Noncontact sports
Return to noncontact sports is allowed when (1) the clavicle fracture is healed (ie, no tenderness is present, and radiographs show callus formation) and (2) the patient has full, painless range of motion and has regained near-normal strength. These milestones are usually reached at about 6 weeks from the time of the injury.
Contact sports
Return to contact sports takes much longer because the risk of refracture is high. The return to play should be delayed until the fracture union is solid, which can take from 2-6 months from the time of the injury or 4-6 weeks after clinical and radiographic union. A donut pad or fiberglass shoulder shell may be used for extra protection.
A study that included 17 NFL athletes who suffered a clavicle fracture reported a 3.47 months median return to play after injury with no significant impact on performance. However, this data needs to be interpreted with caution since 3 additional players never returned to play and 3 others did not return to play for an entire season and all 6 players were excluded from the performance analysis. [48]
Maintenance Phase
Rehabilitation Program
Content.
What would you like to print?