Workup
Approach Considerations
Laboratory studies are ordered in clavicle fractures according to the severity of trauma. With suspected vascular injury, obtain a complete blood count (CBC) to check the hemoglobin and hematocrit values. If a pulmonary injury is suspected or identified, perform an arterial blood gas (ABG) test and obtain an expiration posteroanterior (PA) chest film. Other imaging studies that can be used in the assessment of a clavicle fracture include the following:
Radiography of the clavicle and shoulder

Computed tomography (CT) scanning with 3-dimensional (3-D) reconstruction
Imaging Studies
Radiography
Clavicular radiographs
An anteroposterior (AP) view and a 45° cephalic tilt view are standard for the initial radiographic evaluation. These will delineate fracture displacement, as well as fractures to the medial clavicle and first rib. (The proximal humerus and scapula should be looked at for possible associated fractures.) The AP view needs to include the sternoclavicular joint and the shoulder girdle; most clavicle fractures are evident on this view. The 45° cephalad view may be required to define the degree of displacement.
Stress views may be used to identify patterns of displacement and are particularly helpful in the context of fractures of the distal clavicle.
With regard to fracture patterns, most low-energy fractures that occur in sports result in a minimally displaced oblique fracture at the midshaft. [2, 20, 21, 22, 8] As the energy of the lateral force is increased, the fracture tends to be comminuted with a butterfly fragment and shortened. The typical appearance is inferior and medial displacement of the distal fragment, owing to the weight of the upper extremity and medial pull of the pectoralis. The medial clavicle is pulled in a superior direction by the sternocleidomastoid muscle. (See the images below.)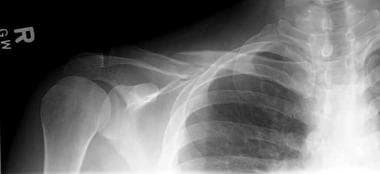 Anteroposterior view of middle third clavicle fracture illustrating a relatively typical fracture pattern.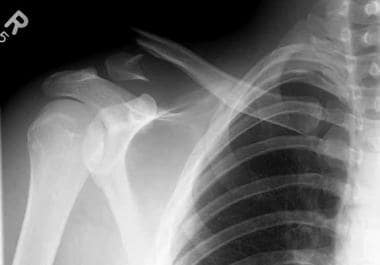 Anteroposterior view of distal clavicle fracture, type II, showing wide displacement.
Initial radiographs may appear normal despite suggestive clinical findings. In these instances, the arm should be immobilized in a simple sling and the radiographs repeated in 7-10 days if symptoms persist.
Chest radiographs
This study may be necessary to evaluate for pneumothorax, hemothorax, and rib fractures and is especially helpful in polytrauma or in patients who are comatose.
Shoulder series
These radiographs may be required to rule out additional injuries or fractures (eg, to the scapula or proximal humerus).
CT scanning
CT scanning with 3-D reconstruction may be used to further evaluate displaced fractures. In the case of medial clavicle fractures, CT scans can show any evidence of posterior displacement of the fracture and injury to the neurovascular structures.
In addition, CT scanning may be required because routine clavicle radiographs may miss fractures due to overlap of surrounding structures, particularly at either end of the bone.
Arteriography
Perform arteriography if a vascular injury is suspected.
Ultrasonography
Cross et al found that bedside ultrasonography can accurately diagnose clavicle fractures in children. In a prospective study in 100 pediatric emergency department patients, 43 of whom were found via radiography to have clavicle fractures, ultrasonography was reported to have an overall accuracy of 96%, with a positive predictive value of 95% and a negative predictive value of 96%. Ultrasonography caused no more discomfort than radiography. [27, 28, 29, 30]
In addition, bedside ultrasonography requires minimal formal training and may reduce the length of stay in the emergency department. [27]
What would you like to print?