Overview
Background
Biliary atresia is characterized by obliteration or discontinuity of the extrahepatic biliary system, resulting in obstruction to bile flow. [1] The disorder represents the most common surgically treatable cause of cholestasis encountered during the newborn period. If not surgically corrected, secondary biliary cirrhosis invariably results. Patients with biliary atresia can be subdivided into 2 distinct groups: those with isolated biliary atresia (postnatal form), which accounts for 65-90% of cases, and patients with associated situs inversus or polysplenia/asplenia with or without other congenital anomalies (fetal/embryonic form), comprising 10-35% of cases.
See the image below.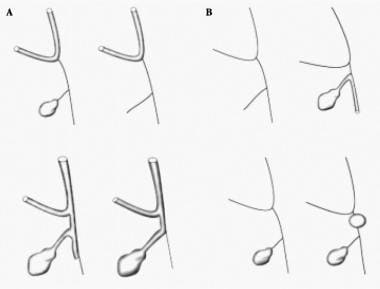 Biliary atresia.
The pathology of the extrahepatic biliary system widely varies in these patients, and the following classification is based on the predominant site of atresia:
Type I involves obliteration of the common duct; the proximal ducts are patent

Type II is characterized by atresia of the hepatic duct, with cystic structures found in the porta hepatis

Type III (>90% of patients) involves atresia of the right and left hepatic ducts to the level of the porta hepatis. These variants should not be confused with intrahepatic biliary hypoplasia, which comprises a group of distinct and surgically noncorrectable disorders.
Pathophysiology
Although histopathologic features of biliary atresia have been extensively studied in surgical specimens from excised extrahepatic biliary systems of infants undergoing portoenterostomy, the pathogenesis of this disorder remains poorly understood. Early studies postulated a congenital malformation of the biliary ductular system. Problems of hepatobiliary ontogenesis are suggested by the fetal/embryonic form of atresia that is associated with other congenital anomalies. However, the more common neonatal type is characterized by a progressive inflammatory lesion, which suggests a role for infectious and/or toxic agents causing bile duct obliteration.
In type III, the most prevalent histopathological variant, the fibrous remnant demonstrates complete obliteration of at least a portion of the extrahepatic biliary system. Ducts within the liver, extending to the porta hepatis, are initially patent during the first few weeks of life but may progressively be destroyed. The same agent or agents that damaged the extrahepatic ducts may be causative, and the effects of retained toxins in bile are contributing factors.
Identification of active and progressive inflammation and destruction of the biliary system suggests that extrahepatic biliary atresia likely represents an acquired lesion. However, no single etiologic factor has been identified. Infectious agents seem to be the most plausible candidates, particularly in the isolated (neonatal) form of atresia. Several studies have identified elevated antibody titers to reovirus type 3 in patients with biliary atresia when compared with controls. Other viruses, including rotavirus and cytomegalovirus (CMV), have also been implicated.
Epidemiology
Frequency
United States
Individual studies suggest an overall incidence in the United States of 1 per 10,000-15,000 live births.
International
The incidence of biliary atresia is highest in Asian populations, and it may be more common in Chinese infants compared with Japanese infants.
Mortality/Morbidity
Prior to the development of liver transplantation as a therapeutic option for children with end-stage liver disease, the long-term survival rate for infants with biliary atresia following portoenterostomy was 47-60% at 5 years and 25-35% at 10 years. In one third of all patients, bile flow is inadequate following surgery, and these children succumb to complications of biliary cirrhosis in the first few years of life unless liver transplantation is performed. Following portoenterostomy, complications include cholangitis (50%) and portal hypertension (>60%).
Hepatocellular carcinoma may be a risk for patients with cirrhosis and no clinical evidence of portal hypertension. Progressive fibrosis and biliary cirrhosis develop in children who do not drain bile. Thus, as discussed below (see Prognosis), liver transplantation may be the only option for long-term survival in most patients. [2]
A study by Leung et al evaluated 1,215 children (994 with biliary atresia, 221 with chronic liver disease) in the United Network for Organ Sharing registry data from 2003 to 2013 to investigate wait-list mortality associated risk factors, and outcomes of young children <  2 years of age. The study reported 12.4% wait-list mortality among this group and 8% posttransplant mortality. The wait-list mortality for children under 2 with chronic liver disease was 23.9% compared to 9.8% for bilateral atresia. The study also reported that the risk of death was 60% greater among patients with biliary atresia who did not have abdominal surgery (Kasai hepatoenterostomy) than among those with prior abdominal surgery. [3]
Race
Incidence of biliary atresia is highest in Asian populations. The disorder also occurs in black infants, with an incidence approximately 2 times higher than that observed among white infants.
Sex
Extrahepatic biliary atresia is more common in females than in males.
Age
Biliary atresia is a disorder unique to the neonatal period. Two presentations are described in this chapter (see Background). The fetal/perinatal form is evident within the first 2 weeks of life; the postnatal type presents in infants aged 2-8 weeks.
What would you like to print?