Overview
Background
Caroli disease and Caroli syndrome are rare congenital disorders of the intrahepatic bile ducts. They are both characterized by dilatation of the intrahepatic biliary tree. The term Caroli disease is applied if the disease is limited to ectasia or segmental dilatation of the larger intrahepatic ducts. This form is less common than Caroli syndrome, in which malformations of small bile ducts and congenital hepatic fibrosis are also present. This process can be either diffuse or segmental and may be limited to one lobe of the liver, more commonly the left lobe.
Caroli disease is sporadic, whereas Caroli syndrome is generally inherited in an autosomal recessive manner. [1] As with congenital hepatic fibrosis, Caroli syndrome is often associated with autosomal recessive polycystic kidney disease (ARPKD). A rare association with autosomal dominant polycystic kidney disease (ADPKD) has also been reported. See the image below.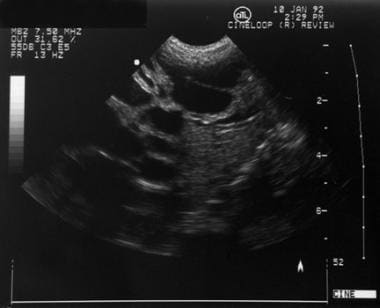 Hepatic ultrasonogram of a neonate with Caroli disease. Multiple dilated intrahepatic bile ducts are present. Courtesy of Richard Bellah, MD, The Children's Hospital of Philadelphia.
Pathophysiology
The precursor of the intrahepatic biliary tree is a sheath of cells surrounding the portal vein branches, known as the ductal plate (DP). The DP first arises from hepatocyte precursors surrounding hilar portal vein vessels at 8 weeks' gestation, and more peripheral regions of the DP develop sequentially. During the remainder of gestation, a process of DP remodeling occurs, during which 1-2 ductules form at points along the circumference of the DP that connect to the intrahepatic biliary tree; the remaining regions of the DP are lost, most likely through apoptosis. Caroli syndrome belongs to a subcategory of diseases thought to originate from DP malformation.
In Caroli disease, abnormalities of the bile duct occur at the level of the large intrahepatic ducts (ie, left and right hepatic ducts, segmental ducts), resulting in dilatation and ectasia. Resulting biliary stasis may lead to cholelithiasis, cholangitis, and sepsis, as well as an increased risk of cholangiocarcinoma. [1] . Because reports have described cases limited to the left lobe of the liver, some have described Caroli disease as either localized or diffuse.
In Caroli syndrome, DP malformation is present at the level of the smallest portal tracts and is associated with varying degrees of portal fibrosis. These findings are typical of congenital hepatic fibrosis; therefore, Caroli syndrome is thought to belong in the same spectrum of disease as congenital hepatic fibrosis and ARPKD.
Another classification of Caroli disease is type I, or simple Caroli disease, which consists of pure cystic dilatations of the intrahepatic bile ducts; type II, or complex Caroli disease, is also known as Caroli's syndrome. [2]
Epidemiology
Frequency
United States
Caroli disease and Caroli syndrome are very rare, with an estimated incidence of less than 1 case per 100,000 population. Caroli syndrome (ectasia of the large and small bile ducts with congenital hepatic fibrosis) is more common than Caroli disease (ectasia of only the large bile ducts).
The incidence of ARPKD/congenital hepatic fibrosis is approximately 1:20,000 live births. [3]
Mortality/Morbidity
Patients with Caroli disease or Caroli syndrome may have recurrent episodes of cholangitis and are also at risk for associated bacteremia and sepsis. Patients with Caroli syndrome or Caroli disease may have cholangitis and may also have complications of portal hypertension as is observed in congenital hepatic fibrosis. Caroli syndrome is associated with ARPKD, and patients may have various degrees of renal cysts, interstitial fibrosis, and renal failure. Both Caroli disease and Caroli syndrome are associated with a risk of cholangiocarcinoma at a rate of 100 times that of the general population.
Sex
Symptoms of Caroli disease or syndrome are more common in female patients than in male patients.
Age
Age at presentation varies and patients may present as neonates or as adults. Cases detected in utero based on ultrasonographic findings have been reported.
What would you like to print?