Workup
Approach Considerations
Plain abdominal radiography may be used for initial screening in patients with abdominal pain. Abdominal ultrasonography has become the diagnostic tool of choice in evaluating cholelithiasis, but it is less accurate in cholecystitis.
Go to Acalculous Cholecystitis Imaging and Acute Cholecystitis Imaging for more complete information on these topics.
Laboratory Studies
In assessing for cholecystitis, appropriate laboratory studies include the following blood tests:
Complete blood count (CBC)
In addition, urinalysis should be performed.
In acute cholecystitis, the white blood cell count is elevated, with a predominance of polymorphonuclear cells and bands. Bilirubin, alkaline phosphatase, and GGT levels rise secondary to a blocked biliary system.
The traditional cholestatic picture involves direct hyperbilirubinemia, with a direct-to-indirect ratio approaching 1:1. Amylase may be elevated even in the absence of obstructive pancreatitis. In addition, transaminases may show mild elevation but not a significant increase, unless obstruction has been severe enough to cause hepatocyte damage.
Transaminase levels are more likely to rise early in patients with obstruction of the common bile duct.
Plain Abdominal Radiography
Calcifications representing radiopaque gallstones may be observed in the gallbladder or ductal system. Radiopaque gallstones contain more calcium bilirubinate and are more common in the pediatric population, especially in infants and children. In addition, complications such as porcelain gallbladder and emphysematous cholecystitis may be visible on radiographs, although these complications are rare in children.
Abdominal Ultrasonography
The reliability of ultrasonography for detecting either opaque or lucent gallstones is well established. Results are immediate, and accessibility is usually excellent. The accuracy of abdominal ultrasonography in depicting gallstones is estimated to be more than 95%. However, its reliability in the diagnosis of acute cholecystitis is more limited.
Ultrasonographic findings in acute cholecystitis include a discrete echodensity representing the gallstone, the presence of sludge, and, possibly, ductal anomalies or dilation. The gallbladder may be dilated with thickened walls.
Imhof et al found gallbladder wall thickness of more than 3.5 mm to be a reliable independent diagnostic indicator of cholecystitis. [13]
Gallstones are often in a dependent position in the gallbladder and may move as the patient changes position.
Oral Cystography
Oral cystography has been used in the past, but has been largely abandoned because of the refinement of ultrasonography. Oral cystography involves the ingestion of contrast material that is secreted in the bile. Lack of visualization of the gallbladder indicates cholelithiasis. This procedure is limited by liver dysfunction and malabsorption. In addition, the contrast tablets have been associated with emesis and diarrhea, further complicating effectiveness.
Biliary Scintography
The most accurate tool in the diagnosis of acute cholecystitis is biliary scintiphotography, otherwise known as the hepatic 2,6-dimethyliminodiacetic acid or hepatoiminodiacetic acid (HIDA) scanning.
This procedure involves the intravenous injection of substances labeled with technetium Tc 99m (99m Tc), taken into the hepatocytes, and excreted into the biliary system. Normal hepatic uptake without gallbladder visualization is diagnostic, but false-positive results occur with decreased biliary function secondary to prolonged fasting and the use of hyperalimentation. Morphine augmentation of this test has been shown to decrease false positive results.
Induced spasm of the sphincter of Oddi increases biliary pressure and enhances gallbladder filling. This test may be unnecessary, however, because the clinical diagnosis and treatment are determined by the symptoms and presence of gallstones or sludge.
Ultrasonography has proved its usefulness in depicting gallstones, does not rely on contrast, and, therefore, may be safer.
Magnetic Resonance Cholangiopancreatography
Magnetic resonance cholangiopancreatography (MRCP) scanning can be used in the diagnosis of cholecystitis, especially in cases in which ultrasonography is not helpful.
Ultrasonographic results may be compromised by ileus, surgical incisions, and coexisting diseases, especially those in patients who are critically ill. MRCP may be more sensitive than ultrasonography in detecting inflammation within and around the gallbladder, as well as within the biliary tree. Although frequently used in the past, CT scanning is not generally recommended in pediatric patients because of the associated extensive radiation exposure.
Endoscopic Retrograde Cholangiopancreatography
If the patient displays signs and symptoms of choledocholithiasis, endoscopic retrograde cholangiopancreatography (ERCP) may be used preoperatively for exploration of the common bile duct. This procedure generally follows identification of common duct stones, either by ultrasound or by MRCP scanning. ERCP is both diagnostic and therapeutic, because it may be used for stent placement, basket retrieval, or papillotomy to allow passage of gallstones; however, available choledochoscopes may be too large for small patients.
Choledocholithiasis complicates the picture of cholecystitis and usually requires adjunctive procedures to cholecystectomy. If obstruction of the common bile duct is suspected preoperatively, perform ERCP before surgery with papillotomy, stent placement, or basket retrieval.
If gallstones are found intraoperatively, several techniques can be used. The common bile duct can be flushed with saline or opened and explored. Additionally, an endoscope or nephroureteroscope may be used intraoperatively for basket retrieval.
Endoscopic extraction of a cholesterol stone is demonstrated in the image below.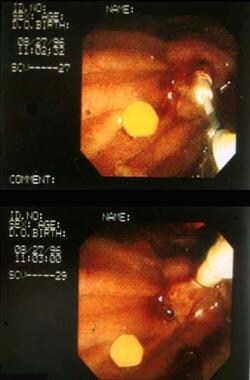 Pediatric Cholecystitis. Photograph illustrating the role of endoscopic retrieval of common bile duct stones. The picture shows a balloon placed via the endoscope into the ampulla for extraction of a cholesterol stone that was occluding the common bile duct.
Endoscopic Ultrasonography
In adult studies of suspected choledocholithiasis, the emerging technique of endoscopic ultrasonography (EUS) has been shown to detect more than 90% of common bile duct stones. This diagnostic modality is of particular use in patients with recurrent gallstone pancreatitis. In one study, EUS was able to detect stones in 77% of patients in whom CT scanning, standard biliary tract ultrasound, and/or ERCP findings were negative. [14] .
In patients with acute pancreatitis, the sensitivity and specificity of this procedure are approximately 98%. Where EUS is not available or feasible (eg, in young children), MRCP (discussed above) is also a highly sensitive and specific modality. In fact, a 2015 Cochrane Review showed both EUS and MRCP have high diagnostic accuracy for detection of common bile duct stones. [15] Because these studies demonstrate similar diagnostic accuracy, the choice of study (particularly in children) often depends on availability.
Cholecystokinin Stimulation
Cholecystokinin (CCK) stimulation may be used during other imaging studies, such as cholescintigraphy. Gallbladder dyskinesia after CCK administration is diagnostic of gallbladder hypofunction and may be useful in discerning acalculous or chronic cholecystitis and acute inflammation.
Histologic Findings
The histology of the inflamed gallbladder is fairly straightforward.
Acute cholecystitis causes changes similar to those of any acute inflammation. Edema, leukocytic infiltration, and vascular congestion are prominent. Inflammation may progress to abscess formation, gangrenous necrosis, and perforation, especially in acalculous cholecystitis. [16]
Chronic cholecystitis produces long-term inflammatory changes, with lymphocytes, plasma cells, and macrophages scattered throughout the mucosa. Subserosal fibrous tissue forms and may extend into the subepithelial layer with increasing disease severity. As the mucosa proliferates, epithelium may become buried in crypts known as Rokitansky-Aschoff sinuses.
Over time, chronic obstruction and inflammation may lead to the deposit of calcium within the gallbladder wall, causing the porcelain gallbladder, which is visible on flat plate imaging of the abdomen. Another variation is xanthogranulomatous cholecystitis, in which chronic inflammation leads to a shrunken, nodular gallbladder with many foci of necrosis and hemorrhage. This condition may be confused with malignancy but is actually benign.
Hydrops of the gallbladder may also develop with chronic obstruction. This is characterized by a distended lumen and atrophic walls. Obstruction of the common bile duct may cause histologic change in nearby organs. Ductal hyperplasia ensues from obstruction and distension, and periportal fibrosis in the liver may occur with hepatic bile flow obstruction. Gallstones may also cause transient acute pancreatitis, resulting in characteristic histologic changes in the pancreas.
What would you like to print?