Overview
Background
Gallbladder disease is one of the most common and costly digestive diseases that requires hospitalization in the United States. Gallbladder calculi are more common in the adult population and remain relatively uncommon in children; however, the incidence of cholelithiasis in children has increased. The ultrasonogram below reveals multiple stones in a gallbladder. [1]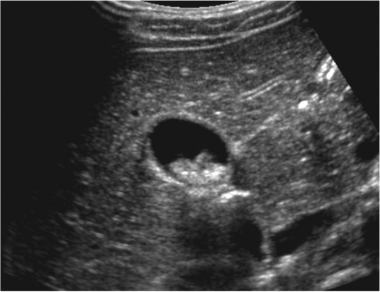 Transverse view of the gallbladder reveals multiple stones, without gallbladder wall thickening, edema, or surrounding fluid accumulation.
Children may present with black pigment, cholesterol, calcium carbonate, protein-dominant, or brown pigment stones. Typically, only 1 type of stone forms at any given time.
Pain in the right upper quadrant (RUQ) of the abdomen is common. A Murphy sign (expiratory arrest with palpation in the RUQ) is thought to be pathognomonic (see Clinical Presentation). Ultrasonography of the RUQ is the study of choice in patients with uncomplicated cholelithiasis (see Workup).
As in adults, treatment for simple cholelithiasis is largely symptomatic, and laparoscopic cholecystectomy remains the criterion standard in treatment for symptomatic cholelithiasis (see Treatment and Management). [2]
Gallstone distribution
The distribution of gallstone types in children differs from the adult population, with cholesterol stones being the most common type of stone in adults and black pigment stones being the most common type in children.
Black pigment stones make up 48% of gallstones in children. They are formed when bile becomes supersaturated with calcium bilirubinate, the calcium salt of unconjugated bilirubin. Black pigment stones are commonly formed in hemolytic disorders and can also develop with parenteral nutrition.
Calcium carbonate stones, which are rare in adults, are more common in children, accounting for 24% of gallstones in children. [3]
Cholesterol stones are formed from cholesterol supersaturation of bile and are composed of 70-100% cholesterol with an admixture of protein, bilirubin, and carbonate. These account for most gallstones in adults but make up only about 21% of stones in children. [4, 5]
Brown pigment stones are rare, accounting for only 3% of gallstones in children, and form in the presence of biliary stasis and bacterial infection. They are composed of calcium bilirubinate and the calcium salts of fatty acids and occur more often in the bile ducts than in the gallbladder.
The remaining portion of gallstones in children consists of protein-dominant stones, which make up about 5% of gallstones in these patients.
Microliths are gallstones smaller than 3 mm; can form within the intrahepatic and extrahepatic biliary tree; may lead to biliary colic, cholecystitis, and pancreatitis; can persist after cholecystectomy; and are difficult to diagnose as they are often missed on ultrasonography. Biliary sludge is made up of precipitates of cholesterol monohydrate crystals, calcium bilirubinate, calcium phosphate, calcium carbonate, and calcium salts of fatty acids, which are embedded in biliary mucin to form sludge. [6]
Go to Cholelithiasis for more complete information on this topic.
Pathophysiology
The complications of cholelithiasis in children are similar to those in adults. Cholelithiasis primarily affects the gallbladder and may cause irritation of the gallbladder mucosa, resulting in chronic calculous cholecystitis and symptoms of biliary colic.
If a gallstone obstructs the cystic duct, acute cholecystitis can occur, with distension of the gallbladder wall and possible necrosis and spillage of bile. If gallstones migrate from the gallbladder into the cystic duct and main biliary ductal system, further complications can occur, such as choledocholithiasis, biliary obstruction with or without cholangitis, and gallstone pancreatitis.
Etiology
Cholelithiasis in children has various causes related to predisposing factors. Hemolytic disease, hepatobiliary disease, obesity, [7] prolonged parenteral nutrition, abdominal surgery, trauma, ileal resection, Crohn disease, sepsis, and pregnancy all may lead to an increased incidence of gallstones in the pediatric population.
Less prominent risk factors include acute renal failure, prolonged fasting, low-calorie diets, and rapid weight loss. Biliary pseudolithiasis, or reversible cholelithiasis, has been identified with the use of certain medications, primarily ceftriaxone. [8]
Genetic conditions, such as progressive familial intrahepatic cholestasis type 3, can also predispose to gallstone formation. Defects in the in the ABCB4 gene have been increasingly recognized in both adults and children with recurrent cholestasis and cholesterol gallstones. [9]
Epidemiology
Although gallbladder disease had traditionally been considered an adult condition, the prevalence has been rising in the pediatric population. A population-based study estimated the prevalence of gallstones and biliary sludge in children at 1.9% and 1.46%, respectively. [10] The true number of affected children may have previously been underestimated because patients with cholelithiasis can present with nonspecific abdominal pain.
The morbidity and mortality associated with gallstones are more commonly associated with cholecystitis or ascending cholangitis. The primary morbidity associated with uncomplicated cholelithiasis is chronic abdominal pain, which can be incapacitating.
Although no racial predilection is noted, individuals of certain ethnic heritage have been identified to be at higher risk for developing gallstones, particularly the Pima Indians of North America and Scandinavians.
Prior to puberty, the sex ratio of cholelithiasis in children appears to be equal. However, after puberty, the frequency of cholelithiasis is significantly greater in females than in males and is comparable to the adult ratio of 4:1 female predominance.
Factors in the incidence of pediatric cholelithiasis
Factors affecting the increasing incidence of cholelithiasis in children include increased detection with increased use of ultrasonography, as well as the growing obesity epidemic. [11] The increasing incidence of pediatric gallbladder disease parallels the rise in obesity in children. [11]
The frequency of cholelithiasis in children with sickle cell disease is almost double that of the general population. [12, 13] Pigmented gallstones occur in approximately 50% of children with sickle cell disease by age 22 years. Approximately 20-40% of all pediatric gallstone disease can be attributable to hemolytic disease. [14]
Prognosis
The prognosis for simple cholelithiasis is favorable.
The lag time between the discovery of stones in asymptomatic patients and the development of symptoms is estimated at more than 10 years.
Patient Education
What would you like to print?