Workup
Approach Considerations
The workup of cholelithiasis in pediatric patients is similar to that in adults. The goal is to demonstrate evidence of gall bladder or biliary tract disease. Laboratory tests should include a complete blood count, gamma-glutamyltransferase (GGT), amylase, urinalysis, direct and indirect bilirubin, alkaline phosphatase, and transaminase levels.
All laboratory results in simple cholelithiasis should be within reference ranges. They are of use in identifying more complex disease processes, including biliary obstruction and cholecystitis. Abnormal results on liver function tests or CBC count suggest infection, obstruction, or both.
Ultrasonography of the right upper quadrant (RUQ) is the study of choice in patients with uncomplicated cholelithiasis. Plain radiography, radionuclide scanning, and cholangiopancreatography can also play a role in the assessment of cholelithiasis.
Go to Imaging in Cholelithiasis for more complete information on this topic.
Imaging Studies
Abdominal ultrasonography
Ultrasonography can be used to identify the location of the stone (as demonstrated in the image below, gallbladder wall thickening, the presence of gallbladder sludge, and pericholecystic fluid. Furthermore, an ultrasonographic Murphy sign (expiratory arrest with pressure from the sonographic probe in the RUQ) aids in the diagnosis of cholelithiasis.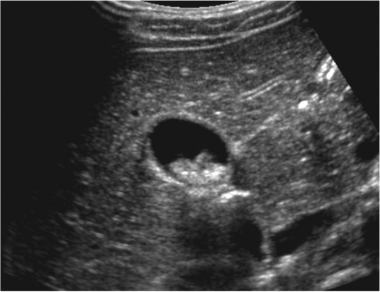 Pediatric Gallstones (Cholelithiasis). Transverse view of the gallbladder reveals multiple stones, without gallbladder wall thickening, edema, or surrounding fluid accumulation.
Plain radiography
Abdominal plain radiography in pediatric patients with cholelithiasis is seldom useful, because gallstones, with the exception of calcium carbonate stones, are not radio-opaque. However, radiography may be beneficial in identifying small-bowel obstruction or free air under the diaphragm.
Radionuclide scanning
Radionuclide scanning, such as with iminodiacetic acid (IDA) derivatives (eg, hepatoiminodiacetic acid [HIDA], diisopropyl iminodiacetic acid [DISIDA], and paraisopropyl iminodiacetic acid [PIPIDA] scanning), is also used to assess gallbladder filling and bile excretion, particularly in response to cholecystokinin or a fatty meal.
Cholangiopancreatography
In children with suspected hepatobiliary complications, magnetic resonance cholangiopancreatography (MRCP) [18] or endoscopic retrograde cholangiopancreatography (ERCP) can help delineate the anatomy of the extrahepatic and intrahepatic biliary tract, identify the presence of ductal stones, and provide a therapeutic mode of removing a stone or decompressing the biliary tract. [19, 20]
ERCP in the pediatric population has been associated with the same frequency of success and complications as in adults. As a noninvasive alternative, the MRCP has demonstrated promise in the evaluation of choledocholithiasis.
What would you like to print?