Presentation
History
History is often helpful in discriminating functional constipation from Hirschsprung disease (see Differentials). Asking parents when their child passed his or her first bowel movement after birth is particularly important. Most children with Hirschsprung disease have difficulties with constipation dating to birth or shortly after birth. In most published series, more than one half of infants with Hirschsprung disease do not pass meconium during the first 36 hours of life and are diagnosed with constipation within the first 4-6 months of life.
Asking the family about specific symptoms of their child's constipation is also important. Inquiring about the onset and duration of symptoms, whether the passage of bowel movements appears to be painful, and whether any bleeding has been associated with defecation is important.
Asking about a history of fecal incontinence or soiling is also important as many parents confuse fecal soiling (ie, encopresis) with poor hygiene or chronic or recurrent diarrhea.
Most cases of chronic childhood constipation are precipitated by painful bowel movements with withholding of stool. [10] In very young children, withholding is reflexive and pain avoidant, whereas in older children the witholding may be more conscious but again is almost always a means of avoiding pain. In young children, parents often confuse withholding of stool with abdominal pain or excessive straining. In many cases of functional constipation, parents can identify a precipitating event. Common withholding behaviors are detailed in the image below.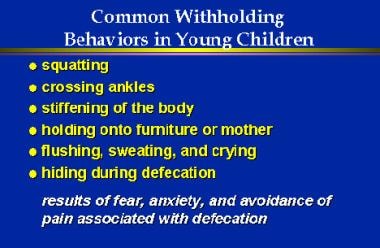 This image delineates common withholding behaviors in young children.
In young infants, functional constipation often develops at the time of a dietary transition (eg, from breast milk to formula, the addition of solid foods into the diet, from formula to whole milk).
In toddlers, functional constipation often develops near the time of toilet training. In toddlers and young children, constipation may develop following an illness associated with either a severe diaper dermatitis or dehydration.
In older children, functional constipation often develops at the time of school entry, because they refuse to defecate while they are at school.
Physical Examination
The most important part of the physical examination is the rectal examination. Perform a rectal examination in any child with chronic constipation, regardless of age, to exclude underlying anatomic abnormalities that might account for the constipation, such as an imperforate anus with perineal fistula, intestinal obstruction (mass effect), or Hirschsprung disease. In young infants, the anus should be sufficiently large to permit the introduction of a pinkie finger.
Upon digital examination, note the size of the anal canal, the size of the rectum, and whether any intrarectal masses are present. Also, note if the rectum is empty or filled with stool and note the consistency of the stool.
Among children with Hirschsprung disease, the rectum is typically quite small and empty of stool. Following the digital examination, the infant may have a gush of liquid stool, because the functional obstruction has transiently been relieved.
Among children with functional constipation, the rectum is generally enlarged, and stool is present just beyond the anal verge.
Sacral dimples or pits
Carefully examine the perineum for any sacral dimples or pits that might indicate an abnormality of the distal spinal cord. Also note the location of the anus on the perineum. In most children, the anus is approximately halfway between the posterior fourchette (base of the scrotum in boys; where the labia minora meet in girls) and the tip of the coccyx.
Whether children with anterior displacement of the anus are at increased risk for constipation is not entirely clear. To date, no large prospective studies have been performed. In some cases, if the anus is sufficiently anterior, a posterior rectal shelf may develop, resulting in abnormal defecation dynamics. Some pediatric surgeons and pediatric gastroenterologists believe that this entity is at one end of the continuum of imperforate anus with a perineal fistula.
Anal fissures, fistulae, or hemorrhoids and anal wink reflex
Examine the anus for the presence of any fissures, fistulae, or hemorrhoids. Also, confirm the presence of an anal wink. To elicit an anal wink, stroke the perianal skin with a pin or probe. In response to the stroking, the subcutaneous portion of the external anal sphincter should contract and visibly pucker at the anal margin. Failure to elicit this reflex can indicate an abnormality with either peripheral sensory or motor nerves or central connections mediating the reflex.
What would you like to print?