DDx
Diagnostic Considerations
The differential diagnosis of childhood constipation can be extensive and may include Hirschsprung disease (ie, congenital megacolon), spinal or neuromuscular abnormalities (eg, spinal muscular atrophy, tethered cord, Currarino triad [rectal stenosis, hemi sacrum, presacral mass], cerebral palsy [static encephalopathy]), hypothyroidism, anal stenosis, imperforate anus with fistula, anterior displacement of the anus (this is a controversial diagnosis), allergy or sensitivity to cow's milk, and celiac disease. Other conditions to consider include mitochondrial disorders, neuronal intestinal dysplasia, and prune-belly syndrome.
Fortunately, in most cases in which an underlying condition causes constipation, other stigmata of the disorder point to diagnosis. For example, constipation is rarely the only symptom of hypothyroidism.
For practical purposes, in an otherwise healthy child, the differential diagnosis of chronic constipation is Hirschsprung disease and functional constipation (not Hirschsprung disease). Although differentiating these two disorders may sometimes be difficult, clues in the history and physical examination are helpful. The image below details the differences between functional constipation and Hirschsprung disease.
See also Constipation and Surgery for Pediatric Constipation and Bowel Management.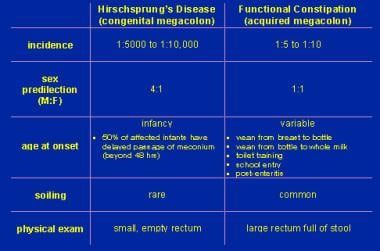 This table differentiates functional constipation from Hirschsprung disease.
Differential Diagnoses
What would you like to print?