Overview
Background
In 1886, Harold Hirschsprung first described Hirschsprung disease as a cause of constipation in early infancy. Early recognition and surgical correction of Hirschsprung disease protects affected infants from enterocolitis and debilitating constipation.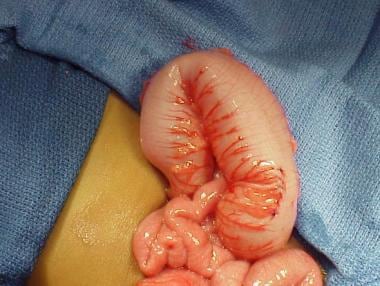 Intraoperative finding in total colonic aganglionosis. Note the decompressed bowel adjacent to the distended colon.
Pathophysiology
Hirschsprung disease results from the absence of enteric neurons within the myenteric and submucosal plexus of the rectum and/or colon. Enteric neurons are derived from the neural crest and migrate caudally with the vagal nerve fibers along the intestine. These ganglion cells arrive in the proximal colon by 8 weeks' gestation and in the rectum by 12 weeks' gestation. Arrest in migration leads to an aganglionic segment. This results in clinical Hirschsprung disease.
Epidemiology
Frequency
United States
Hirschsprung disease occurs in approximately 1 per 5000 live births.
International
Prevalence may vary by region and has been shown to be as high as 1 per 3000 live births in the Federated States of Micronesia. [1]
Mortality/Morbidity
The overall mortality of Hirschsprung enterocolitis is 25-30%, which accounts for almost all of the mortality from Hirschsprung disease.
Sex
Hirschsprung disease is approximately 4 times more common in males than females.
Age
Nearly all children with Hirschsprung disease are diagnosed during the first 2 years of life. Approximately one half of children affected with this disease are diagnosed before they are aged 1 year. A small number of children with Hirschsprung disease are not recognized until much later in childhood or adulthood.
What would you like to print?