Workup
Approach Considerations
In most cases of gastroesophageal reflux, the diagnosis can be made from the history and physical examination. Conservative measures can be started empirically. However, if the presentation is atypical or if the response to therapy is minimal, further evaluation via imaging is warranted.
Manometry
This is becoming a more accessible tool for use in infants and children. It is used to assess esophageal motility and lower esophageal sphincter (LES) function. Esophageal multichannel intraluminal impedance testing has the advantage of being able to assess these motility variable, but also to evaluate both acid and non-acid reflux.
Esophagogastroduodenoscopy
This modality is useful in patients who are unresponsive to medical therapy. It allows for visualization of the mucosa for diagnosis of peptic ulcer disease, Helicobacter pylori infection, strictures, and peptic esophagitis. It also provides access to obtain biopsies for histopathologic examination.
Histologic findings
Histologic signs of peptic esophagitis include basal cell hyperplasia, extended papillae, and mucosal eosinophils. The number of mucosal eosinophils may be important because finding more than 20 per high-powered field (hpf) has been associated with eosinophilic (allergic) esophagitis rather than with peptic esophagitis.
Imaging Studies
Upper GI imaging series
Such studies are used to evaluate the anatomy of the upper gastrointestinal (GI) tract, but contrast imaging is neither sensitive nor specific for gastroesophageal reflux. However, imaging may be useful in the evaluation of gastric emptying time, which may be delayed in gastroesophageal reflux.
Gastric scintiscan
A gastric scintiscan study, using milk or formula that contains a small amount of technetium sulfur colloid, can assess gastric emptying and reveal reflux (although not the degree or severity of it). However, its major diagnostic role is in the assessment of pulmonary aspiration.
A major error in performing scintigraphy is not performing a delayed scan over the pulmonary bed. Gastroesophageal reflux–related aspiration may occur as an early or late postprandial phenomenon. Accordingly, in addition to the "acute" (ie, 1 h) scintiscan, patients should be rescanned after 24 hours, in order to assess delayed pulmonary soilage by refluxed gastric contents.
Esophagography
In cases of mild gastroesophageal reflux, diagnosis is made by clinical assessment and is confirmed by the response to therapy. Esophagography, conducted under fluoroscopic control, may reveal the integrity of esophageal peristalsis; however, it should not be used to assess the degree and severity of gastroesophageal reflux. Strictures can also be demonstrated by esophagography.
Chronic esophageal mucosal injury secondary to gastroesophageal reflux involves a mucosal/submucosal inflammatory cell infiltrate, as well as basal cell hyperplasia. In severe cases, this may appear as a ragged mucosal outline on radiography.
Intraesophageal pH Probe Monitoring
Although pH monitoring has become a widely overused modality, it remains the criterion standard for quantifying gastroesophageal reflux.
A continuous esophageal pH probe in the distal esophagus documents the severity and frequency of reflux. Although this is a very sensitive monitoring modality, some controversy persists with respect to the precise criteria for differentiating physiologic from pathologic gastroesophageal reflux. More recently, dual pH probe monitoring has come into use to assess distal and proximal esophageal reflux in an attempt to correlate gastroesophageal reflux with laryngeal and pulmonary symptoms.
Advantages in using pH monitoring include the quantification of reflux and the ability to establish a temporal relationship with atypical symptoms (eg, obstructive apnea) and reflux events.
Esophageal pH monitoring is not indicated in cases of obvious gastroesophageal reflux but is useful in demonstrating an association between reflux and symptoms in atypical presentations and in grading the risk of esophagitis.
Intraluminal Esophageal Electrical Impedance
Intraluminal esophageal electrical impedance (EEI) is useful for detecting both acid reflux and nonacid reflux by measuring retrograde flow in the esophagus. Gastroesophageal reflux episodes as brief as 15 seconds may be measured. (See the image below.)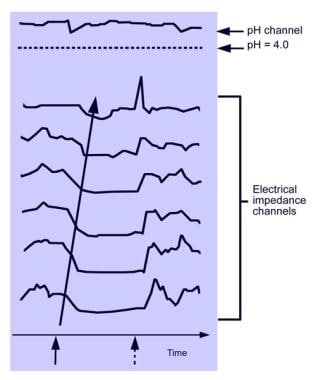 The image is a representation of concomitant intraesophageal pH and esophageal electrical impedance measurements. The vertical solid arrow indicates commencement of a nonacid gastroesophageal reflux episode (diagonal arrow). The vertical dashed arrow indicates the onset of a normal swallow.
In adult studies, impedance measurements have been used in conjunction with 24-hour intraesophageal pH monitoring in order to provide a more complete picture of bolus movement in the esophagus.
EEI has not been thoroughly validated, and normal values have not been determined in the pediatric age group.
What would you like to print?