Treatment
Approach Considerations
Children with small bowel obstructions are admitted to the hospital for close monitoring even if initial nonoperative management is chosen.
General principles in the treatment of small bowel obstruction include the following:
Stabilize the patient and monitor ABCs (airway, breathing, circulation).

Replace fluid losses with diligent intravenous (IV) resuscitation, using isotonic sodium chloride solution or lactated Ringer's solution.

Administer nothing by mouth (NPO).

Early gastric decompression with a nasogastric (NG) tube.

Administer broad-spectrum antibiotics when necrosis or perforation is suspected.
Consultations
When small bowel obstruction is suspected in a pediatric patient, consult with a pediatric or general surgeon, depending on availability. Consider early transfer of care to a children's center fully resourced to provide optimal care to children. [47]
Other considerations
Specific approaches to different causes of small bowel obstruction are discussed below.
Intussusception
Initial management of an ileocolic intussusception is a trial at reduction using an air or contrast enema, which is successful in approximately 90% of cases. [48, 49] Repeat enemas are useful and can be considered when the first enema is unsuccessful but did achieve some partial reduction. [41] Although some centers still elect to admit children for observation after a successful enema reduction, discharge from the emergency department after successful reduction has also been shown to be safe. [50]
Children who are systemically ill with signs of peritonitis are not candidates for enema reduction and should be expeditiously taken to surgery. Surgery is also indicated for patients whose intussusception cannot be reduced with enemas. See the image below.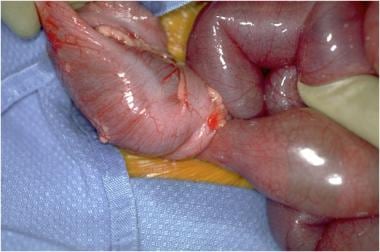 Pediatric Small Bowel Obstruction. This is a surgical photograph of an 8-month-old patient with ileocolic intussusception.
Adhesive small bowel obstruction
A high level of concern for compromised bowel mandates operative exploration. In most patients with adhesive small bowel obstruction, however, such signs are not present, and a trial of nonoperative management with NPO, IV fluids, and NG decompression is appropriate. This management alone will result in resolution of many adhesive small bowel obstructions in children. [18]
The administration of a water-soluble contrast medium (such as Gastrografin) via NG tube, followed by abdominal radiography to assess the contrast progression, is useful in deciding early whether or not surgical intervention will be required. The passage of contrast material into the colon is predictive of resolution with nonoperative management, and administration of contrast medium may also decrease the need for surgery in some patients. This approach has been successfully used in children. [51]
Incarcerated hernia
In the absence of signs of strangulation, an attempt should be made to reduce the incarcerated hernia to relieve the associated obstruction. Sedation and placing the patient in a slight Trendelenburg position can be helpful. After reduction, semi-elective repair is typically performed 24-48 hours after reduction to allow the edema to subside. If reduction cannot be obtained or in the setting of strangulation, surgery is required.
Necrotizing enterocolitis
Treatment for early and uncomplicated necrotizing enterocolitis (NEC) is medical with broad-spectrum antibiotics, cessation of enteral feeds, and NG decompression. However, medical treatment may fail to improve the patient's condition, or severe complications may develop that require surgical consultation. Infants who develop small bowel obstruction from NEC, either acutely from a necrotic portion of intestine or from a stricture that develops after a prior episode of NEC, generally fall into this group that requires surgical intervention.
Meconium ileus
The therapy of choice for uncomplicated meconium ileus is the administration of hyperosmolar contrast enema, which is both diagnostic and therapeutic in the majority of patients. In some cases, N -acetylcysteine can be added to the enema solution or can be administered using an NG tube from above to help loosen the meconium. Surgical intervention is required for complicated cases (volvulus, perforation, necrosis, associated atresia) and those obstructions that are not relieved with enemas.
Surgical Therapy
Intussusception
When reduction of intussusception via air or contrast enemas is unsuccessful, surgery is required. In addition, children with signs of compromised bowel should proceed directly to the operating room. The procedure can be performed safely via laparotomy or via laparoscopy. [52, 53] Surgery consists of reduction of the intussusception, followed by an evaluation of the viability of the bowel, with bowel resection and primary anastomosis as indicated.
Incarcerated hernia
After reducing the hernia, elective repair is possible 24-48 hours after the edema subsides. For patients whose incarcerated hernias cannot be reduced or for patients with signs of strangulation, immediate surgery is required.
Malrotation of the bowel with midgut volvulus
Rapid diagnosis and surgery for malrotation with midgut volvulus is vital to preserve intestinal viability. [54] Clinical judgment trumps imaging, and there should be no delay in proceeding with emergent exploration to obtain confirmatory imaging when clinical findings suggest midgut volvulus.
Surgery consists of a Ladd procedure, which includes evisceration and inspection of the mesenteric root, derotation of the volvulus, lysis of Ladd bands, opening of the visceral peritoneum that covers the mesentery to maximally widen the mesenteric pedicle, and replacing the small bowel into the right side of the abdomen and the large bowel into the left side. It also typically includes an appendectomy, because the appendix will otherwise be located in an unusual place. The Ladd procedure can also be performed laparoscopically, although this is rarely used in the setting of acute volvulus. [55] Any frankly necrotic bowel should be resected and end-to-end anastomosis performed, unless the peritoneal cavity is grossly contaminated or the condition of the patient does not allow it; in such cases, stomas should be created. When large segments of bowel have questionable viability, temporary abdominal closure with a second look in 24-48 hours is advisable.
Postoperative adhesive small bowel obstruction
Signs of compromised bowel such as fever, tachycardia, and peritonitis mandate surgical exploration, as does failure of nonoperative management to relieve the obstruction. Adhesiolysis is the treatment of choice. In general, only the adhesion causing the obstruction needs to be resolved, as extensive unnecessary adhesiolysis increases the risk of serosal tears and bowel perforations, as well as an increased inflammatory response that may produce further adhesive obstruction. Careful sharp dissection of adhesions with gentle handling of the intestine is imperative. Adhesiolysis can be achieved with laparotomy or laparoscopy. [56] Some patients will require bowel resection because of perforation or necrosis.
Duplication cysts
The treatment for enteric duplications is surgical excision, either via laparotomy or laparoscopy. Duplications of the small intestine often require resection and anastomosis. See the image below.
Necrotizing enterocolitis
Indications for surgery in necrotizing enterocolitis (NEC) include pneumoperitoneum (the only absolute indication); a fixed, dilated bowel loop; abdominal wall discoloration; and clinical deterioration or lack of improvement with nonoperative management. The presence of portal venous gas suggests advanced disease but does not by itself mandate surgical intervention, unless the child clinically requires it. See the image below.
Surgical management of NEC that is causing small bowel obstruction consists of laparotomy with resection of any necrosed bowel, followed by primary anastomosis or creation of an ostomy. [32]
Mesocolic hernia
In symptomatic patients with mesocolic or other internal hernias, prompt surgical exploration to reduce the hernia and repair the defect is imperative. These patients often have a delayed diagnosis and present as a surgical emergency with acute bowel obstruction and intestinal ischemia. [35] See the image below.
Jejunoileal atresia and stenosis
Patients with jejunoileal atresia typically undergo surgical resection of the atretic segment, followed by an end-to-end anastomosis. The proximal, dilated bowel may need to be tapered to fit the smaller distal intestine. Surgeons should take care to preserve as much intestinal length as possible to prevent short-bowel syndrome, especially in patients with multiple atresias. Small intestinal atresias have classically been repaired through a transverse supraumbilical incision, although single jejunoileal atresias have also been successfully approached through a smaller periumbilical incision. [57]
Duodenal obstructions
The treatment for duodenal obstructions is a linear or diamond-shaped duodenoduodenostomy. Duodenojejunostomy is another option. A duodenal web, although less common, can be treated with duodenotomy and excision of the web, with or without duodenoplasty. [58]
Surgical management for annular pancreas is similar to that for duodenal atresia, with diamond-shaped duodenoduodenostomy being the preferred approach.
Meconium ileus
Surgical management is necessary for cases of complicated meconium ileus and when enemas are unsuccessful in relieving the obstruction. For uncomplicated cases, enterotomy and irrigation to remove the thickened meconium and meconium pellets may be sufficient. Catheter or tube enterostomy can be considered to allow for postoperative administration of N-acetylcysteine, which can also be provided via nasogastric tube postoperatively.
Complicated cases (volvulus, perforation, necrosis, associated atresia) require not only clearance of the meconium but also care of the associated complication, typically intestinal resection with primary anastomosis or stoma creation. [59]
Meckel diverticulum/band
Surgical resection of the diverticulum and lysis of any associated bands is the proper treatment in symptomatic patients. The minimally invasive approach is reasonable even in small children. [60, 61]
What would you like to print?