Workup
Laboratory Studies
Serum bilirubin levels are elevated in virtually all patients with progressive familial intrahepatic cholestasis (PFIC). Serum direct or conjugated bilirubin levels are elevated in virtually all patients.
Total serum bile salt concentration is elevated 10-fold to 20-fold in virtually all patients. Qualitative serum and urine bile acids by mass spectroscopy are used to exclude genetically determined errors in bile acid synthesis.
Total serum cholesterol level is within reference ranges; high-density lipoprotein (HDL) level is normal or low.
Serum alkaline phosphatase is elevated in virtually all patients.
Serum 5'-nucleotidase is elevated in virtually all patients.
Serum gamma-glutamyl transferase (GGT) levels are within reference ranges or low in PFIC1 and PFIC2; patients may have GGT levels of more than 100 IU/L while receiving microsomal inducers (eg, phenobarbital). These levels are elevated (ie, usually 3-fold to 10-fold) in patients with PFIC3.
Fecal fat is elevated in virtually all patients.
Genetic testing: A DNA resequencing array has been developed that includes the genes associated with PFIC types 1, 2, and 3. [15]
Serum alpha-fetoprotein testing may be performed.
Imaging Studies
Ultrasonography of the liver and gall bladder is useful in determining biliary tract anatomy and differentiating from extrahepatic causes of cholestasis.
Cholangiography may be necessary to exclude extrahepatic biliary obstruction.
Other Tests
Sampling bile from the duodenum or directly from the biliary tract for analysis of phospholipid content can be useful in making the diagnosis of PFIC3.
Histologic evaluation of the liver architecture can be helpful as described below. Further immunohistochemical staining of liver specimen for BSEP and MDR3 can be diagnostic and help differentiate between the types of PFIC.
Histologic Findings
Liver biopsy is an associated procedure for patients with suspected progressive familial intrahepatic cholestasis (PFIC).
In patients with PFIC1 and PFIC2, hepatocellular and canalicular cholestasis with pseudoacinar transformation are the most uniform histologic findings. Hepatocellular injury manifests as giant cell formation and ballooned hepatocytes (see following images).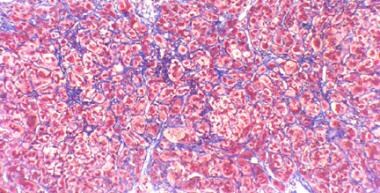 Progressive Familial Intrahepatic Cholestasis. Typical histologic findings of progressive familial intrahepatic cholestations (PFIC): Ballooned hepatocytes from cholate injury, scattered giant cells, cholestasis, and lacy fibrosis extending from central veins to portal areas.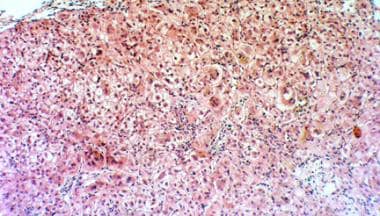 Progressive Familial Intrahepatic Cholestasis. Ballooned hepatocytes with cholestasis and some giant cell transformation. Note the sinusoidal lacy fibrosis.
Giant cells are prominent during infancy in 57% of patients and may regress with increasing age. Bile duct damage leads to their loss and ductal paucity in 70% of older patients. The degenerating biliary epithelium shows apoptotic changes, consisting of small hyperchromatic nuclei, attenuated cytoplasm, and loss of duct lumina. Inflammation is absent.
The typical progression of fibrosis starts early (ie, 76% of patients have some fibrosis by age 2 y) and may appear initially as pericentral sclerosis, portal fibrosis, or sometimes both. Portal-to-central bridging then develops in association with lacy lobular fibrosis and eventually leads to cirrhosis. Proliferating bile ductules develop at the edge of the portal tracts in patients with significant fibrosis. The progression rate of the fibrosis widely varies but loosely correlates to clinical disease severity. Mallory hyaline and hepatocellular carcinoma may occur with very advanced disease.
Examination with electron microscopy shows subtle differences between PFIC1 and PFIC2. Samples from patients with PFIC1 show the retention of coarsely granular bile (so-called Byler bile) in canalicular spaces.
In PFIC3, liver biopsy reveals expanded portal areas with proliferation of interlobular bile ducts plugged with bile. As in PFIC1 and PFIC2, progressive fibrosis, nodularity, and cirrhosis will develop.
In a long-term (>10 years), retrospective study of eight liver biopsies from four patients with PFIC2, all the patients had cholestasis and their biopsies showed the characteristic hepatic lobular rosettes at the time of diagnosis, and the majority had degenerative changes (mild to severe). [16] Only two patients showed centrrally located bile plugs. Follow-up biopsies revealed complete resolution of cholestatis in three patients (significant reduction in the fourth patient), as well as resolution of liver fibrosis in two of three patients. [16]
What would you like to print?