Treatment
Medical Therapy
Surgery is the definitive treatment for neonatal duodenal obstruction. However, adequate intravenous hydration, total parenteral nutrition, and gastric decompression are essential until the neonate has been stabilized for surgical repair.
Surgical Therapy
Duodenal atresia and stenosis are treated surgically. In patients with duodenal obstruction, a duodenoduodenostomy is the most commonly performed procedure for operative repair. Currently, a duodenojejunostomy is not commonly performed due to its higher risk of long-term complications, such as delayed return of bowel function and blind loop syndrome. [1, 21]
Duodenal repair may be performed via a right supraumbilical incision or laparoscopically, depending on surgeon preference. [22, 23, 24, 25, 26] Generally, advancements in neonatal intensive care, parenteral nutrition, and refinement of surgical technique have contributed to improved outcomes in neonatal surgical patients. [27]
Preoperative Details
Little preoperative preparation is necessary if the diagnosis is secured within the first 24 hours. Placement of an orogastric (OG) tube and maintenance of intravenous (IV) hydration is mandatory in all infants with duodenal obstruction. If prolonged OG suction is necessary, IV fluid replacement of the gastric aspirate with one half normal saline with added potassium should be administered.
Prior to proceeding with operative repair, the surgeon should ensure that both fluid and electrolyte derangements are adequately corrected. In addition, the surgeon should also perform a thorough examination of the infant, with special attention to cardiac and pulmonary function.
Intraoperative Details
As with all neonatal surgery, preserving body temperature is essential. Coordination with an anesthesiologist with specialized training in neonatal surgery is advantageous, because advances in pediatric anesthesia, such as the use of inhaled agents with limited cardiac depression and the use of multimodal pain management, have improved perioperative mortality and morbidity in infants. [28]
Open repair
Enter the abdomen through a transverse skin incision begun 2 cm above the umbilicus from the midline and extending approximately 5 cm into the right upper quadrant (see the image below). Divide the abdominal musculature transversely using cautery. For adequate exposure, carefully retract the liver superiorly and pack the Morison pouch (hepatorenal fossa or recess) with laparotomy pads.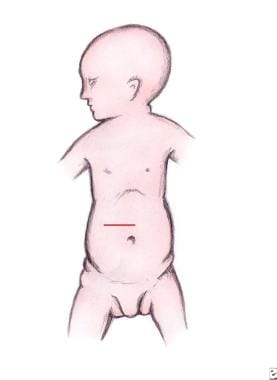 Pediatric duodenal atresia. Incision for duodenal exposure.
Next, mobilize the duodenum using the Kocher maneuver. For type I atresia, advancing an orogastric (OG) or feeding tube is helpful to determine the location of the obstruction without opening the stomach. The stomach and proximal duodenum are often thickened and dilated. Adequate mobilization is critical when a significant gap is present between the proximal and distal ends.
The authors prefer a duodenoduodenostomy for repair, when possible. This may be performed in either a diamond-shaped fashion (authors' preference) or a side-to-side anastomosis. For the side-to-side technique (see the image below), make parallel incisions in both the proximal and distal segments.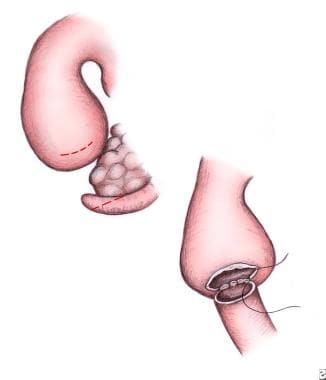 Pediatric duodenal atresia. Side-to-side duodenoduodenostomy.
Gentle pressure on the gallbladder assists in locating the ampulla of Vater prior to anastomosis. This allows the surgeon to avoid placement of sutures that might result in biliary obstruction. Additionally, examining the distal segment for other atresia or webs is recommended, because 1-3% of patients with duodenal atresia have an additional distal small intestinal atresia. [29] This assessment is facilitated by passing a small red rubber catheter or feeding tube through the distal segment.
A single layer, diamond-shaped duodenoduodenostomy repair (see image below) with 4-0 or 5-0 absorbable suture is preferable. This is created by making a transverse incision in the proximal duodenum and a longitudinal incision in the distal segment. Stay sutures on the proximal segment are often helpful before proceeding with the anastomosis. Some surgeons prefer a two-layer closure; the internal layer is completed with running sutures, and Lembert sutures are used for the outer layer.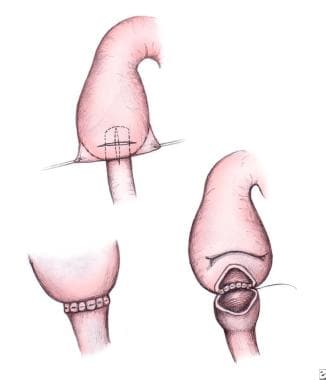 Pediatric duodenal atresia. Diamond-shaped duodenoduodenostomy.
In patients with a duodenal web, the surgeon can identify the site of the web's origin by passing the OG tube through the pylorus into the duodenum and noting the indentation of the duodenal wall caused by tenting of the web prior to opening the bowel. A duodenotomy can be performed along the site of this indentation. Again, before undertaking repair, examine the duodenum for the location of the ampulla and for distal obstruction. Excision of the web should proceed from the lateral duodenal wall, leaving the medial third of the web alone to avoid damaging the sphincter of Oddi or ampulla. Oversew the resection line with 4-0 Vicryl suture, and close the duodenotomy either longitudinally or transversely in one layer as described above.
When performing a repair in the presence of an annular pancreas or preduodenal portal vein, do not divide these tissues. Instead, a diamond-type or side-to-side duodenoduodenostomy anterior to the annular pancreas or preduodenal portal vein is recommended. Patients who present with an associated malrotation should undergo a Ladd procedure at the time of duodenal repair.
If possible, the authors prefer placement of a small, transanastomotic feeding tube (5F silastic nasojejunal feeding tube) across the anastomosis to facilitate postoperative enteral feeding. The authors also always leave an OG tube in place for gastric decompression. Although gastrostomy tubes were often used in the past, complications associated with their placement and long-term problems with gastroesophageal reflux (following gastrostomy) prompted the authors to avoid these adjuncts, except in cases where gastrostomy is likely to be needed in the future (eg, an infant with trisomy 21 and complex congenital heart disease).
Close the abdominal wound in layers. Close the peritoneum and posterior fascia separately from the anterior fascia, using 4-0 absorbable suture. Close the skin with a running subcuticular suture.
Laparoscopy
For the laparoscopic approach, neonatal laparoscopic instruments (3 mm) and trocars are used. The patient is placed supine at the end of the operating table. The operating surgeon stands at the patient's feet. The abdomen is insufflated through a 5-mm umbilical port via a modified Hasson technique. Two other ports, one 3 mm and one 5 mm, are placed in the right and left mid-abdomen, respectively. The left port is placed for the introduction of suture. The liver may be retracted either via an additional port or a transabdominal suture around the falciform ligament.
After the duodenum is mobilized, the site of the obstruction typically becomes easily visible. A standard diamond anastomosis is then performed most commonly using interrupted sutures. [22, 30, 31] As with the open repair, stay sutures are placed at each corner to facilitate the anastomosis. The distal bowel is then visually examined to identify another distal atretic segment or an unusual caliber change suggestive of a web. [32] Once completed, the ports are removed and the sites are closed with absorbable suture.
Postoperative Details
Nutrition should be provided by intravenous alimentation or via a trans-anastomotic feeding tube. Maintain low intermittent suction on an orogastric (OG) tube until stool is passed, and the drainage from the OG is less than 1 mL/kg/h and is clear. Feeding can then be advanced slowly by mouth.
Follow-up
Infants are seen 2 weeks following discharge from the neonatal intensive care unit to assess wound healing and to ensure adequacy of nutrition and gastrointestinal function. Thereafter, infants are monitored on a yearly basis to assess for long-term complications of duodenal repair and to ensure that current practices are not contributing to long-term morbidity.
Complications
Despite improvements in early mortality rates, as many as 22% of children with duodenal atresia may incur late complications following repair. Late complications include blind-loop syndrome, megaduodenum with altered duodenal motility, gastritis with duodenal-gastric reflux, peptic ulcer, esophagitis and gastroesophageal reflux, pancreatitis, and cholecystitis. Blind-loop syndrome due to previous duodenojejunostomy repair can be corrected by conversion to a duodenoduodenostomy.
Many patients have a very dilated proximal duodenum at the time of initial repair. The proximal dilatation improves with relief of the obstruction after repair in most infants. Only a small number of infants develop megaduodenum later in life, therefore the authors do not recommend routine duodenoplasty at the initial operation. [33, 34, 35]
However, in patients with an extensively floppy and distended duodenum (megaduodenum) with persistent symptoms of obstruction, an antimesenteric tapering duodenoplasty can be used to address duodenal dysmotility. [1] An autostapling device is the most common method to resect excess duodenal tissue. Alternatively, resection with a two-layer closure or plication with interrupted sutures over a dilator can be used.
Future and Controversies
Reports of experience with laparoscopic repair of congenital duodenal obstructions in the early 2000s noted a steep learning curve and longer operative times compared with open repair. [29, 35] However, more recent observational comparisons between open and laparoscopic approaches suggest an advantage with laparoscopic repair in terms of lower morbidity, reduced time to full feeding, and decreased use of parenteral nutrition. [7, 36, 37, 38, 39, 40, 41] Future larger randomized prospective studies may be needed to fully clarify any potential advantage between the techniques.
Traditionally, laparoscopic diamond-shaped duoduodenostomy utilizes intracorporeal suturing for the anastomosis. Rare case reports using surgical U-clips (duodenoduodenostomy) or laparoscopic miniature staplers (duodenojejunostomy) for the creation of the anastomosis have reported these methods as feasible techniques. [42, 43] Advocates of these methods theorize limiting tissue trauma from intracoporeal knot-tying may reduce the rate of anastomotic leak.
Although laparoscopic repair offers excellent visualization of the anastomosis, placement of a transanastomotic feeding tube is more difficult. The use of transanastomotic feeding tubes has been shown to decrease time to full feeds and the use of parenteral nutrition. [44, 45] Transanastomotic feeding tubes can also be useful for inspection of the distal bowel for additional type I atresia.
Alternatively, endoscopic excision or dilatation of a partial obstruction due to duodenal webs is possible with advanced endoscopic expertise. Endoscopic dilatation of a fenestrated duodenal web may require multiple dilations over time. [46, 47] Although there may be a benefit to this minimally invasive technique, wide adoption of this practice has yet to take place due to safety concerns related to fear of damaging the ampulla when excising the membrane, perforation of the duodenal wall, hemorrhage, or missing a distal obstruction. [45, 46, 47]
What would you like to print?