Workup
Laboratory Studies
The following studies are indicated in duodenal atresia. Histologic examination is rarely performed or necessary, because repair does not involve removal of the obstruction.
Serum electrolytes
If duodenal atresia is diagnosed early, electrolyte and fluid balance should be normal. If the diagnosis is delayed at all, laboratory assessment of electrolyte and fluid status is imperative for an infant with duodenal atresia.
Prolonged vomiting can result in a hypokalemic/hypochloremic metabolic alkalosis with paradoxical aciduria.
Chromosome analysis
When trisomy 21 is suspected, a full genetic analysis should be performed. However, it is not necessary to obtain such an analysis prior to operative repair of the duodenal anomaly.
Imaging Studies
Prenatal ultrasonography
Perform prenatal ultrasonography during any pregnancy with associated polyhydramnios. Examination of a fetus with duodenal atresia may reveal a dilated fluid-filled stomach and duodenum in addition to other (eg, cardiac) abnormalities. Note that prenatal ultrasonography does not reliably detect duodenal stenosis.
The absence of the above findings does not rule out duodenal obstruction. Fetuses with duodenal atresia may have normal ultrasonographic findings in the presence of fetal vomiting. Monitor mothers with amniotic fluid abnormalities with repeat scans.
Diagnosis prior to birth enables prenatal consultation with a pediatric surgeon as well as provides parents an opportunity to discuss plans for postnatal care and management.
Erect and recumbent plain radiography of the abdomen
When duodenal atresia is suspected, erect and recumbent plain radiography of the abdomen should be the first imaging study obtained after birth.
A characteristic finding of duodenal obstruction is the double-bubble image of an air-filled stomach proximal to an air-filled first portion of the duodenum. The absence of gas in the remaining small and large bowel suggests atresia, whereas scattered amounts of gas distal to the obstruction suggest stenosis or malrotation/volvulus.
Cardiac and/or renal ultrasonography
More than 50% patients with duodenal atresia have other congenital anomalies. [1, 12]
Ultrasonography of the heart and kidneys may be warranted to identify potentially life-threatening abnormalities prior to definitive repair of the duodenal obstruction.
Upper gastrointestinal (GI) contrast evaluation
An upper GI contrast study may be useful to rule out the presence of malrotation with midgut volvulus or to confirm the presence of duodenal obstruction (see below), particularly if distal air is present.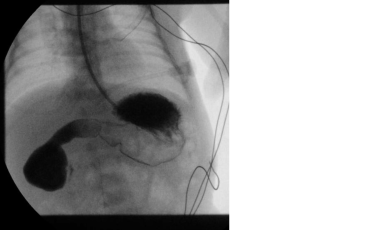 Pediatric duodenal atresia. Upper gastrointestinal series demonstrating duodenal atresia.
What would you like to print?