Workup
Laboratory Studies
No laboratory studies are usually necessary for diagnostic or treatment purposes; however, blood and urine mercury levels are reasonable adjuncts to the workup in the case of a fragmented rectal thermometer.
Imaging Studies
Plain Radiography
Radiography is mandated for children with suspected GI foreign body ingestion. [14] This assists in locating radiopaque foreign bodies in the hypopharynx and esophagus. In small children, a mouth-to-anus film (babygram) can be obtained. In older children, anteroposterior (AP) and lateral chest radiographs that include the neck help to locate radiopaque foreign bodies in the hypopharynx and esophagus.
Coins are usually observed in a coronal alignment on AP films. See the image below.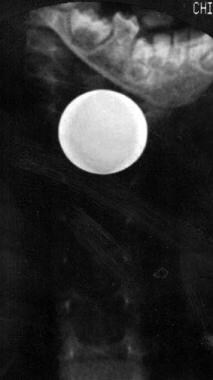 Impacted esophageal coin in the thoracic inlet in a 2-year-old child. Note the coronal alignment on this posteroanterior (PA) radiograph that is suggestive of an esophageal location.
If the foreign body is in the trachea, they typically lie in a sagittal orientation. Disk batteries appear as a circular double density on radiography, representing the cell's cathode and anode.
Flat Plate Radiography of the Abdomen/Pelvis
This may be helpful to assess whether the object has slipped into the stomach in an older child or teenager.
A flat plate of the pelvis may be helpful when a rectal foreign body is suspected.
Barium Swallow or Upper GI Contrast Study
Contrast studies are helpful if the foreign body in question is radiolucent.
Barium is contraindicated in cases in which esophageal perforation is suspected.
Gastrografin may be used as the contrast agent if a study is necessary.
CT Scanning
CT scanning of the neck, chest, abdomen, and pelvis is highly reliable in localizing foreign bodies yet is necessary only in difficult or complicated cases. [15]
Other Tests
Although the use of metal detectors for location of ingested metallic objects has proven efficacious, this technique is not commonly used in clinical practice.
Diagnostic Procedures
No diagnostic procedures outside of the radiology suite are required.
What would you like to print?