Workup
Laboratory Studies
Standard admission laboratory studies, including a complete blood count (CBC) and electrolyte levels, are usually appropriate. Amylase and lipase are sometime useful in diagnosing pancreatitis in duodenal or foregut lesions causing obstruction of the pancreatic duct.
Imaging Studies
Ultrasonography
Antenatal ultrasonography (US), first reported in the 1980s, has been gaining popularity. Continuing from antenatal US, postnatal UScan be used in diagnosing both thoracic and abdominal duplication cysts. It is also helpful in establishing a preoperative diagnosis and may similarly be used as a screening tool to address the 10-20% incidence of multiple lesions. Endoscopic US (EUS) can be used to diagnose duplication cysts of the foregut and chest. [16]
Plain radiography
Plain radiography of the chest and abdomen done for the presenting symptoms of pain or obstruction often picks up associated complications such as intussusception and volvulus. It also picks up large thoracic cysts. Because these results are nonspecific, further imaging with US and other modalities is usually warranted. (See the images below.)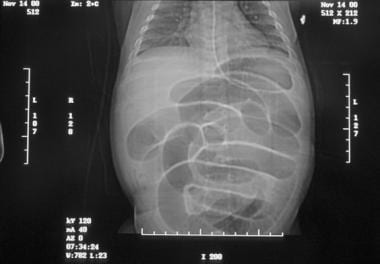 Abdominal radiograph of an infant with acute onset of bilious vomiting and abdominal distention secondary to a duplication cyst at the terminal ileum.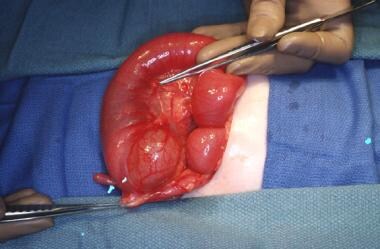 A small ileal duplication cyst causing complete obstruction of the small bowel (same patient as in the image above).
Computed tomography
Computed tomography (CT) of the chest or abdomen is useful in establishing a diagnosis of alimentary tract duplication. It also helps during the preoperative workup, in that it better delineates the anatomy and may find synchronous lesions. Oral and intravenous contrast is preferred for these scans.
Magnetic resonance imaging
Magnetic resonance imaging (MRI) may be necessary if neurologic symptoms of spinal cord compression are observed and if evidence of bony spinal abnormalities is present on plain radiography or CT. These symptoms may be indicative of intraspinal cysts.
Other studies
Technetium-99m pertechnetate scanning can be used to detect ectopic gastric mucosa in the duplication cyst. It is rarely needed but can be helpful for diagnosing heterotopic mucosa.
Endoscopic retrograde cholangiopancreatography (ERCP) may be needed to better delineate the pancreas and biliary anatomy if the duplication cysts involve the duodenum and pancreas.
Diagnostic Procedures
Often, the diagnosis must be made intraoperatively. This may require diagnostic laparoscopy or diagnostic laparotomy.
Sometimes, the cyst may be confused with an intra-abdominal abscess on CT and is aspirated under radiologic guidance. If it was diagnosed previously, this is usually not advised.
Histologic Findings
Histologic analysis of alimentary tract duplications typically reveals at least one outer muscular layer with an inner gastrointestinal (GI) mucosal lining. The mucosal lining does not necessarily correspond to that of the adjacent normal intestine and may be composed of several different types of GI mucosa.
What would you like to print?