Workup
Laboratory Studies
In all children with neonatal bowel obstruction, an electrolyte measurement, a complete blood count (CBC), and a crossmatch should be obtained before operative intervention is initiated.
Imaging Studies
Plain radiography
Plain radiography of the abdomen reveals bowel obstruction and may reveal a prominent dilated loop (see the image below). A prone view shows absence of gas in the rectum, though gas may be present if the film was obtained after the rectum was examined. Radiography in congenital colonic stenosis also reveals an obstructive pattern that may mimic atresia.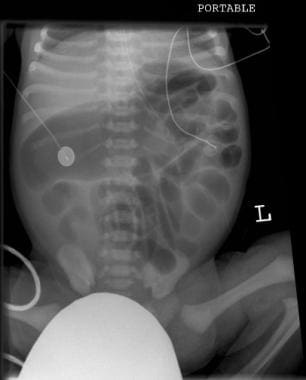 Abdominal radiograph of baby with colonic atresia at distal transverse colon. Colon proximal to atresia is visible as large dilated loop of intestine running obliquely across abdomen. Courtesy of Richard Glick, MD.
Contrast enema
A contrast enema can provide a definitive diagnosis and supply anatomic information about the location of the lesion. This study can usually be used to differentiate colonic atresia from meconium ileus, Hirschsprung disease, and other intestinal atresias. Contrast enema may be performed before operative treatment, at the discretion of the surgeon, and can be useful in ruling out the presence of other lesions downstream from the atresia. [54] It reveals a microcolon with a rounded proximal end (see the first image below). In congenital colonic stenosis, contrast enema reveals narrowing of the colon, with limited filling of the dilated proximal colon (see the second image below).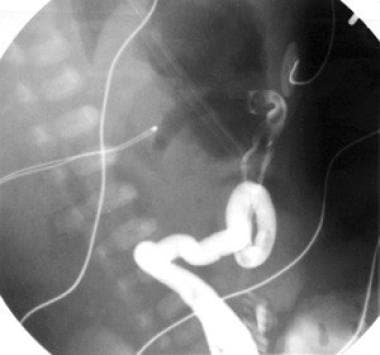 Contrast enema showing microcolon with dilated proximal colon (colonic atresia of sigmoid colon).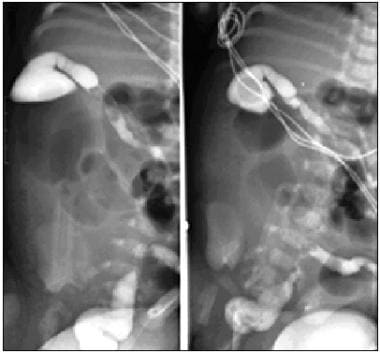 Contrast enema revealing colonic stenosis at hepatic flexure.
Ultrasonography
Antenatal ultrasonography (US) may reveal bowel loop distention or polyhydramnios.
Biopsy
Rectal biopsy (performed either as a suction biopsy before surgical correction or at the time of operative correction) should be considered as a means of evaluating for associated Hirschsprung disease. [55, 29] The association is quite rare; in a series of 12 patients, none were found to have Hirschsprung disease. [37]
What would you like to print?