Workup
Laboratory Studies
Laboratory studies that may be useful for the diagnosis and preoperative evaluation of a patient with a choledochal cyst include direct bilirubin, alkaline phosphatase (ALP), serum aspartate aminotransferase (AST), serum alanine aminotransferase (ALT), gamma-glutamyl transferase (GGT), and coagulation profiles. A complete blood count (CBC) should also be obtained to exclude any associated or underlying anemia prior to surgery.
Imaging Studies
Imaging studies are the cornerstone of diagnosis of choledochal cysts. They serve not only to confirm the diagnosis but also to outline the anatomy of the anomaly in preparation for surgical intervention.
Ultrasonography
Ultrasonography (US) is the best initial study. [38] In neonates, it may be the only test needed. US can demonstrate changes in the bile ducts as well as in the liver (see the image below).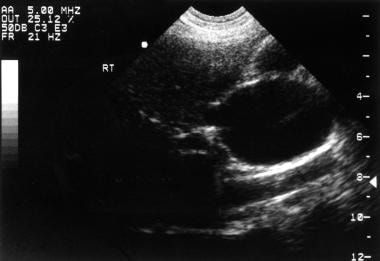 Ultrasonogram shows a large unilocular cyst under the liver.
Endoscopic retrograde cholangiopancreatography
Endoscopic retrograde cholangiopancreatography (ERCP) remains the criterion standard diagnostic study. In expert hands, ERCP can be performed with a high rate of success, even in small infants. When successful, ERCP clearly shows the anatomy of the pancreaticobiliary junction. [31, 27, 2, 22] With forceful injection of contrast even small choledochoceles can be imaged, presumably by distension of the cyst wall.
Magnetic resonance cholangiopancreatography
Magnetic resonance cholangiopancreatography (MRCP) has largely supplanted ERCP as the diagnostic test of choice for choledochal cysts because it offers high-resolution detailed images of relevant anatomy, is noninvasive, and does not suffer from complications such as postprocedure pancreatitis (see the image below). [41] MRCP detects most choledochal cysts with a sensitivity of 90-100% and a specificities of 73-100%, with the exception of small choledochoceles and minor ductal anomalies. [42, 43] MRCP has been shown to be effective in neonates, [44] children, [45] adults, [46] and fetuses. [47]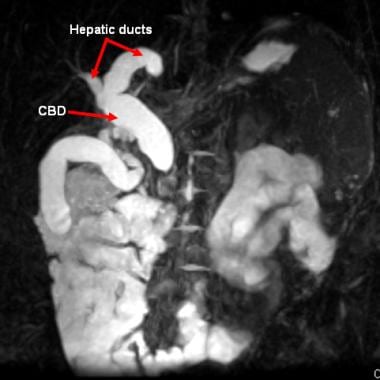 Magnetic resonance cholangiopancreatography shows dilated hepatic ducts and common bile duct (CBD) of a type IV cyst.
Computed tomography
Computed tomography (CT) may also be useful to delineate the cyst and its relationship to surrounding structures. In older patients, especially adults, CT combined with cholangiography may be useful (see the image below). [48]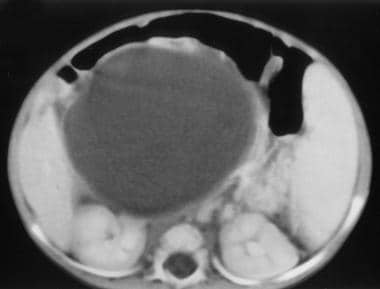 CT scan shows a large cyst with wall thickening.
Other studies
Upper gastrointestinal imaging and cholangiography with oral or intravenous contrast enhancement are of limited value in the setting of hyperbilirubinemia and are generally outdated.
Scintigraphy with technetium-99m diisopropyl iminodiacetic acid (DISIDA) may show complete obstruction of the distal bile duct without any drainage to the intestine. [5, 13]
What would you like to print?