Overview
Practice Essentials
Atlantoaxial instability (AAI), also known as atlantoaxial subluxation, is radiologically identified increased mobility or laxity between the body of the first cervical vertebra (atlas) and the odontoid process of the second cervical vertebra (axis) (see the image below). [1, 2, 3, 4, 5] The subluxation can be anterior, posterior, or lateral, and symptoms occur as a result of cervical cord impingement.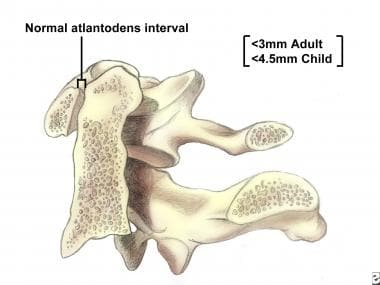 Medial-sagittal cross-sectional view of the atlas (C1) and the odontoid process of the axis (C2).
Background
Disability and instability of the unique atlantoaxial joint result in controversies regarding the management of acute trauma and also the screening evaluation of particular at-risk individuals. The purposes of this article are to define AAI; describe the relatively rare symptomatic lesions with significant morbidity and mortality; and, finally, discuss the rationale for and against screening and restricting the activities of at-risk individuals.
For excellent patient education resources, visit eMedicineHealth's First Aid and Injuries Center. Also, see eMedicineHealth's patient education article Neck Strain.
Related Medscape topics:
Related Medscape resources:
Resource Center Exercise and Sports Medicine
Resource Center Genomic Medicine
Epidemiology
United States data
Although traumatic lesions involving the atlantoaxial region are relatively rare, certain disease states and conditions present a higher theoretic risk of instability due to increased atlantoaxial joint laxity.
Surveys indicate 10-25% of patients with trisomy 21 have AAI. [6, 7] Two thirds of these cases are due to laxity of transverse ligament, whereas one third are due to abnormal odontoid development. Although this association has been depicted on radiographs, the clinical incidence of serious cervical spine injury is not increased in this population compared with other populations.
About 25% of patients with rheumatoid arthritis have atlantoaxial instability, which is thought to be due to chronic inflammation. [8] Congenital skeletal dysplasias may cause resultant odontoid hypoplasia. Marfan syndrome may involve ligamentous laxity, and acute inflammatory processes can affect the retropharyngeal, neck, or pharyngeal spaces.
Etiology
Symptomatic AAI is due to acute trauma, usually cervical hyperflexion, hyperextension, or a direct axial load on the head or cervical spine. Although this type of injury can occur in any athlete, certain conditions predispose an individual to AAI dysfunction and disability. These include congenital odontoid anomalies, such as odontoid aplasia, odontoid hypoplasia, and a separate odontoid process; os odontoideum, which is due to nonunion of an early childhood fracture and which creates an unstable lesion or ligamentous laxity; and acute or chronic inflammatory processes.
Related Medscape topic:
Functional Anatomy
The articulation of the odontoid process of C2 (axis) with the anterior arch of C1 (atlas) allows for 50% of cervical lateral rotation. The transverse and alar ligaments maintain joint integrity and limit posterior motion of the odontoid process relative to the C1 anterior arch. Abnormal posterior translation (or subluxation) can cause cervical cord impingement with the potential for significant neurologic compromise and even death.
Sport-Specific Biomechanics
During extremes of cervical flexion or extension, competent transverse and alar ligaments limit posterior translation of the odontoid process. Incompetent ligaments or a damaged odontoid process can allow for significant translation and potential damage in cases of cervical hyperflexion or hyperextension in which axial compression is delivered to the head and cervical spine. Given the potentially serious sequelae of significant atlantoaxial dysfunction, patients with defined instability are restricted from participating in contact sports and in sports requiring significant cervical flexion or extension. [1, 4, 9]
What would you like to print?