Workup
Imaging Studies
In acute trauma, the initial radiologic evaluation includes 3 views of the cervical spine: anteroposterior (AP), cross-table lateral, and open mouth (odontoid). Significant findings on the AP and lateral views include a soft-tissue space greater than 7 mm anterior to C1-C3; this may represent an occult fracture or instability. The odontoid view may show odontoid anomalies or rotary displacement of the odontoid relative to the atlas (C1) arch.
A formal diagnosis of atlantoaxial instability (AAI) requires lateral cervical spine imaging in flexion and extension. Note: After trauma, the 3 views mentioned above and clinical findings must be cleared before the flexion and extension images are acquired. The patient must also be alert and able to cooperate with the examination.
Instability must be confirmed by looking at the distance between the posterior edge of the anterior arch of C1 and the anterior edge of the odontoid process. This area is referred to as the atlantodens interval (ADI) (also called the atlas-dens interval) (see the image below). On the lateral view, the ADI should be less than 3.5 mm in flexion; this suggests that the transverse ligament is intact. In adults, an ADI of 3-5 mm indicates that the transverse ligament is insufficient. In children, this value may be as large as 4.5 mm and still be considered normal. An ADI of greater than 5 mm is indicative of misalignment of the alar ligaments.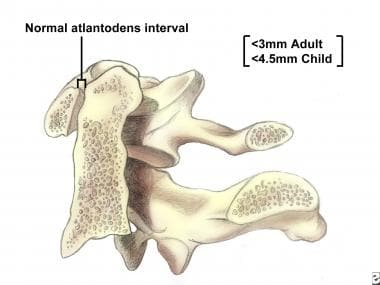 Medial-sagittal cross-sectional view of the atlas (C1) and the odontoid process of the axis (C2).
Cervical spine computed tomography (CT) scanning with bone windows can be used to further define injuries to the bone elements of the cervical spine, whereas cervical magnetic resonance imaging (MRI) may be better for evaluating soft-tissue and cervical cord involvement. These studies are not routinely performed and are generally reserved for either extreme cases or situations of diagnostic uncertainty.
In cases of rheumatoid arthritis, MRI is indicated when a neurologic deficit (myelopathy) occurs or when plain radiographs show (1) atlantoaxial subluxation with a posterior ADI less than or equal to 14 mm, (2) any degree of atlantoaxial impaction, or (3) subaxial stenosis with a canal diameter less than or equal to 14 mm.
A screening evaluation for AAI in at-risk populations (ie, those with Down syndrome) is controversial. However, certain governing bodies, such as some Special Olympics state organizations, require screening. [6]
The Special Olympics requires lateral flexion and extension radiography of the cervical spine before any athlete with Down syndrome can participate in activities with a risk of spinal injury. [6] These include gymnastics, soccer, alpine skiing, high jump, equestrian sports, the pentathlon, diving, swimming with the butterfly stroke, and swimming with diving starts. If the ADI is greater than 5 mm, athletes are prohibited from participating in these at-risk sports unless an informed consent and clearance has been obtained from 2 physicians per Special Olympics guidelines.
Some authors advocate screening radiography in all at-risk populations at the age of 5 years. If the findings are abnormal, follow-up imaging every 2-3 years is recommended. When the initial findings are normal, follow-up imaging is controversial. Some authors advocate no formal follow-up unless symptoms evolve, whereas others recommend scheduling repeat radiography when the patient is aged 12 and 18 years, because these are periods of rapid growth.
Arguments against screening include the following: (1) abnormal radiographic findings can revert to normal, and normal results can become abnormal; (2) the risk of asymptomatic AAI becoming symptomatic, with neurologic issues, is uncertain. Symptomatic AAI is better identified by means of history taking and regular neurologic examination, which may have a greater predictive value than screening; and (3) the efficacy of avoiding certain sports to prevent symptomatic AAI has never been formally studied.
The American Academy of Pediatrics (AAP) once supported screening lateral neck radiography in patients with Down syndrome who participate in the Special Olympics. [7] The AAP has retired that recommendation and considers lateral plain radiography of potential but unproven value in identifying patients who are at risk for spinal cord injury during sports participation. Assessing the patient's complaints or physical findings has become a greater priority than obtaining radiographs.
The Faculty of Sport and Exercise Medicine (FSEM), United Kingdom (UK), does not support the use of plain radiography to screen for asymptomatic AAI in patients with Down syndrome before sports participation. Instead, the FSEM, UK, recommends that a preparticipation screening should include a focused history taking, a neurologic examination, and an assessment of neck control. [10]
What would you like to print?