Workup
Laboratory Studies
For healthy children undergoing umbilical hernia repair or excision of omphalomesenteric or urachal remnants, routine laboratory tests are not needed. However, for infants with necrotizing fasciitis, who may be extremely ill, umbilical cultures and blood cultures are needed. Frequent hematologic, electrolyte, and blood gas analyses may be necessary.
Imaging Studies
Radiography is not indicated in most children with umbilical disorders. Umbilical hernias are diagnosed by means of physical examination.
Fistulography or sinography may be performed if a definitive opening is observed within the umbilicus. Fistulography can be performed by injecting water-soluble contrast medium into the opening at the base of the umbilicus. If the track is blind-ended, the child has a sinus; if it enters the intestine or bladder, a fistula is present.
Ultrasonography is helpful when a mass is present. It may be useful in identifying cysts of the umbilicus. Evaluating for a urachal cyst is useful; this cyst most commonly appears as a mass between the umbilicus and suprapubic area. Ultrasonography can also be used to identify a patent urachal fistula between the umbilicus and bladder.
Plain radiography may be useful in children with omphalitis. Air in the subcutaneous tissue or muscle planes is an ominous sign. An umbilical hernia may be incidentally observed on an upper gastrointestinal tract contrast study with small-bowel follow-through (see the image below).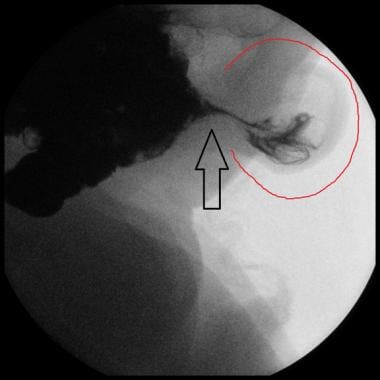 Upper gastrointestinal contrast study showing incidental umbilical hernia in an infant. Red line outlines the umbilical hernia. The arrow shows contrast flowing into the intestine within the umbilical hernia. The umbilical hernia was easily reducible and no intervention based on this study was performed.
Cystography or cystoscopy may be indicated to identify bladder outlet obstruction in children draining frank urine from a urachal fistula. However, studies suggest that, in most cases, history and ultrasonography are sufficient for the diagnosis. [7]
Histologic Findings
The histology of umbilical remnants depends on the tissue of origin and may reveal intestinal or gastric mucosa. Examination of urachal remnants shows transitional or columnar epithelium.
What would you like to print?