Presentation
History
Pyloric stenosis most often occurs in neonates and infants aged 1-10 weeks (mean, 5 wk; range, 5 d to 5 mo). Although uncommon in premature infants younger than corrected age for a full-term infant, pyloric stenosis has been detected on antenatal sonograms and could be considered in the differential diagnoses for nonbilious vomiting in the newborn. Pyloric stenosis is observed in premature infants older than corrected age for a full-term baby.
Regardless of age, projectile vomiting typically occurs and is always nonbilious but may have brown discoloration or a coffee-ground appearance due to associated gastritis, particularly if emesis has persisted for several days. The vomiting occurs within 30-60 minutes after feeding. The infant remains hungry and usually attempts to feed immediately after vomiting. Weight loss and evidence of dehydration (eg, decreased tearing and urinary output, with poor skin turgor) are present if vomiting is allowed to continue for more than a few days.
Physical Examination
Physical examination of the infant is conducted in a warm environment with the baby quiet or sleeping. A general sense of hydration is assessed first (see Table 1 below), with particular attention paid to the baby's level of consciousness (arousability if sleeping), eyes, fontanelles, skin turgor, mucous membranes, and tearing. Infants with depressed fontanelles and decreased skin turgor have at least a 5% deficit of total body water. The lungs should be examined carefully, and signs of aspiration pneumonia should be looked for in any infant who presents with a history of vomiting.
Table 1. Clinical Findings in Dehydrated Infants With Pyloric Stenosis (Open Table in a new window)
Level of Dehydration

Mild

Moderate

Severe

Estimated volume deficit

5% (50 mL/kg)

10% (100 mL/kg)

15% (150 mL/kg)

Clinical findings

Skin (touch)

Normal

Dry, pale

Clammy

Skin turgor

Normal

Tenting

None

Mucous membranes

Moist

Dry

Parched

Eyes

Normal

Deep-set

Sunken

Tearing

Present

Reduced

None

Fontanelle

Normal (flat)

Soft

Sunken

Central nervous system

Normal

Irritable

Lethargic/obtunded

Heart rate

Normal

Slightly increased

Increased

Pulse quality

Normal

Weak

Feeble/impalpable

Capillary refill

Normal

~2 s

>3 s

Urine output

Normal

Decreased

Anuric
The infant is best examined from the right, with mild pressure applied by the first three fingers of the right hand in a cephalad direction (see the image below).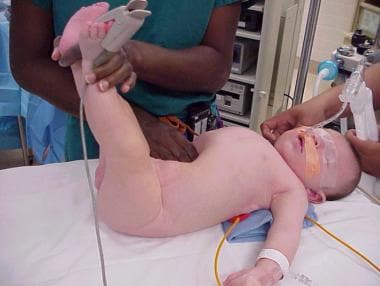 Technique used for examining infant with pyloric stenosis. Infant is best examined from right, with mild pressure applied by using first three fingers of right hand in cephalad direction. Careful examination reveals oblong, smooth, hard mass that is 1-2 cm in length. This mass is hypertrophied pylorus and is commonly referred to as olive.
Ideally, the infant should be examined with the stomach decompressed via a nasogastric or orogastric tube, which prevents the pyloric channel from being obscured by an overlying dilated stomach. Careful examination reveals an oblong, smooth, hard mass that is 1-2 cm in length. This mass is the hypertrophied pylorus, commonly referred to as an olive or pyloric tumor, and is located in the epigastrium just above the umbilicus, either in the midline or just to the right. Although a superficially located pyloric mass may be palpated with relatively gentle pressure, identification of masses lying deeper or masses in crying infants requires firmer deep palpation.
Upon identifying a suspected olive (pyloric tumor), the examiner must attempt to outline or palpate discrete borders of the mass to avoid mistaking the liver edge, a contracted rectus muscle, or the upper pole of the right kidney for the mass. With persistence and experience, the pyloric tumor should be palpated in 85-100% of cases. Difficulty in locating the mass is encountered if the mass is obscured by the liver, a distended stomach, or tense rectus muscles in crying infants.
Feeding the patient a small volume of warm sugar water may be useful in the examination, for two reasons. First, a feeding infant cannot cry and thus does not tense the abdominal muscles, thereby making the examination of the pylorus easier. Second, observation of the abdomen of the infant with pyloric stenosis after feeding often reveals visible gastric contractions occurring in a wavelike manner from left to right across the abdomen. These waves generally terminate in emesis and are often associated with, but are not pathognomonic for, pyloric stenosis.
Further examination of the abdomen is facilitated by nasogastric decompression and by lifting the lower extremities to help relax the abdominal musculature.
What would you like to print?